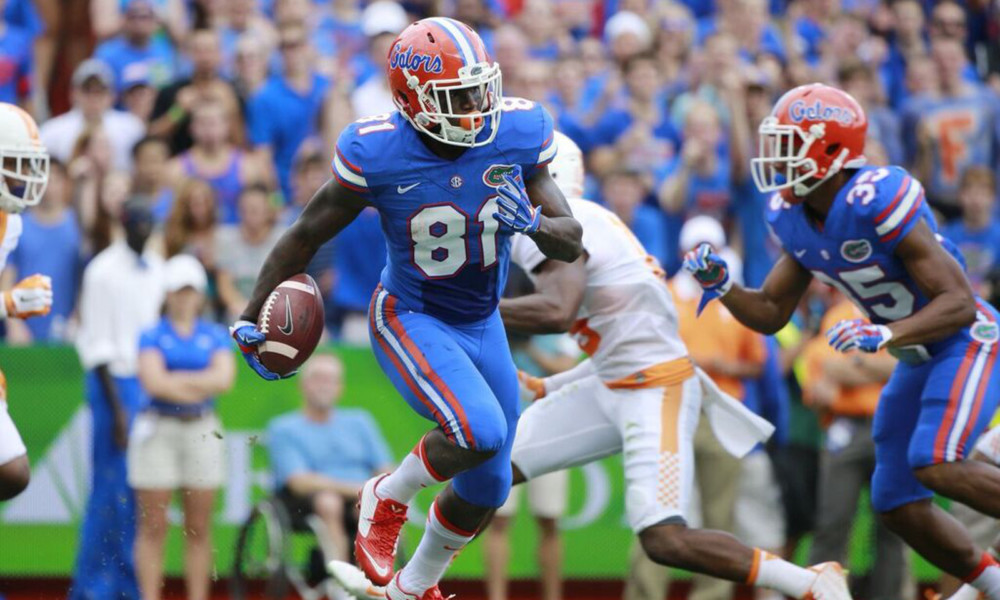 Alabama still has work to do, regardless of all the talk concerning defensive coordinator Kirby Smart and strength coach Scott Cochran leaving for Georgia. It has a date with Florida in Atlanta for a conference crown.
Crimson Tide head coach Nick Saban can deliver the program its 25th conference title and his fourth as a coach with a win over the Gators. Florida's offense has sputtered in the last few games, but it has playmakers that can create opportunities in space. Defensively, the Gators have one of the best units nationally (15.5 ppg).
Yours truly of Touchdown Alabama Magazine puts five Gator players on the clock for this week.
5. Treon Harris, QB- Sophomore
Harris was Florida's backup until a suspension to Will Grier threw him into action against Louisiana State University. The sophomore held his own against the Tigers, completing 17 of 32 passes for 271 yards with two touchdowns. The Gators fell short 28-35, but Harris displayed poise and good mechanics as a passer.
He has lacked both qualities since that contest, but Saturday will present another chance. Harris' athletic abilities could potentially be special. Alabama has had issues with dual threat quarterbacks, including Johnny Manziel, Cam Newton and Nick Marshall. Mississippi handed the Crimson Tide its lone blemish this year with Chad Kelly under center. Dialing up high percentage passes will be a point of emphasis for Florida head coach Jim McElwain. Harris stands at 1,365 passing yards with eight touchdowns to four interceptions.
4. Alex McCalister, DL- Junior
Robert Nkemdiche, Myles Garrett and Derek Barnett are names that cross most minds as "ideal" pass rushers. McCalister has become a household name for Florida. He leads the team in sacks (6.5), tackles for loss (9.5) and has two fumble recoveries. Along with McCalister come his two friends, defensive lineman Jonathan Bullard and linebacker Antonio Morrison. Bullard has 55 total tackles and leads the group with 15.5 tackles for loss. Morrison chimes in with 86 tackles (tied for team lead), 11 tackles for loss and 2.5 sacks on the year.
3. Kelvin Taylor, RB- Junior
Balance is crucial when comes to facing Alabama, and for Florida, Taylor must come out smoking. He has to relive stress off Harris, yet Florida's offense line must open up holes for him. Taylor will enter Saturday's game with 977 rushing yards and 13 touchdowns on 241 carries. He averages 81.42 yards per game on 20 carries. 
The Gators may have a chance if it creates balance with Harris and Taylor to keep the game close.
2. Vernon Hargreaves, III, CB- Junior 
Hargreaves has been a little banged up; however, he will play this week. He has four interceptions for 152 return yards. Florida is ninth nationally in pass efficiency defense (172.3 ypg) and second in yards per pass attempts (5.6). Creating turnovers will be one of few ways for Florida to make it interesting. A couple of interceptions from Hargreaves or Jalen Tabor (four picks) off Alabama's Jacob Coker would greatly help.
1. Antonio Callaway, WR- Freshman
It sounds weird to say a freshman could single-handedly make a difference against Alabama, but Callaway can for Florida. He has recorded 29 catches for 557 yards and a touchdown at wide receiver, yet his skill set as a return man makes all the more lethal. Callaway has returned 25 punts for 351 yards and a touchdown.
He averages 14.1 yards per return. The Crimson Tide has been exposed at times for laziness on kick/ punt coverage. Field position is another avenue for Florida to win. If Callaway can generate exceptional field position, it takes pressure of Harris, Taylor, Florida's kicking game and allows McElwain to open the game up.
Stephen M. Smith is a senior analyst and columnist for Touchdown Alabama Magazine. You can "like" him on Facebook or "follow" him on Twitter, via @ESPN_Future.