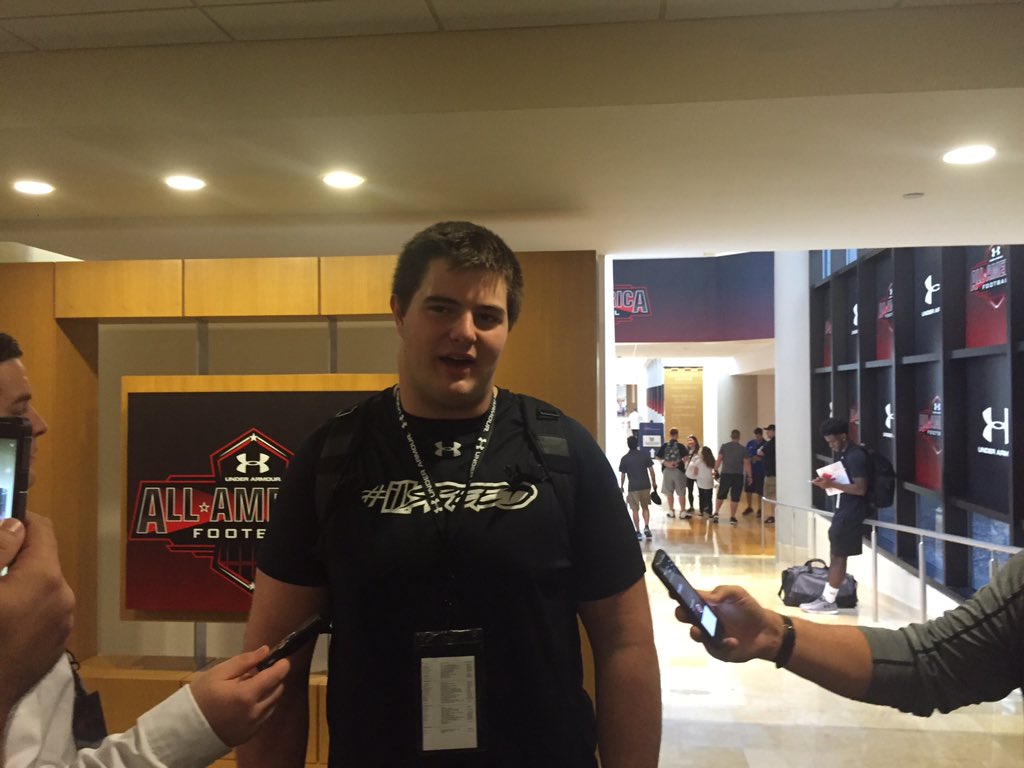 The nation's seventh-ranked offensive tackle, Landon Dickerson out of Hickory, NC has announced his official visits after checking in to the Under Armour All America Game in Orlando, FL. Dickerson will be visiting Florida on January 15th, Alabama on January 22nd, and it will be a battle between Tennessee and Georgia for that third and final visit on January 29th. He has already taken visits to Auburn and Florida State.
The 6'5″, 300-pounder out of South Caldwell High School is listed as a tackle by many but is versatile and plays every position for the Spartans. A lot of schools have began to recruit him as a guard due to his run blocking ability but Dickerson says that he could play either if need be. This could work into Dickerson's favor because of the versatility of Alabama's existent offensive line, as they all practice at different positions for game-time situations.
I got the chance to speak with Dickerson and get his thoughts on Alabama and why they got a coveted official visit.
JW: "What attracted you to Alabama specifically?"
LD: "Coach Lupoi and Caoch Cristobal are great guys and really great coaches. Coach Saban has done a great job and it is a good educational opportunity for me."
JW: "Where does Alabama's depth at offensive line put your mindset at?"
LD: "I know there's not a big potential for me there to play right away, they've got a really good offensive line but, I think I could go there and maybe after a year compete for a starting spot."
JW: "What is your relationship like with Coach Cristobal?"
LD: "It's pretty good, we're kind of building it back up. He thought I was locked in to Virginia Tech back in the spring so it kind of fell off but it's building back up now. Obviously we talk and that relationship was already there."
JW: "What are you looking for during you official visit?"
LD: "Everything. This will be my first time really looking at the university. I went to a camp there a few years ago before I was being recruiting so that's why I say everything. I'll be looking at the facilities, coaches and education."
JW: "What are you looking forward to this week and in this game?"
LD: "I'm really looking forward to the experience as a whole"
Dickerson wants to major in engineering at whatever school he decides to attend and will be joined on his January 22nd visit by the likes of top recruits such as 5-star LB Lyndell "Mack" Wilson, 4-star Jeffrey McCulloch, 4-star WR Keith Gavin, 4-star DE Terrell Hall and 4-star LB Dontavious Jackson. More names will be added to that visiting weekend as time approaches.
Justin Wagner is the Scouting Coordinator and Lead Recruiting Analyst for Touchdown Alabama. You can follow him on Twitter, at @jwag718.