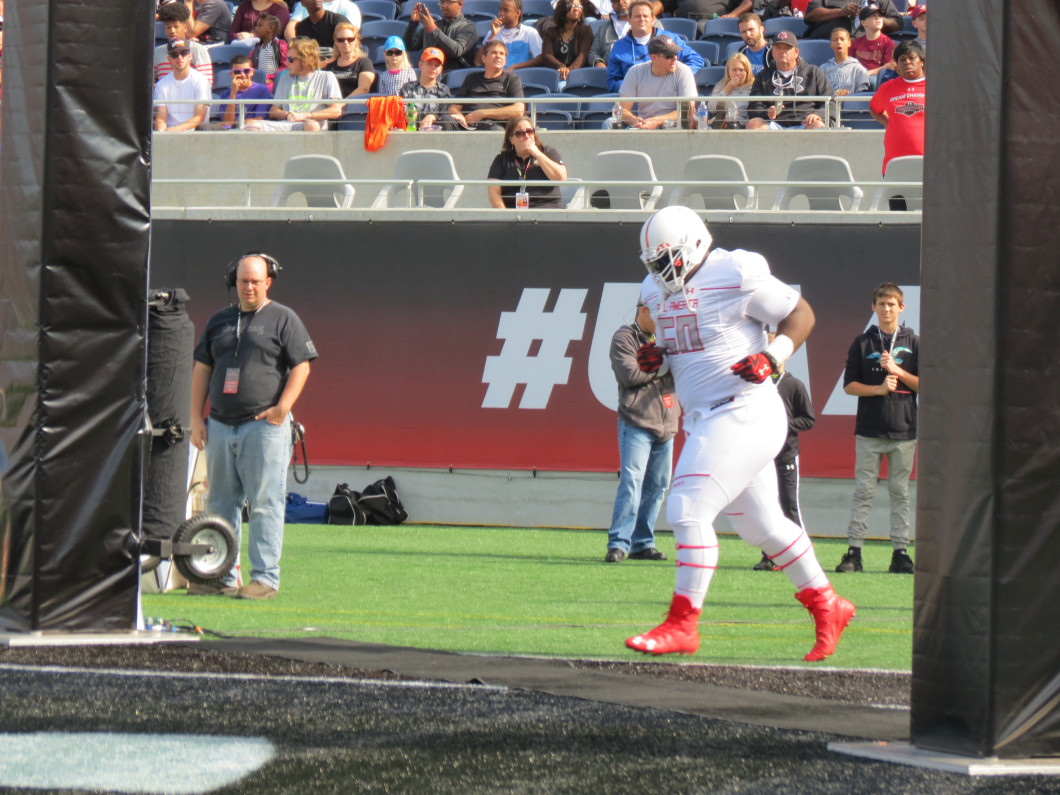 We've come to the end of the first half here in the Orlando, FL at the Under Armour All-America Game and it has been a lopsided one. Team Highlight dominated the first half, taking a 17-0 lead into the locker room. The statistics speak for themselves as they have 176 yards of total offense (142 pass, 34 rush) to Team Armour's 50 (36 rush, 14 pass).
Alabama Commit B.J. Emmons has 5 carries for 12 yards but has shown toughness, earning all of his yards. Also had a nice, tough run off of a screen pass in the first quarter
Alabama DT commit, Kendell Jones has been credited with one tackle but has definitely  made his presence known on a deep defensive line unit on Team Highlight
WR target A.J. Brown had one catch for 53 yards, he made a nice move on the defensive back and took it nearly for a TD.
Team Highlight's defensive line has been nearly un-blockable. Led by Rashan Gary, they have been dominant.
Ben Davis has a tackle, which was technically a forced fumble in the first quarter. He has also looked great thus far.
4-star RB Devwah Whaley committed to Arkansas, 4-star OT Terrance Davis committed to Maryland, 4-star WR Drake Davis committed to LSU and 4-star OL Jean Delancey committed to Texas
Stay tuned for second half recap and full game recap on Touchdown Alabama.
Justin Wagner is the Scouting Coordinator and Lead Recruiting Analyst for Touchdown Alabama. You can follow him on Twitter, at @jwag718.