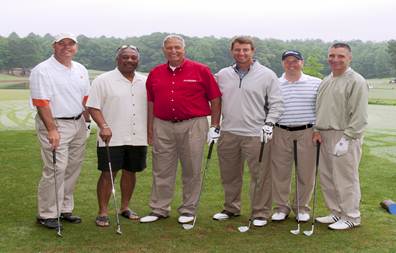 Alabama and Clemson Have Lots of Cross Coaching, Not Just Dabo
By: Larry Burton
Next week you'll hear so many references to the Clemson coach about Dabo Swinney being a former Alabama player and coach that it may become boring, but few fans know about the other coaches on both sides who have coached and or played for one another.
For example, long time Alabama running back coach Burton Burns, who has been with Saban about as long as anyone, was once the running backs coach for Clemson for 8 years before coming with Saban to Alabama in 2007. His nine years here is just one less than the time he spent at Clemson. Burns has said he enjoyed his time in Clemson and it was a great place to coach and live.
Likewise, Alabama's receivers coach, Billy Napier, from Chatsworth, Georgia, served two different stints at Clemson, one as a graduate assistant from 2003-2004 and after a year at Mississippi State, went back to Clemson to work three different jobs, tight ends coach, quarterback coach and then offensive coodinator from 2006 to 2010. He was on staff when Clemson faced the Tide last and is now on the other side of the field.
Also there's Paul Hogan, a starting center on Alabama's 1999 SEC Championship team, who is currently the senior assistant football strength and conditioning coach for the Tigers. Think of him as their Scott Cochran.
Also Danny Pearman, who played ball for Clemson, but was a coach at Alabama from 1991 to 1997 during some of the same years Dabo coached at Alabama. He left Alabama with a national championship ring for the 1992 class and is now the current assistant head coach, special teams coordinator and tight ends coach at Clemson.
In non coaching, but support staff roles is a name familiar to all Alabama fans, Woody McCorvey, who both played and coached many positions at Alabama including offensive coordinator. In that same role as support staff for Dabo Swinney are former players, Lemanski Hall and Thad Turnipseed.  Hall was a member of the 1992 national championship team at Alabama at linebacker and had a great NFL career afterward. Turnipseed, like Hall and Swinney, was a member of that 1992 championship team at Alabama and went on to work in the Alabama Athletic Dept. for 11 years and was a key person in many of their expansion projects while also serving Saban as director of football external affairs. At Clemson, he is in his first year as director of recruiting & external affairs after leaving Alabama.
It is nothing new for Clemson's staff to have men from Alabama in and running their programs. Frank Howard, the real dean and architect of the modern Clemson sports program and former head coach, Danny Ford, who coached their only national championship and now Dabo Swinney, who returned Clemson to greatness, all played and coached at Alabama before going to Clemson. All three men were said to be the three most important men in Clemson football history.
Larry has been published in almost every media outlet for college sports and now primarily writes here for Touchdown Alabama. Follow Larry on Twitter for inside thoughts and game time comments at https://twitter.com/LBSportswriter
THANKS FOR SHARING THE LINK TO THIS STORY ON YOUR FACEBOOK PAGE