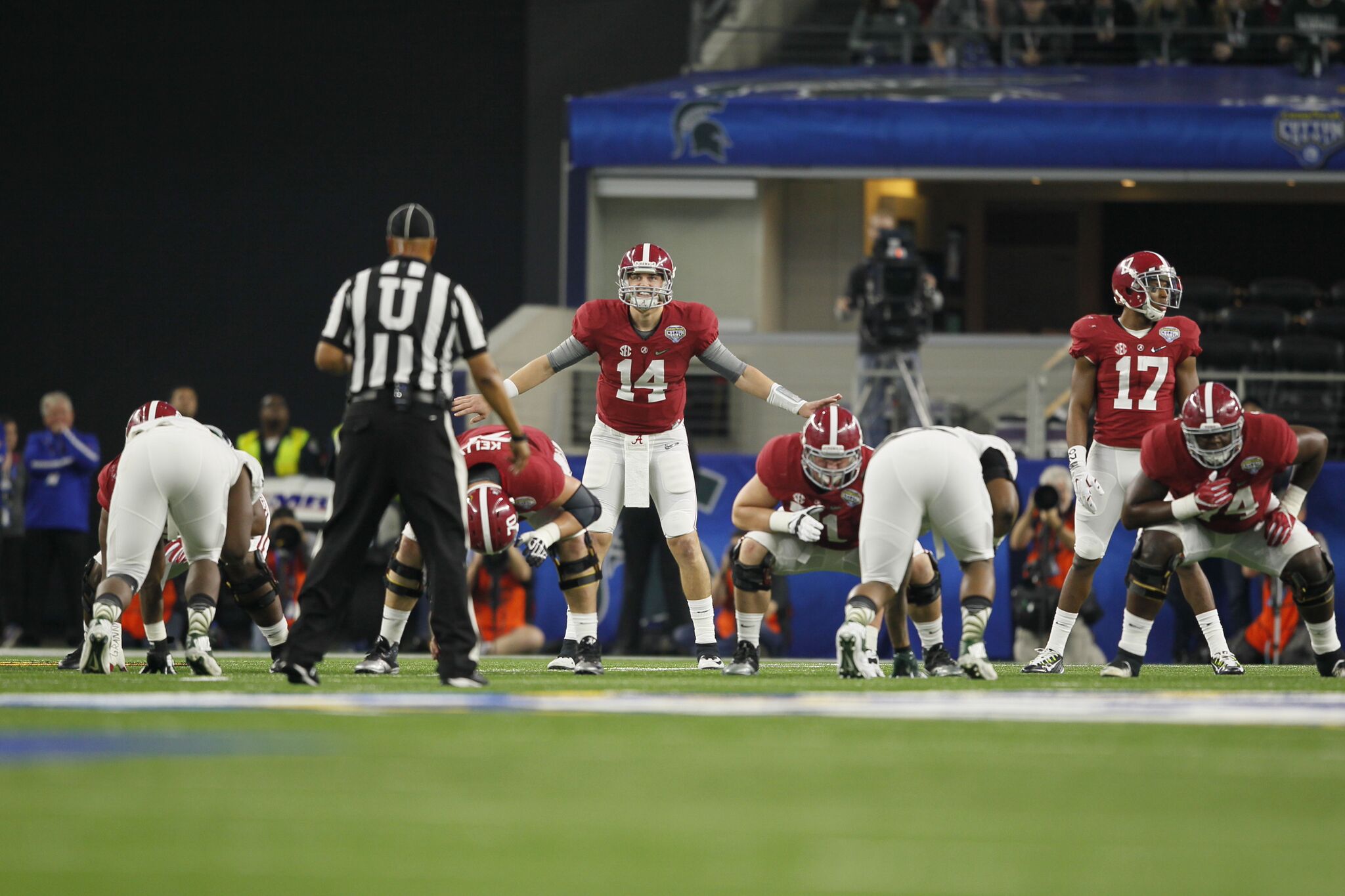 Nick Saban Isn't a Slave to a Quarterback or Any One Player
By: Larry Burton
Auburn with Nick Marshall or Cam Newton, title contenders, without them they suck with a capital S. Oregon with their starting quarterback, a 31-0 halftime leader. Oregon with a backup quarterback in the second half, they lose the 31 point lead and lose 47-41. Georgia with Nick Chubb, an SEC East favorite. Georgia without their star running back, an also ran in the SEC.
These are the things that doom some coaches to the unemployment line. When your team is too reliant on one person to win, you don't have a team, you have a star and a supporting cast and your livelihood is in the hands of one 18 to 22 year old. Sounds scary doesn't it?
That's why Nick Saban works his butt off and traditionally wins the recruiting wars. That's why Saban has the offense he does and the defense he does. He builds a team with unbelievable team depth that's number one, built around a defense full of big, fast angry playing men so his offense won't have to win a track meet and number two build a defense that a second string quarterback or a converted running back can run from under center.
As good as Jake Coker can be, he can also be that mediocre. He could be replaced by any one of Alabama's backups because Alabama's offense isn't based on having a quarterback who gets most of or a ton of the rushing yardage as do team's quarterbacks. Alabama's offense isn't based on having a pin point passing quarterback. If he can throw a screen pass, a five yard out route and just toss one up and have one of the speedy receivers Alabama has run under it, he can be plugged in and the Tide can win.
That's because Alabama is a run first offense despite the seeming balance on paper. The passing game feeds off the fear of the running game. Blake Sims, the converted running back who played quarterback last season, set new records in passing despite throwing the great majority of his passes five yards or less past the line of scrimmage.
Alabama has a long history of not being tied to one star running back either. In the Saban years they've always featured a one – two punch at running back, but if necessary, a third and fourth punch is standing by. There is simply no person on the Alabama team that can't be replaced and have Alabama running on all cylinders and able to win a game.
That is the Saban way and perhaps the main reason he has been a coach that has never been fired or retired. Injuries, graduation, dismissals and transfers are something every coach has to deal with. And some coaches have themselves in hot water or fired because of just one of those problems to their key player.
It's not that other coaches are not aware of Saban's philosophy in this matter. But they are unable to recruit the depth that Saban does and some are simply too stupid to buy into it. Auburn's Gus Malzahn for example once said that his offense was unstoppable. Placing all your eggs in an offensive philosophy that requires a specific kind of person with specific kinds of skills that has to operate at a superstar level is just stupid as is risking that one and only valuable quarterback in running plays that expose him repeatedly to injury. Malzahn's great offensive mind has been exposed as disaster unless you able to find that perfect guy to pull the trigger.
Auburn's last place finish in the SEC West is all the proof of this accusation you need. That's why Malzahn is on the hotseat right now in last place and Saban is playing for yet another national championship.
The fact that no Saban team has been "one man reliant" is perhaps the reason it has continued to roll on in the dizzying streak it has. Instead of building a team around one or two men, Saban builds all his men around a team concept with interchangeable parts. He builds a team the does things the old fashioned way, put more bigger, stronger, faster men in front of smaller, weaker and slower men, fill the bench will lots of other big, strong and fast players to fill any voids and let physics sort out of the winners and losers.
This is why Alabama, with just one exception, has been able to win their games this season, even when the quarterback play wasn't great or the running game wasn't its usual self. Defense wins in most cases. Alabama isn't reliant on having one star carry the team. Ask Kevin Sumlin at Texas A&M how life is post Johnny Football. Ask Les Miles how good his team is when Leonard Fournette is held to under 35 yards rushing.
Heisman Trophy winner Derrick Henry was held to a season low 75 yards rushing in the biggest game of the season so far for the Alabama team. The result, the other players picked up the slack and the Tide rolled on to a 38-0 butt kicking of the nation's number three team. So much for reliance on their biggest star player. Alabama may have still won by the same margin with Henry on the bench his paltry few yards were of no real consequence and the number two running back, Kenyan Drake and third string running back Bo Scarbrough actually had far more yards per carry than Henry did and could have carried Henry's load with absolutely no problem.
There in shining perfect example, is the Saban philosophy on video for all to see. There is the Saban lack of reliance on any one player or any one position and it's just the way Saban, or any coach loves.
Larry has been published in almost every media outlet for college sports and now primarily writes here for Touchdown Alabama. Follow Larry on Twitter for inside thoughts and game time comments at https://twitter.com/LBSportswriter
THANKS FOR SHARING THE LINK TO THIS STORY ON YOUR FACEBOOK PAGE