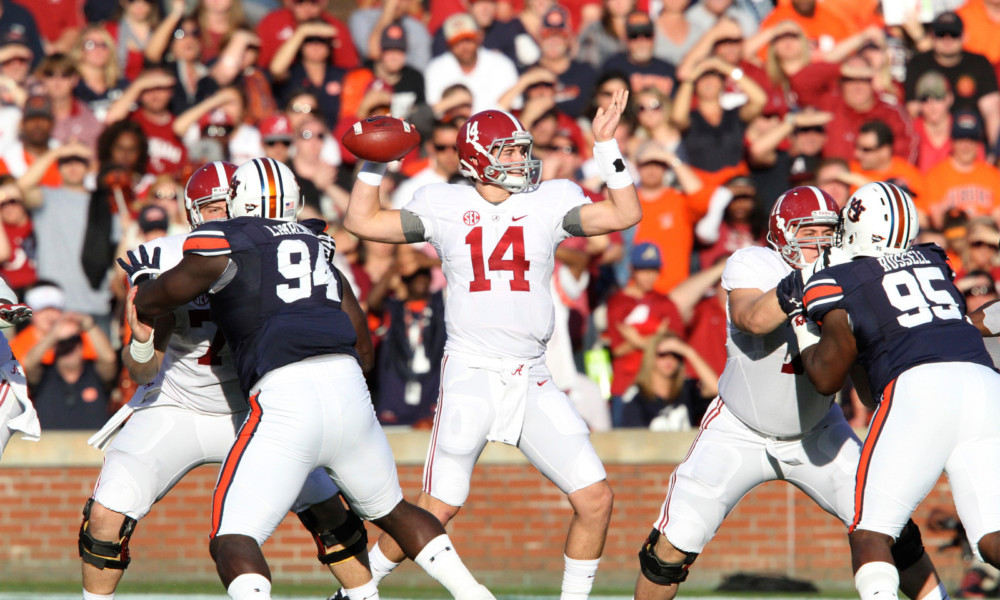 It has been an interesting journey for Jacob Coker going from backup at Florida State to Alabama's starting quarterback.
The road has not been easy, but Monday night can serve as a testament to his confidence, toughness and hard work providing Alabama defeats Clemson.
The senior and Mobile (Ala.) native took a moment to get settled into the offense, but his performance in the second half against Ole Miss won over fans, teammates and coaches.
Regardless of tossing two interceptions, Coker threw three touchdown passes and brought the team within six point of the Rebels before ultimately falling 37-43. Efficiency has been his game since then both passing and rushing. Coker's navigated this group to a Southeastern Conference championship, a Cotton Bowl victory over Michigan State and now an opportunity to play for his first national title.
His leadership started against Mississippi, but it came to a head against Michigan State. Coker completed 25 of 30 passes (83.3 percent) for 286 yards with three touchdowns.
Alabama running back and Heisman Trophy winner Derrick Henry said Coker is the captain of this team.
"Every day he goes out and works as hard as he can," Henry said. "Everybody listens to him and he does a great job of controlling our offense. He plays with a lot of poise and continues to get better week after week."
One thing Coker has to be prepared for is a very skilled Clemson secondary.
The Tigers' allow an average of 177.2 passing yards a game, which stands ninth in the nation. Cornerbacks Mackensie Alexander and Cordera Tankersley are NFL-caliber defenders.
Tankersley, a junior, leads the bunch with five interceptions and nine pass breakups.
Coker said playing Clemson is one of those things where you won't really know how it'll go until you're out there.
"I don't know exactly how they'll effect us, but I'm sure it won't be the same way that Michigan State played us," Coker said.
The former Florida State signal-caller does have Crimson Tide head coach Nick Saban in his corner. Saban, 64, is trying for his fifth national championship overall and fourth at Alabama.
"I feel like we've got the best possible plan in place," Coker said. "Obviously, I think Coach Saban is the best. You know he's going to do everything he can to stop the other team."
Overall, Coker has accounted for 2,775 passing yards with 19 touchdowns to eight interceptions. He told CBS Sports that he "was living a dream" during Alabama's game against Tennessee. The dream can become reality, if Alabama emerges a winner over Clemson.
Stephen M. Smith is a senior analyst and columnist for Touchdown Alabama Magazine. You can "like" him on Facebook or "follow" him on Twitter, via @ESPN_Future.