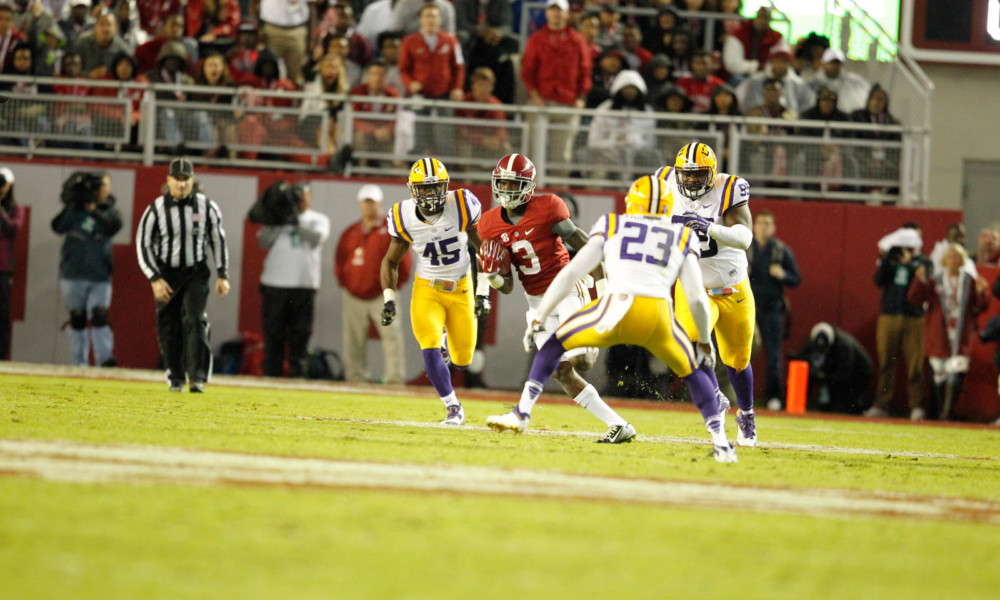 It's finally here. The National Championship Game kicks off tonight in Arizona at 8:30 EST on ESPN and pits the top two teams in the country against each other. Both sides are filled with talent from all parts of the game. Fans will get to see some of the best players in the country go against each other and we take a look at five of those matchups that will impact who hoists the trophy late Monday night.
WR Calvin Ridley vs. CB Mackenzie Alexander
This may be a matchup that we see on a Sunday afternoon sometime in the future but for now, these two will settle for the biggest stage in college football. Alabama's star freshman receiver has been the major playmaker in the passing game, whether it be blowing by defenses for the deep ball or making tacklers miss after catching a screen pass. Ridley surpassed the century mark in receiving yards in the last game. The man that will be guarding him for most of the game is first-round prospect Mackenzie Alexander. His talent level matches with some of the best defensive backs in the country and has been avoided by most teams throughout the season. If he is on Ridley, both players will need their best game of the season to make something happen.
LT Cam Robinson vs. DE Shaq Lawson
These two will not be matched up on every snap but when they are, you can just focus on them to watch good football. Whether it is a pass play or run play for the Crimson Tide, Lawson is expected to be there to make an impact on every play. It will be on Cam Robinson and right tackle Dominick Jackson to make sure Lawson and his counterpart Kevin Dodd do not get in the backfield to blow up any offensive plays. Lawson has been a monster in the pass rush but Robinson's strong suit is in the running game. This matchup will show us even more future NFL players and could be the key to three or four plays that are sure to make a difference on Monday night.
DE Jonathan Allen vs. QB Deshaun Watson
This matchup could be any of the Alabama pass-rush specialists so I just picked the sacks leader Jonathan Allen. Everyone knows how good Deshaun Watson is through the air and on the ground but the Crimson Tide bring the nation's best front at putting pressure on the quarterback. Watson and the Tiger offensive line has not faced a front like this but that does not mean they will not be able to handle it. If Watson can have more successful scrambles than the Tide have sacks, that could give the underdog Tigers a championship.
LB Reggie Ragland vs. RB Wayne Gallman
This may not be a matchup that we see often but if we do, it's probably a good sign for the Crimson Tide. Ragland leads the team in tackles and his play recognition and pursuit ability is second to none. The key for Clemson is to make sure he is not close to the play when Wayne Gallman touches the ball. The Tigers run a lot of read options and if the Tide use Ragland to shut down Watson's running game, it could open up lanes for the running back. Gallman has a different style running game than the ones Alabama has shut down all year. That being said, do not expect Gallman to get much space against the front seven.
RB Derrick Henry vs. S T.J. Green
This matchup may not have too much impact on the game itself but will be fun to watch if we get lucky enough to see it. The Heisman Trophy winner has shown serious ability to blow by opposing fronts while somehow managing to out sprint secondaries with no problem. T.J. Green will be in the NFL sometime in the near future and is second on Clemson in tackles. He has the athletic ability to match up with Henry's speed and could be the difference in a 15-yard gain and a 60-yard touchdown.
Caleb Turrentine is a contributor at Touchdown Alabama Magazine. Follow him on Twitter,@CalebTurrentine.