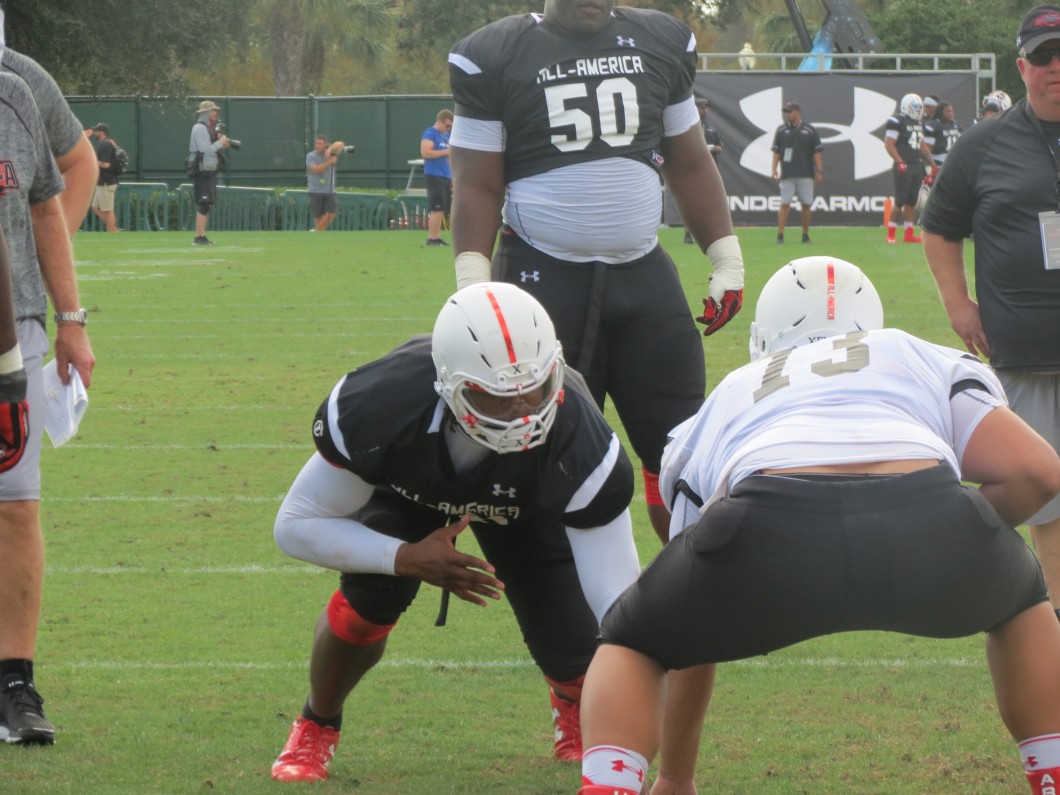 Touchdown Alabama's team of recruiting analysts put together this list before the high school and college season started and it has since changed numerous times. These are who we consider to be the top targets for the Crimson Tide's 2016 recruiting cycle. These are not based on rankings or star ratings, these ten student athletes were compiled into this list based on their ability to impact Alabama immediately, their fit for the team needs, and their probability of landing in Tuscaloosa next fall. Here is the new, improved and likely final TDAM Top Ten of the 2016 class as all of these players have said they will sign on signing day.
*This list is subject to changes until National Signing Day on February 3rd*
1.) Ben Davis – ILB – Gordo, AL
From the beginning of the year, the nation's top inside linebacker has been number one on this list and for good reason. Davis has every tool to be successful in crimson and white. He has great football IQ to go along with his great range, speed and nose for the ball.
He has named Georgia is sharing his leader spot as of right now with Alabama, partially due to his strong relationship with Kirby Smart and the ability to create his own path. Ben Davis' father is Alabama's all-time leading tackler, Wayne Davis.
Davis took his official visit to Notre Dame last week and he loved it, moving Notre Dame to #2 on his list, with Georgia and Alabama sharing the top spot. After a home visit with defensive coordinator Jeremy Pruitt, in a change of plans, Davis will visit Alabama this weekend, joining the likes of his good friend Lyndell Wilson, and will follow that with a visit to Auburn to finish out his recruiting cycle before National Signing Day.
2.) Lyndell "Mack" Wilson – OLB – Montgomery, AL
Like Davis, Wilson has remained on this list since the beginning of the season, although his spot has been moved around a few times, the nation's top outside linebacker now sits at number two for similar reasons as his good friend Ben Davis. He also has a great nose for the ball and his range is almost unparalleled to any linebacker in the country. His ability to move sideline to sideline will be a major factor for his game at the next level. He fits the ideal size of an OLB at Alabama as well (6'3″, 235 pounds).
Wilson has had Florida listed as his leader since early December and that has not changed with Georgia and Alabama trailing the Gators.  The Bulldogs with newly-appointed head coach and former Alabama defensive coordinator Kirby Smart have made a big time push as of late for Wilson and he has began to seriously consider going to Athens. Alabama will host Wilson next weekend and although he was very impressed with the National Championship victory, they will need to really knock his visit out of the park.
Wilson visited UGA last weekend and after his Alabama official this coming weekend, he will finish in Gainesville at Florida.
3.) Jeffery Simmons – DE – Macon, MS
Simmons has been on this list since his monster performance against Starkville in the first week of the season, where he had 17 total tackles and since then he has risen through the national ranks as well, claiming the number three spot for defensive ends in the country. He has a great motor, helping him always be around the ball, but he also has great speed for his size, using a great balance of finesse and power in his moves.
Simmons named his top four, which consisted of Alabama, Mississippi State, Ole Miss and Tennessee. He already officially visited Knoxville in November, and began his final three visits in Starkville last weekend at Mississippi State, he will be following that with a visit to Tuscaloosa on the 22nd and finishing with a visit to Oxford at Ole Miss on the 29th.
Simmons will make his college decision on February 3rd on National Signing Day.
4.) Rashan Gary – DT – Paramus, NJ
There was no question about Gary being on this list, he is the nation's most dominant player and that is why he is ranked at the top. He was awarded MVP of the Under Armour All America Game in Orlando two weeks ago and it was eminent with his six tackles, four for a loss. Gary has a plethora of moves in his arsenal that he showcased the entire week. He is more finesse than power but does know how to use his size and hands to his advantage.
Gary visited USC this weekend and he came away very impressed out in L.A. He has already taken visits to Ole Miss, Auburn and Michigan, but will take an unofficial visit to Michigan this weekend. The Wolverines are considered to be the favorites for Gary right now. He and his mother are still contemplating a fifth visit and if they do take it, it will likely be between Alabama, LSU, or Ohio State.
5.) A.J. Brown – WR – Starkville, MS
A.J. Brown has been the top wide receiver target for the Crimson Tide in 2016. He possesses great route running skills to go along with his natural hands and ball skills. At 6'2″, 220 pounds, he has the size to be a dominant outside receiver at Alabama.
Brown visited Alabama this weekend and enjoyed himself. He has been vocal on Twitter about Alabama, therefore the coaching staff must have done something right. Brown is set to visit Cal this weekend and then that will likely follow with a visit to Ole Miss. Alabama definitely gained some ground with the number five receiver in the nation this weekend and it would not surprise me if Alabama was Brown's leader right now.
6.) Mecole Hardman Jr. – ATH – Elberton, GA
Mecole Hardman, the nation's top athlete has been on this list for a while and solidified his spot after his outstanding performance in the U.S. Army All American Game, which is also where he named Alabama his leader in his recruitment. He has great speed and versatility, playing both sides of the ball as well as returning kicks and punts, something that will undoubtedly help him on the college level.
Hardman took his official visit to Ohio State last week, and proceeded to add Ohio State to his top schools, making a top seven via Twitter. The Buckeyes made a strong impression on Hardman and have soared up his list. He will visit Alabama this weekend and his final visit has not been announced yet.
7.) Demetris Robertson – ATH – Savannah, GA
The nation's number two athlete and former Crimson Tide commit has been a member of this list for some time for his elite speed and big play ability on every side of the ball. Robertson plays receiver, safety and takes care of return duties as well. He had a good showing in San Antonio earlier this month at the U.S. Army All America Bowl.
Robertson has gained ground with Notre Dame as of late, and will visit Alabama this weekend in what is already a loaded group of visitors. He will visit Stanford and Georgia following his Alabama visit. Robertson has already taken an official visit to Cal.
8.) Devin Asiasi – TE – Concord, CA
Devin Asiasi is one of the top athletes in the country, playing defensive end as well as tight end, but has said he would like to play tight end in college. He is a newcomer to our list for his iron man athleticism, executing well on both sides of the ball, using all of his skills and attributing them to each position.
Asiasi visited Washington this weekend and has said that he will not be taking an official visit to Alabama but is still high on the Crimson Tide. He is set to visit Michigan this weekend instead of Alabama as was planned and the Wolverines also seem to be making a big push for Asiasi.
9.) Nigel Knott – CB – Madison, MS
Nigel Knott has been on this list since the beginning of the season due to his athletic ability, ball skills and freakish ability to hit like a linebacker. He has been Alabama's top cornerback target since high school season started and it became elevated after his solid week at Under Armour All America.
He has taken an official visit to Oregon, one of his top schools and will visit Alabama this weekend. Alabama will make a big push for the Mississippi product this weekend and moving forward. Oregon also gave Knott an in home visit this week. Mississippi State, LSU, and Ole Miss are also in the mix.
10.) Derrick Brown – DT – Buford, GA
Derrick Brown is a new addition to the list after his monster performance throughout U.S. Army All American week. The top player in the state of Georgia earned his fifth star after his dominant performance in San Antonio and he possesses as good of a skill set as any defensive player in the country. He has good speed for his size and his quick first step leads to his great burst through the gap.
Brown took his official visit to Alabama on December 12th and the Tide made a great lasting impression on him and his family. Coach Saban and defensive coordinator Jeremy Pruitt also visited Brown for an in-home visit on January 14th, the day before Brown went to visit Auburn. He was impressed with Auburn last weekend and will visit Georgia this weekend, following a final visit to Tennessee on the 29th.
Justin Wagner – Lead Recruiting Analyst
Derek Hooper – Recruiting Analyst
Maxwell – Recruiting Analyst