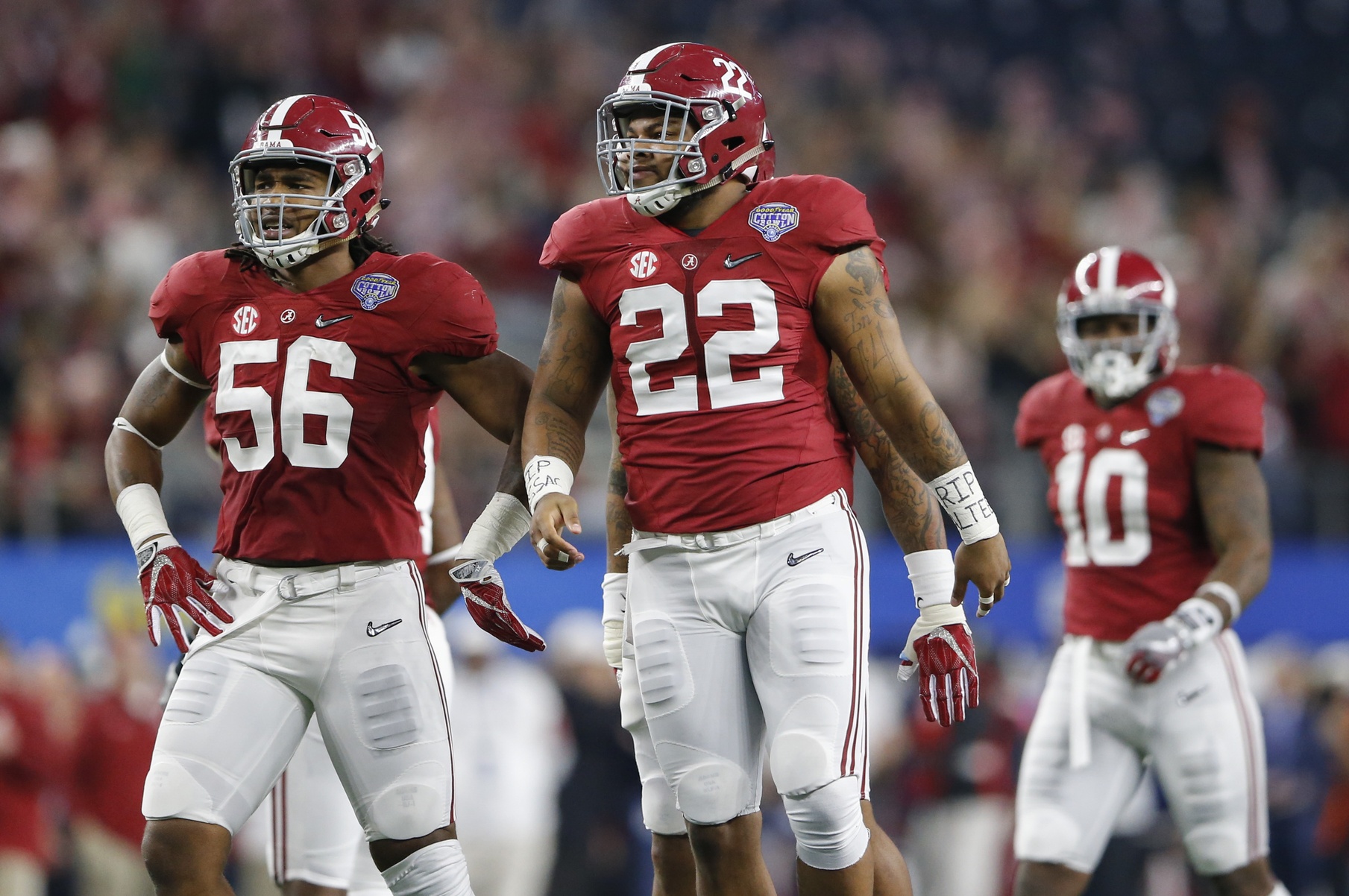 For any fan whose studied football over the past 20 years, one would know that Alabama Crimson Tide coach Nick Saban is synonymous with excellent defense. Since 2007, Saban has roamed the sidelines for the Tide and has streamed together some of college football's best defenses ever.
During his tenure, without hesitation, many Alabama fans would point to the 2011 team as having arguably the greatest defense in not just Alabama history, but college football history as well. Even in that same breath, the nod would still go to the 1992 team just slightly.
That 2011 defense surrendered a stingy 8.2 points per game, and a combined 183.7 total yards of offense. In addition to these ridiculous numbers, this team registered three shutouts including the epic 21-0 defensive masterpiece against the LSU Tigers in the BCS National Championship game in which the Tigers never crossed the 50-yard line.
While the 2015 defense was spectacular overall, they still showcased some inconsistencies primarily in the secondary, which consisted of three new starters (Eddie Jackson started at cornerback in 2014) still needing to figure things out.
As for the 2016 defense, there's an embarrassment of riches that just cannot be ignored. For years now, Saban has scoured the country recruiting the nation's best players, and we may just see them all on the field at the same time next season.
For as much as this year's defense was praised by analysts all over, many noted the crazy depth the team displayed and how players such as 2014's top-rated player Da'Shawn Hand was relegated to the bench the majority of his first two years. That in and of itself should tell you something. A player of his caliber does not sit and wait that long to be a force, so the college football world should expect an all out beast to erupt in the fall.
But Hand is not alone.
Looking at the defensive line, the return of Jonathan Allen (who may very well have been a first-round draft pick) just may be the biggest announcement of all of the eligible underclassmen. He led the Tide in sacks with 12 this year, but the leadership, toughness, and oversight he will bring to not just the defensive line — but the entire defense — will replace what is lost in those areas by A'Shawn Robinson and Jarran Reed.
Joining Allen and Hand will be Dalvin Tomlinson. After missing the 2013 season, Tomlinson showed why the Alabama coaching staff was so high on him coming out of high school. His background as a wrestler was put on display this season as his athleticism and rugged style caused trouble for opposing offensive linemen, and manifested itself in many disruptions including six batted balls, which led the team.
Lest we not forget true freshman Da'Ron Payne. The same Payne who did what very few true freshmen have done for Saban, which is to start on the defensive line. While Payne's stat sheet doesn't reflect his importance to the defense, his freakish strength and athleticism for a plus 300-pounder helped stabilize the line allowing players such as Reggie Ragland to inflict pain on opposing rushers.
The linebacking core is where things get even scarier. Reuben Foster, Ryan Anderson, Tim Williams, Rashaan Evans, and Shaun Dion Hamilton make up a cast that gives new defensive coordinator Jeremy Pruitt plenty to work with in terms of schemes and pass rushing capabilities. The middle is solidly intact with Foster and Hamilton, but the outside is where things get dangerous — in a good way. Last year alone, Anderson, Williams, and Evans combined for a total of 20.5 sacks. Not to mention, Williams and Evans were primarily used as pass rushing specialists and nothing more. The most intriguing of the three is probably Evans who brings to mind none other than Eryk Anders who used his speed and quickness to disrupt and affect the quarterback during the 2008 and 2009 seasons. The scary thing about it is Evans is much faster and quicker than the talented Anders was, and as a former five-star himself, he's starving to feast more on opposing quarterbacks — with an assumed more prominent role in 2016.
That leaves the secondary.
By now, Alabama fans know this is Saban's bread and butter — his baby. He's going to return a five-star cornerback in Marlon Humphrey, five-star safety in Minkah Fitzpatrick, an All-American in Eddie Jackson, Ronnie Harrison, and a host of others who've waited their turn in the system. For Saban though, his mantra has always been having teams who can effectively execute man coverage. He was finally able to do that again in 2015, and will have the same fortune next season. The dark horse will be Tony Brown. The ultra-talented former five-star speedster shined on special teams as well as filling in quite nicely for Fitzpatrick in the star role when he was out against Charleston Southern.
Brown, however, has had a difficult time staying out of Saban's dog house, and reports surfaced that tensions arose when the resistance of moving from cornerback to safety did not sit well with Brown. If Brown, Fitzpatrick, and Harrison are all in the secondary next season, this would give Saban at least four former five-star players roaming his secondary. To this point, he has not had this luxury in terms of talent.
So, let's recap. Let's say just for fun we compose a possible depth chart. Now, of course Saban despises preseason depth charts and pundits who imply something that may or may not happen — but we'll do it anyway:
Defensive Line – Da'Shawn Hand (5-star), Dalvin Tomlinson (4-star), Da'Ron Payne ( 5-star), Jonathan Allen (5-star)
Linebackers – Ryan Anderson (4-star), Rashaan Evans (5-star), Reuben Foster (5-star), Shaun Dion Hamilton (4-star), Tim Williams (4-star)
Cornerbacks – Marlon Humphrey (5-star), Tony Brown? (5-star), Maurice Smith (4-star)
Safties – Eddie Jackson (4-star), Ronnie Harrison (5-star), Minkah Fitzpatrick (5-star), Tony Brown? (5-star)
Looking at this possible defensive lineup, Saban could field up to 9 previously ranked five-star players at one time consistently. What he's done with far less talent has been nothing short of amazing. One can only imagine what he can do with this group. Alabama fans are thirsting for a repeat, only 227 days until kickoff.
Brandon Williams is an Editor and Columnist for Touchdown Alabama. You can follow him on Twitter, @BWilliamsTDAL, "Like" him on Facebook, or add him to your network on Google.