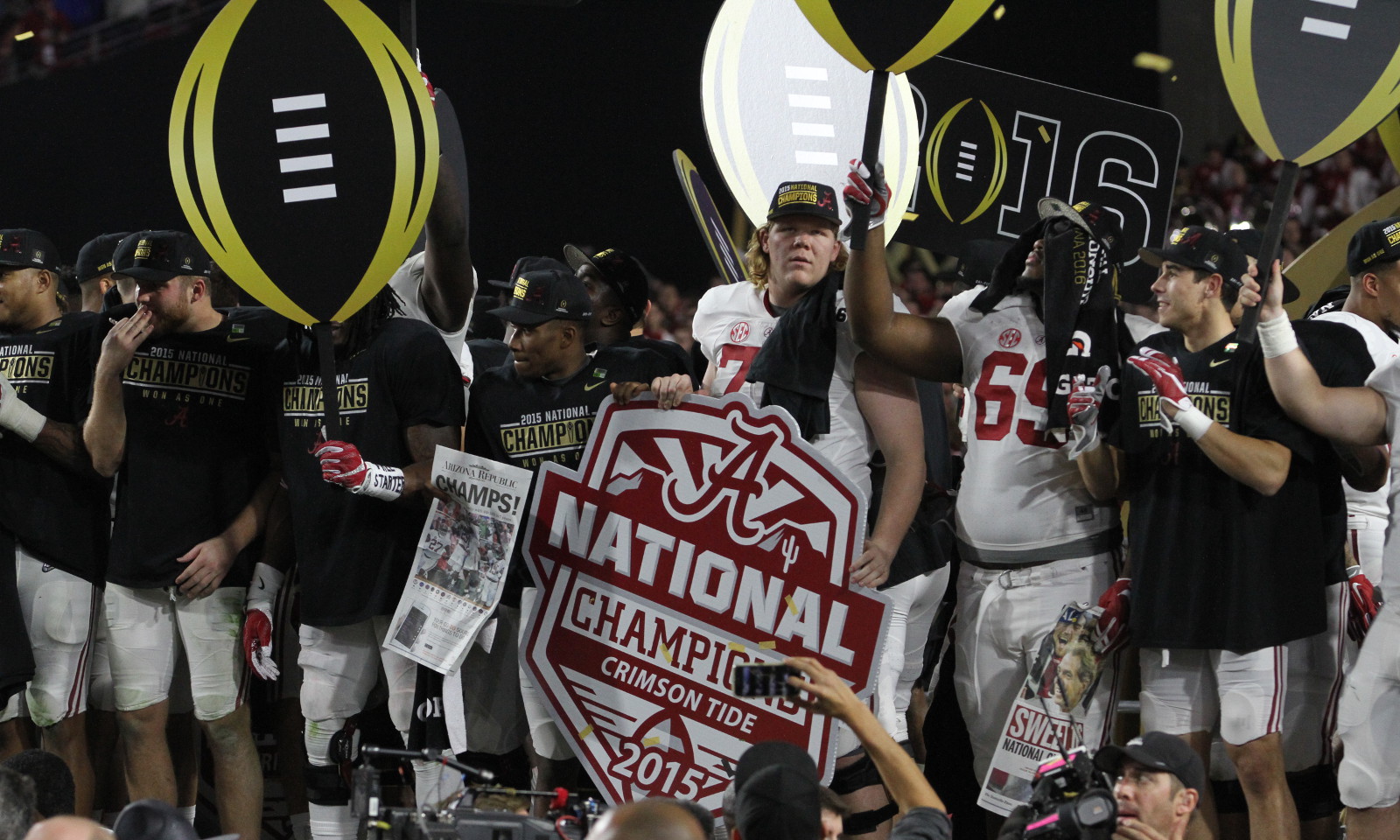 Beneath the yellow confetti stood a national champion.
A program that embodies consistency, winning four national titles in the last seven years. Alabama coach Nick Saban performed his best job this season, taking a school that was pronounced dead after a 37-43 loss to Mississippi and guiding it to national championship victory over Clemson last week.
Heisman winner Derrick Henry was the catalyst, wide receiver Calvin Ridley made a huge splash and Alabama's defense suffocated competition, yet the ultimate goal was achieved by three outsiders. Three different personalities from various areas meshed to create an unstoppable force.
Yours truly of Touchdown Alabama Magazine unveils the three impact faces from this year's championship season.
QB Jacob Coker- Toughness personified
He is the spitting image of Rock "n" Roll legend Elvis Presley during interviews, and on last week he had made it to the top of the mountain. Coker found himself in the arms of sophomore wide out ArDarius Stewart upon the game's final snap, celebrating with tears of jubilation. Prior to this season, the jury was out on whether Coker would start at quarterback.
The former Florida State transfer watched two seasons escape at Tallahassee, while being sentenced to mop up duty behind EJ Manuel in 2012 and Jameis Winston in 2013 (redshirted in 2011).  Standing at 6-foot-6 and weighing 240 pounds would scream "starting quarterback" for most programs, but Coker accounted for just 295 passing yards with a touchdown and an interception in nine games with the Seminoles. Sitting for three years forced him to make a decision, a transition that caused him to return to a place where it all started, Alabama.
Coker's football training ground began at St. Paul's Episcopal High School in Mobile, Ala.
He was a standout in both basketball and football, scoring 21.4 points per game on the court and tossing for 1,508 yards with 16 touchdowns on the field as a senior in 2010. His return to Alabama in May 2014 sparked much attention. His size and arm talent put him on a pedestal, while a lack of preparation and toughness saw him wait in line for a fourth straight time.
"Moxie" is a term that has been a part of Alabama's program since Paul Bryant's tenure.
It means to be active or have courage and determination, per Merriam-Webster Dictionary. Ex-Crimson Tide quarterbacks John Parker Wilson, Greg McElroy, AJ McCarron and Blake Sims possessed this type of character. All four players found a way to guide this school to national success and for Coker, the term became real during Alabama's game against Mississippi.
His mechanics took a tumble against lower-tier opponents Middle Tennessee State and Louisiana-Monroe, after a productive season opening start against Wisconsin.
In attempts to light a fire under Coker mentally, Saban went with sophomore Cooper Bateman against the Rebels.
Regardless of him being aggravated, the move got Coker's attention. The Crimson Tide trailed Mississippi 17-3 in the second quarter when Saban replaced Bateman with Coker.
He played with an edge and a toughness to him, tossing for 201 passing yards and three touchdowns.
He answered Rebels' quarterback Chad Kelly drive for drive, including one possession in the fourth quarter that brought Alabama within six points of Ole Miss. It was not meant to be for Saban's bunch on Sept. 19, 2015, but fans inside Bryant-Denny Stadium saw the heart of Coker.
He carried the same edge throughout the season, motivating teammates with his arm and his legs. Coker completed passes at a high rate and with Lane Kiffin's encourage, his confidence grew in control of the offense. Touchdown passes to Calvin Ridley and ArDarius Stewart chalked up wins for him against Georgia, Arkansas, Auburn and Florida. A perfect game propelled him against Michigan State, completing 25 of 30 passes (83.3 percent) for 268 yards and two touchdowns.
Clemson's quarterback Deshaun Watson is a dynamic player, but last week belonged to Coker. A moment he had waited for since 2011 came into fruition at University of Phoenix Stadium. Taking five negative sacks was irritating for Saban to watch, nevertheless Coker responded by getting tight end O.J. Howard involved. He brought in 208 of Coker's 335 passing yards and two touchdowns in excess of 50 yards.
WR Richard Mullaney- The missing link
Carolina Panthers wide receiver Kevin Norwood was special during his time at Alabama. He was not a highly-touted recruit or a popular name, yet he got the job done. He is remembered for his sound route running, reliable hands and clutch receptions against elite competition.
What the Crimson Tide lacked in 2014 came full circle this season. Richard Mullaney, like Norwood, was a three-star prospect. A native of Thousand Oaks, Calif., Mullaney was a slot receiver at Oregon State from 2011-14. He was use to playing alongside a big-armed quarterback, catching 83 passes for 1,160 yards and five touchdown from Sean Mannion.
Mullaney had the size, speed and competitive nature, but no championship to show for it. Louisiana native Cameron Sims was tabbed to be Alabama's primary target in 2015.
Sims, who caught seven passes for 62 yards in 2014, stood at 6-foot-5 and excelled at high-pointing balls. A knee injury in the spring would deter Sims from starting
Mullaney and his father came to Tuscaloosa for a visit during the summer. Both had a positive vibe with the team and vice versa. He committed to Alabama and began to work for a starting position. Mullaney's instincts and consistency won over Saban and Coker in the preseason.
The 6-foot-3, 208-pound transfer was Coker's "go-to" target early on against Wisconsin, Middle Tennessee and Ole Miss. He caught two touchdown passes against the Rebels, both of got the Tide in striking distance.
Defensive back Cyrus Jones outshined most in Alabama's game against Charleston Southern, but Mullaney pulled in one of the best receptions of the year.
He extended for the ball at its highest point and muscled it away from a Buccaneers' defender in the end zone for a 21-yard touchdown. He returned two weeks later with a nine-yard scoring grab against Florida (SEC Championship) in the fourth quarter. Mullaney and the Tide beat Florida 29-15.
He was granted one year in crimson and white, but Mullaney was a gamer. He laid out for every pass and did all he could to generate a positive impact. He finished with 390 receiving yards and five touchdowns on 38 catches. Mullaney filled Alabama's missing link at receiver.
OC Lane Kiffin- The rebel, but an offensive genius
It was one of few times where missing a team bus became more comical than detrimental.
Kiffin had won a national championship on a team that most thought would not give him a chance. Coach Saban caught a lot of eyebrows when he hired Kiffin in January 2014, prior to the moment he had success at Southern California as an offensive coordinator under Pete Carroll.
His nomadic behavior stemmed from his mouth causing trouble at USC, Tennessee and with the Oakland Raiders, yet Kiffin is one of the brightest minds in football when it comes to offense.
Skepticism and speculation were on the faces of Alabama fans upon Kiffin entering their domain, but the 101,825 fans at Bryant-Denny Stadium plus others started to warm up to the California man after what he produced in Blake Sims.
Much like this season, the variable was unknown as to who would start at quarterback between Sims and Coker in 2014.
Kiffin coupled Sims' toughness and dual threat abilities with a mixture of short and deep aerial patterns.
He coached Sims to a Southeastern Conference title, a No. 1 overall seed in the College Football Playoff and the school's single-season passing record holder with 3,487 yards.
Kiffin had the luxury of working with a more physical specimen in Coker, but getting him to buy into playing efficient was easier said than done. His love for jet sweeps and wide receivers bubble screens aggravated Crimson Tide fans at times, but in hindsight Kiffin was settling Coker into action.
Steady outings against Georgia, Texas A&M, Tennessee and others allowed Kiffin trust Coker with audibles and deep passes. He gained Kiffin's full confidence in the final weeks of the regular season, stringing together solid game tape against Auburn and Florida before the College Football Playoff.
Kiffin has done the same things at Alabama that made him at hot commodity at USC. The Crimson Tide has had two Heisman finalists, a Heisman winner (Derrick Henry), two honorees for SEC Offensive Player of the Year and a Biletnikoff Award winner in former wide out Amari Cooper.
Deviation from its run game caused Alabama to lose against Ohio State in the first-ever playoff in 2014, which led to Kiffin giving Henry the ball more so this season. A ground-breaking effort that was capped off by 2,000 rushing yards paved the Tide's way to a 16th national championship.
Balance has been important to Kiffin's attack in the last two years. Fans have started to show love and appreciation for him, in hopes that continues to stay grounded under Saban.
In conclusion
The phrase "everything happens for a reason" becomes corny after a while, but honestly it is the ideal statement for Coker, Kiffin and Mullaney. All three came to Alabama in search of a fresh start, a positive impact and a chance at national success.
Each one did just that for the Crimson Tide, regardless of how sooner or later it took. Coach Saban recruits star power at each position and brings in coaches that provide the best for players, yet No.16 would not have happened if a rebel offensive coordinator, an unproven quarterback and a tough wide receiver did not by into Saban's process. A process that has been the blueprint for four national championships.
Stephen M. Smith is a senior analyst and columnist for Touchdown Alabama Magazine. You can "like" him on Facebook or "follow" him on Twitter, via @ESPN_Future.