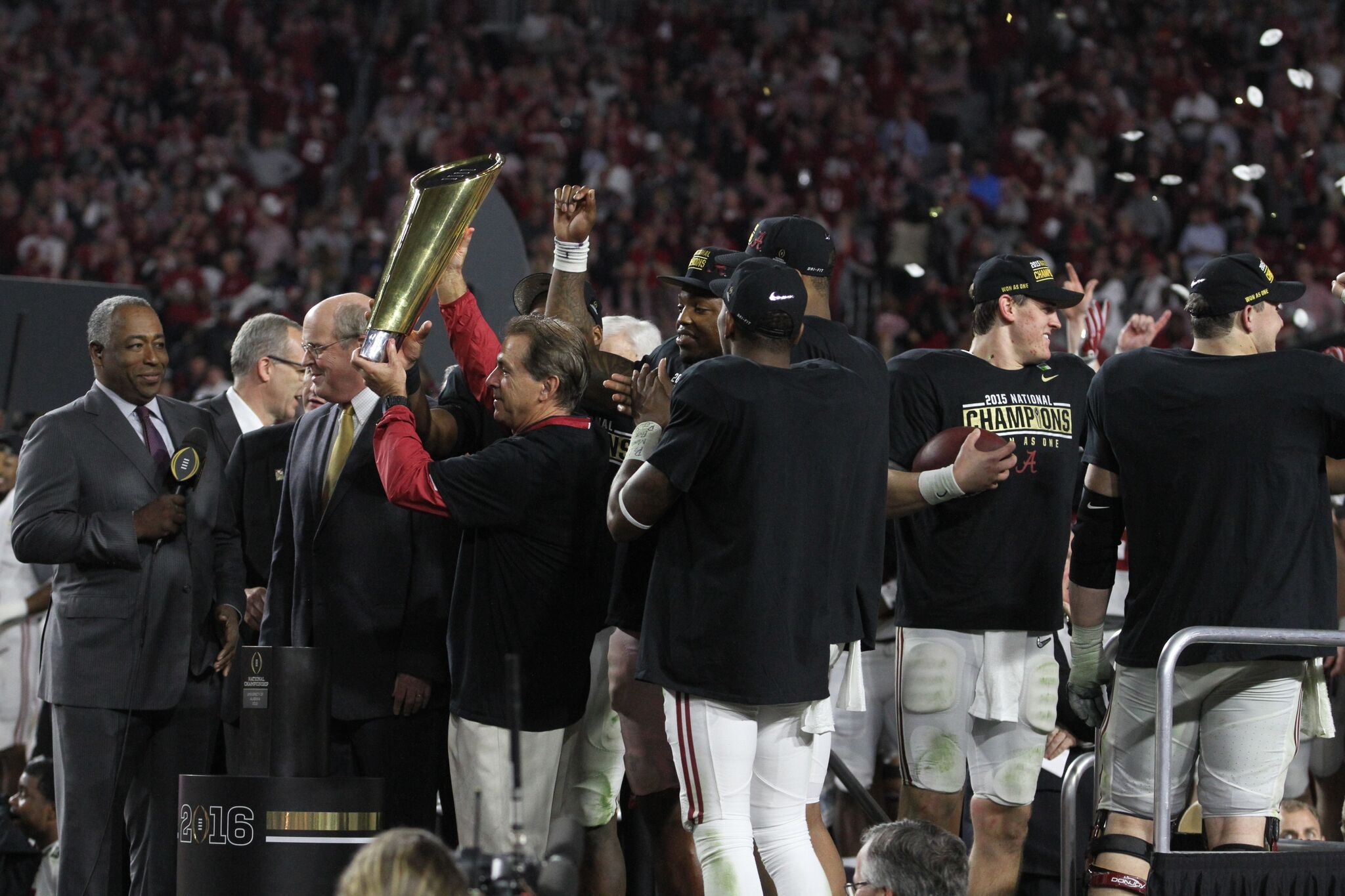 Here's the Proof Alabama Can Repeat in 2016
By: Larry Burton
But isn't Alabama losing 30 people off this championship team? How is it possible they could repeat with so much talent drain? By replacing the key people lost with people just as good if not better.
This article will show you that though Alabama loses some good men, the ones who step into their shoes could actually be better.
Starting on offense:
Quarterback: 
Gone: Jake Coker
Likely replacement: Blake Barnett or Cooper Bateman or David Cornwell
With all due respect to Jacob Coker, the likely starter next season, Blake Barnett, (who was being red shirted during Coker's time at QB), is a huge step up in overall talent, in elusiveness and arm strength. He was much higher rated coming out of high school and has such a higher upside than Coker that it is hard not to see this as a huge upgrade.
Running backs:
Gone: Derrick Henry, Kenyan Drake
Sure replacements: Bo Scarbrough and Damien Harris
Derrick Henry won the Heisman, but may not have had Drake been healthy all season long because it would have cut into his carry numbers. Alabama has always preferred a one-two punch. Next year they'll have that again and while it may seem silly to say there's an upside to losing a Heisman trophy winning running back, the backs may actually both have higher yard per carry averages than Henry had.
Scarbrough is a 6'2.5", 240 pound runner, Henry was 6'3" and 238, both a big bruisers and both have 4.5 speed in the 40, so in reality there's no drop off there. The good news is Harris, who unlike Drake isn't fragile or injury prone and is freaky fast with some 40 times in the mid 4.3's. So he has Drake like speed but an almost 6 foot 205 frame that means he can lower the shoulder and get those tough extra yards too like Scarbrough. this could be as effective as any one-two punch duo the Tide has fielded in a long time and with two healthy backs, Alabama's rushing yardage will be at least as good if not better than last season's marks.
Offensive line:
Gone: Dominick Jackson, Rt. Tackle, Ryan Kelly, Center
Returning: Cam Robinson, L. Tackle, Alphonse Taylor and Ross Pierschbacher, Guards
Likely Replacements: J.C. Hassenauer, Center, Korren Kirven, Rt. Tackle
Dominick Jackson had big trouble against Clemson in the the championship game and Hassenauer can only prove to be a better player. He already has experience at the position and started one game already. Likewise Hassenauer has also started at center, filling in for a banged up Kelly and did a great job. While not as seasoned as Kelly he should so a good job. Hassenauer gives up a few inches, but not weight to Kelly and that may actually help him stay low and drive opponents better than Kelly.
Having all but two starters return and having such good replacements along with a long line of good subs on the bench, Alabama's offensive line may be just as well as last year's.
Receivers and Tight Ends:
Gone: Richard Mullaney
Returning: Calvin Ridley, ArDarius Stewart, Robert Foster, O.J. Howard (TE)
Likely Replacement: Cam Sims
While Mullaney proved to be a reliable third down receiver, he is easily replaced by a slew of more talented and faster receivers, most likely of which will be Cam Sims. There is also Daylon Charlot, Delonte Thompson, Derek Kief, Hale Hentges and some incoming freshmen that can pitch in too.
With everyone having a year of experience under their belts, this group will be better than last year's squad and most likely, the most talented group of receivers in all of college football and this will only make Alabama's already great running game work that much better.
Overall Offensive Assessment:
Losing a Heisman running back is tough, but replacing him with not one, but two great running backs means fresher legs and more total rushing yardage. The only player that really has something to prove is Alabama's replacement for Ryan Kelly and I suspect that won't be a problem.
So returning so many veterans and replacing departing players with so many men that may actually be improvements over their replacements that the offense is going to be better overall than last season.
Now for the Defense:
Defensive Linemen:
Gone: A'Shawn Robinson, (DT), Jarran Reed, (DE), Darren Lake, (NG)
Back: Jonathan Allen, (DE)
Replacements: Dalvin Tomlinson, (DT), Da'Shawn Hand, (DE), Daron Payne, (NG) or Joshua Frazier (NG)
If all these replacements seem like household names, they should, they rotated in and out all season long and made major contributions to the team. Dalvin Tomlinson and Da'Shawn Hand will go to the NFL following this season so it's hard to say that they could be detriment to the team. Plus, there's just an absolute ton of talent behind these men meaning that the constant rotation that Saban used last year will still be in effect this coming season and that the results should be just as devastating to opponents. They are all experienced and game tested and as great a set of replacements as any coach could wish for.
Linebackers:
Gone: Reggie Ragland, (MLB), Denzel Devall, (Jack)
Returning: Reuben Foster, (WLB), Rashaan Evans, (SLB)
Replacements: Ryan Anderson, (Jack),  Tim Williams, (may play anywhere), Shaun Dion Hamilton (MLB)
Also gone is versatile Dillon Lee, but the wealth of talent at linebacker means that this group is just as deadly to opponents as ever. Reggie Ragland will be missed, but as a whole, this group will be faster than last year's and will rack up even bigger sack numbers than 2015's totals and that was the highest total in many years. Of the nation leading 52 sacks last season, 41 of them were made by players who will be back who didn't get to play entire games. Now Williams, who had 10.5 of them himself, will get more than just 25% playing time per game. Watch the numbers explode.
How deep is the talent pool at linebacker? Deep enough to rotate every position without a noticeable drop off in total production. Yes, there is just that much talent on the defensive line and linebacker units that this will be another nationally ranked run stopping, quarterback sacking machine.
Defensive Backs:
Gone: Cyrus Jones, (CB), Geno Matias-Smith, (FS)
Back: Eddie Jackson, (SS), Marlon Humphrey, (CB), Minkah Fitzpatrick, (Star)
Replacements: Minkah Fitzpatrick, (moves from Star to CB), Ronnie Harrison, (FS), Tony Brown or Maurice Smith (Star)
But there are some great incoming freshmen that could see playing time as well as experienced players like Shawn Burgess-Becker, Hootie Jones, Kendall Sheffield and Anthony Averette.
Last season's group was one of the youngest groups in many years, but did an excellent job. With more experience, this group should be better top to bottom.
Overall Defensive Assessment:
Last year people scoffed when I said the 2015 would be better than the one before because just like this year, that year's team lost a lot of great talent. I also said that the sack figures would be higher than ever and that Saban would finally turn the dogs loose rather than just try and contain quarterbacks. All those predictions were spot on, so don't scoff when I say this unit will be even better. Coaches at the University say this group is faster than last year's and has greater overall talent.
The only real question is how will the defense react to the departure of defensive coordinator Kirby Smart and Mel Tucker, who did such a wonderful job with the defensive backs. Jeremy Pruitt, the new coordinator and defensive back coach may pull double duty unless Saban chooses to hire another coach to work the defensive backs.
Will the defense go the extra mile for Pruitt as they seemed to do for Smart? That's the only question, but I can only suspect things will go fine.
Special Teams:
Gone: Kenyan Drake (KO Returner) Cyrus Jones, (P & KO Returner)
Back: Cole Mazza (LS), Adam Griffith, (PK), JK Scott (P), Cooper Bateman (Holder), ArDarius  Stewart, (KO Returner)
Replacements: Kick and Punt Returners are people Saban trusts to hold on to the ball, has speed to burn and makes good decisions. He'll have a pile of people to pick from. Departing seniors Drake and Jones both made major contributions and will be missed, but we expect this next group to have some electric moments too.
As for the specialists in the kicking game, Mazza is still perfect with all his snaps, Scott should be one of the national leaders in punting again this year and Griffith has proven his worth not just by becoming a solid field goal kicker, but "wrote his name in Crimson flame" with that perfect offside kick in the championship game.
Special Teams Overall Assessment:
With almost all coming back, with all the big games they endured, this group will only get better. Special teams could very well be the winning element in games this fall.
Overall Team Assessment:
In college football, Alabama has been the gold standard since 2009 to measure your team against in order to climb to the top of the mountain. That has been due to the great recruiting that Nick Saban does year in and year out and this year will not be an exception as the shelves are so full of talent it's almost embarrassing.
Consider that this time last season no one had any ambitions that true freshmen or first year players like Jacob Coker or Richard Mullaney would be such keys, or that true freshmen like Calvin Ridley and Minkah Fitzpatrick would be starters and stars. So who knows who is coming on the team this year that can be another first year star for the Tide? The only thing you can be assured of is that there is someone who will surprise us all.
But the one thing that should surprise no one is that no other team could lose 30 players off it's roles and still be considered a front runner. The way Saban rotates his men in and out in all areas of the game, he's bringing back 70% of his starters from last season and the replacements will have lots of important game time experience.
This run is unheard of and  not duplicated in modern history because of the "Process" Saban brought to Alabama and one would be hard pressed to not believe the Tide will just keep on rolling for some time to come.
Larry has been published in almost every media outlet for college sports and now primarily writes here for Touchdown Alabama. Follow Larry on Twitter for inside thoughts and game time comments at https://twitter.com/LBSportswriter
Thanks for Sharing This Link on Your Home Page of Facebook!