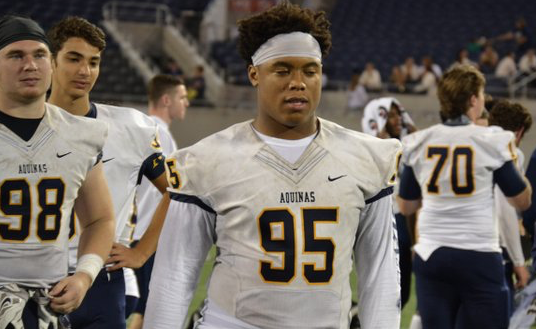 With the 2016 recruiting cycle coming to an end next week, the 2017 recruiting trail is already hot and Alabama is on the move. The Crimson Tide currently have nine commitments in their 2017 class, already being ranked second in the nation, headlined by two top five running backs with top-ranked Najee Harris of California and fourth-ranked Cam Akers of Mississippi. On top of that, the top player in the class, outside linebacker Dylan Moses of IMG Academy recently named Alabama his leader.
Monday afternoon, Alabama extended an offer to Kivon Bennett, a defensive lineman out of St. Thomas Aquinas in Fort Lauderdale, FL. Not only is Bennett a three-star prospect in the 2017 class, he is also the son of Alabama great, Cornelius Bennett.He made the offer known via his Twitter account
Extremely humbled to receieve an offer from Bama #SEC #likefatherlikeson #legacy #RollTideRoll pic.twitter.com/TPNNoI7Qg2

— kivon (kb) bennett (@kb_versace) January 25, 2016
Cornelius Bennett played for the Crimson Tide from 1983 to 1986, recording 287 tackles, 21½ sacks, and 3 fumble recoveries. He is most known in Alabama football history for his monstrous hit on Notre Dame quarterback, Steve Beuerlein, which has become an iconic photo in Crimson Tide culture, known as "The Sack". Bennett also won many awards in college including The Lombardi Award, SEC Player of the Year and even finished 7th in the 1986 Heisman Trophy race.
Bennett now watches his son Kivon from the stands of St. Thomas Aquinas, and he has a lot to be proud of. Kivon is a very underrated player in this class, possessing a great skill set and a versatile one at that, being able to use it at the tackle spot or as a defensive end. Kivon has great size at 6'3″, 260 pounds and has used it to his advantage thus far. He uses the perfect balance of athleticism and strength right out of his quick first step, but the most impressive part of Kivon's game is his motor. He does not give up on plays and always seems to find his way to the ball.
Next season could be a big one for Bennett as he already possesses the skill set to be a high-ranked defensive lineman and with off-season training and a big senior season, do not be surprised when you see Kivon Bennett's name next to at least four stars.
Justin Wagner is the Lead Recruiting Analyst for Touchdown Alabama, you can follow him on Twitter at @jwag718