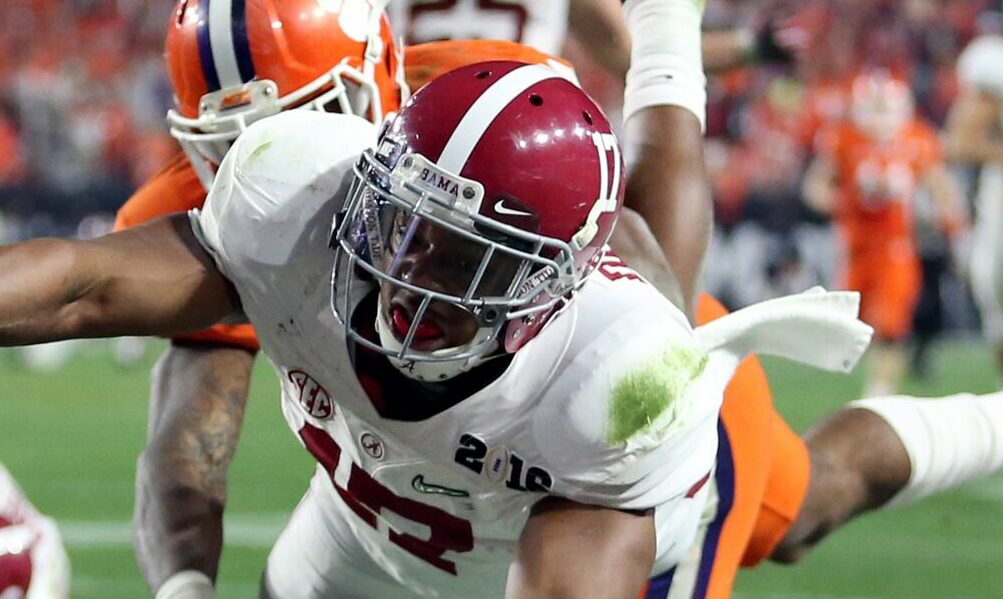 Kenyan Drake has had his ups and downs as a player at Alabama. Now is the time to show the assembled NFL coaches and scouts just how high his upside really is. The Senior Bowl is the place to do it and Drake really needs a great Senior Bowl.
Kenyan Drake Needs a Great Senior Bowl
By: Larry Burton
Kenyan Drake is a superb talent. He has speed, shiftiness, great hands and fantastic instincts. He just needs the NFL scouts to see all that. He also needs them to see him take some hard hits and bounce up.
While no one would deny Drake's talent, some may question his toughness and fragility. Whether that's a fair assessment or not is not the question, but the fact that many scouts are wondering that is certainly in play. Plagued by injuries during his time in Tuscaloosa, Drake didn't have the opportunity in his senior season to show that he can be an every down player or even an every game player. He didn't get many rushing opportunities gaining only 408 yards on just 77 attempts for a 5.30 yard per carry average. Given the quality of the Alabama opponents, the 5.30 yard per carry average is great, but it's from a small number of carries for someone hoping to land an NFL contract.
In Monday's senior bowl press meeting, fellow teammate and sure upper draft pick Reggie Ragland couldn't say enough nice things about Kenyan's running ability. "He's got a quick twitch, smart guy and he knows when to cut up. He can be fast and physical out on the field. Going up against a player like that, he's made me a better player."
"Tackling wise, I need to go inside-out and look at his hips because as a linebacker I do something like basketball, he can't go anywhere with his hips. The first couple of years he made me look funny out there, but after a while it made me breakdown and be more patient as a tackler." Ragland said.
The Senior Bowl should give Drake a real chance to shine because not only will he get some opportunity to run the ball, he may also be given the chance to show his worth on special teams where his stats are a little more impressive. In kickoff returns, he averages 26.58 yards per return and as you saw in the national championship game, if given the edge or a crack, has the speed to take it to the house.
He's also a danger when put in the slot or coming out of the backfield as a receiver. In 2014 he averaged a staggering 31.80 yards per catch and in 2015 dropped to just under 10 yards per catch. Kiffin likened Drake to a Reggie Bush type back that he made a star out of while he was offensive coordinator at USC. While that comparison may get an NFL scout's attention, nothing will do more than seeing how he plays with a "new" team and playing against an entire defense of NFL ready players.
Some are projecting Drake to be a mid third round pick, but a week of showing off in Mobile at the Senior Bowl would go a long way of edging him up the list. Drake would be a great addition to teams for another reason other than talent and speed. During his years of at Alabama, early on he spent some time in Saban's dog house and then went through the adversity of coming back from injuries, but never lost focus and in doing so gained a maturity level that is not evident in all young men coming out of college. He never got down on Saban for disciplining him, never blamed fate or anyone for his injuries and only focused on getting better in every way on every day.
During on injury rehab, Lane Kiffin was shocked to find Drake rehabbing himself at 9pm, working like a dog to get himself back into top shape. Alabama's strength and conditioning coach Scott Cochran calls Drake a "maniac" in the weight room and says it's incredible to see how he pushes himself when he's recovering from injuries.
"I've had my ups and downs just like this team," Drake said. "If I show them I can come back, then so can they." Let's hope that Kenyan begins his NFL career on an upswing, he deserves it with an attitude like that.
Larry has been published in almost every media outlet for college sports and now primarily writes here for Touchdown Alabama. Follow Larry on Twitter for inside thoughts and game time comments at https://twitter.com/LBSportswriter
Thanks for Sharing This Link on Your Home Page of Facebook!