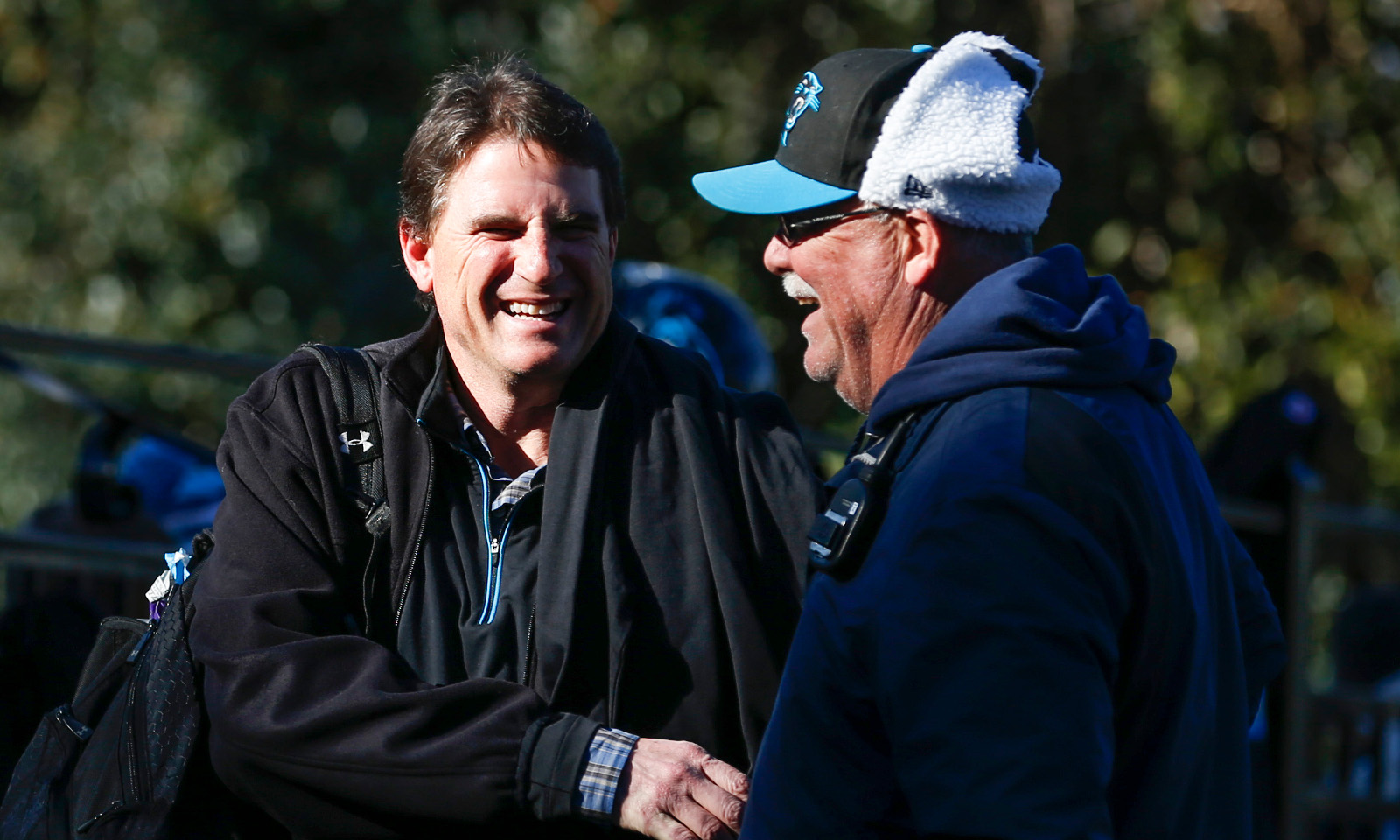 A Super Bowl appearance has a way of bringing attention. 
Every individual for the Carolina Panthers excelled at their job this season. Quarterback Cam Newton "dabbed" on everyone, children were embraced with a souvenir football, head coach Ron Rivera focused on each note he was given from legendary NFL coach John Madden and its defense forced turnovers.
Behind the championship shirts, hats and trophy stood one of the happiest individuals for Carolina, offensive coordinator Mike Shula. Shula, much like Arizona quarterback Carson Palmer, has re-invented himself in Charlotte, N.C. He has worked with Newton since Carolina selected him in the first round of the 2011 NFL Draft. Shula celebrated an NFC Conference title Sunday after defeating Arizona 49-15.
It is a win that not only advanced him to Super Bowl 50, but it may also help alleviate some previous demons. One of which was an inability to sustain success at Alabama.
Much like his successor Nick Saban, Shula spent a moment in the National Football League with the Miami Dolphins prior to coaching Alabama. The difference between the two was Shula played for the Crimson Tide at quarterback from 1984-86 under coach Walter "Ray" Perkins.
He was neither athletic nor possessed a big time arm, yet Shula's toughness made up for both elements. He posted a 24-11-1 record as a starter, with wins in the Aloha Bowl and Sun Bowl.
Shula's gutsy style was brilliant in victories over Notre Dame, Ohio State and Southern California; however, his best moments came on engineering comeback wins over Georgia and Auburn in 1985. He guided Alabama on a 7-play drive in the fourth quarter to set up a game-winning 52-yard field goal for Van Tiffin in a 25-23 win for the Crimson Tide.
Shula inherited a program in peril as a coach in 2003.
Sanctions that had occurred from Gene Stallings, Mike DuBose and Dennis Franchione (left for Texas A&M in 2002) came down rough on Alabama from NCAA. Sexual allegations were also in the mix as Mike Price was fired for off-field issues in 2003, not being able to coach a game.
Shula, then 38 years old, was the second-youngest coach in Division I football but 15 seasons in the professional game gave him a more democratic mindset. Sanctions and injuries hurt Alabama in 2003-04 as it combined for a 10-15 mark (6-6 in 2004). Shula and the Crimson Tide would finally see good fortune in 2005. A healthy quarterback in Brodie Croyle coupled with star wide receiver Tyrone Prothro and a tough defense meant chaos for opposition. Alabama would handle Florida, despite losing Prothro to a compound leg injury.
It would then lose back-to-back games against Louisiana State University and Auburn, yet managed to finish at 10 wins.
The Cleveland Browns had a season of dream in 2008 with quarterback Brady Quinn guiding the troops to a 10-6 record.
Shula's 2005 year was a hope that maybe a coach not named Bryant or  Stallings could get the job done for Alabama.
Things turned sour for the Tide in 2006 as it limped to its second 6-6 campaign. Shula never beat Auburn in his four-year period and was fired after the season.
His biggest weakness was not holding players accountable. Shula would give an instruction and rather than making sure it got done, he would entrust his players and staff members to do the job.
"Different strokes for different folks" is a phrase used by elders to describe how some areas that may not work for one person could be beneficial to someone else. To put in perspective, Shula simply fits the mindset of a NFL coach/coordinator. He is hands-on, yet not demanding.
He returned to the NFL in 2007 as a quarterbacks coach for the Jacksonville Jaguars.
He developed a Pro Bowl signal-caller in David Garrard, who stood third in the league with a 102.2 passer rating, threw NFL-low three interceptions and recorded a 64 percent completion mark during Shula's first season in 2007.
He was hired to Carolina in 2011 and has watched Cam Newton mature from a highlight reel to an elite quarterback.
Newton is in the midst of an MVP-caliber season with 3,837 passing yards, 45 total touchdowns (10 rushing) to 10 interceptions. He has captained the Panthers to its first Super Bowl appearance since 2003.
Will Shula one day be able to control a whole team?
Answers to this question may vary, nevertheless he has shown that he can run an offense and develop quarterbacks. Alabama may not have been the most fruitful experience, but it was in Tuscaloosa where Shula earned his stripes as a competitor.
He is Super Bowl bound, regardless as to whether he is forgiven for happened at Alabama 12-13 years ago.
Shula won Offensive Coordinator of the Year in 2015 via Pro Football Focus and is one of four Crimson Tide alumi members that will take Levi's Stadium on Feb.7 for ultimate supremacy.
Stephen M. Smith is a senior analyst and columnist for Touchdown Alabama Magazine. You can "like" him on Facebook or "follow" him on Twitter, via @ESPN_Future.