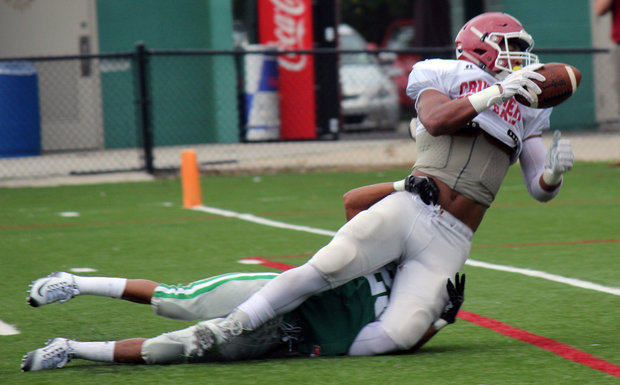 Alabama has collected its 25th commitment as 4-star TE Irvin Smith Jr. out of Brother Martin in New Orleans, LA over the likes of in-state school Texas and Memphis as well. This is Alabama's ninth commit of the day, and a definite positional need.
On Tuesday night, 3-star tight end Brendan Scales of Missouri de-committed from the Crimson Tide and flipped to Missouri due to not feeling wanted by Alabama's coaching staff. The Tide will lose star tight end O.J. Howard to the draft next season and current early enrollee tight end Miller Forristall has been rumored to be moving to wide reciever, so the addition of Smith is key for the 2016 class.
Smith had been a Texas A&M commit since June 2015 until he decided to open back up his recruitment on January 21st and de-commit from the Aggies. Alabama made the late push for Smith towards the end of his recruitment and the vision that Alabama's coaching staff had for him was well taken by Smith. This was a good move for both Smith and Alabama as he will get to learn from O.J. Howard and for Alabama, they have filled that position of need.
Irvin Smith Jr. is the 23rd-ranked tight end and the 25th best player in Louisiana, per 247sports.
Justin Wagner is the Lead Recruiting Analyst for Touchdown Alabama. You can follow him on Twitter, at @jwag718.