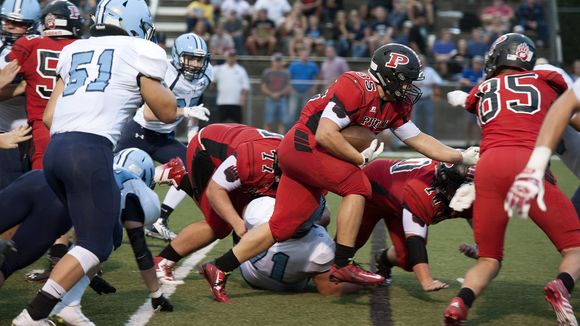 Alabama picked up its ninth commitment in the 2017 class as Michael Parrott, a fullback out of North Carolina accepted a preferred walk-on spot at a position that is definitely in need for the Crimson Tide.
After being recruited by Alabama for a few weeks, Parrott knew that he had to pull the trigger and give the Crimson Tide's coaching staff his pledge."Alabama is a stand-out program in college football, the success and tradition is unparalleled." said Parrott. "What football player wouldn't want to play there?"
Despite not having a pure fullback since Jalston "Nudie" Fowler (2010-2014), who was selected by the Tennessee Titans in the fourth round of the 2014 NFL Draft, Alabama has been able to claim success in its run game by using tight-ends as fullbacks. Great examples include Preston Dial (2006-2010), Brad Smelley (2008-2011), who is now with the Los Angeles Rams and Michael Nysewander (2011-2015), who played a pivotal role in the Crimson Tide's 2015 national title run. Parrott knows the history and when asked about coming in at that role, it was simple "I have aspirations to play football as long as I can and seeing those guys and how they have progressed to the next level really puts it in perspective as to why I committed to Alabama."
When Parrott announced his decision to commit to the Tide via Twitter, the support was overwhelming for the North Carolina fullback. "My family has is ecstatic, especially my Dad because he has been my coach and trainer at every level and he's stood by my side. Even at 50 years old, he hits the weight room with me." said Parrot. His older brother Alex, is an offensive lineman at Carson Newman University in Tennessee and Parrott says that he has been a big inspiration for him and considers him to be his number one fan. Outside of his family, Michael says that the support from his town and school has been life changing. "It's unbelievable. I have people asking me for autographs and telling me 'Roll Tide', it's just surreal."
Blessed to announce that I have the opportunity to continue my football career at the University of Alabama. 🐘🏈 pic.twitter.com/HMBZMyOREI

— Michael Parrott (@MichaelParrott5) February 15, 2016
What exactly is Alabama getting out of Michael Parrott? "Alabama is getting a guy with great work ethic and the mindset that nothing will be handed to me." Parrott was a four-year varsity player at Pisgah High School so he knows what its all about. "I just want to show up, do my job and make an impact to make the players around me better. It's not all about the glory, I love creating holes for my teammates and there's nothing better than obliterating a defender to get a block for your teammate." With a mindset like that, Parrott is clearly an "Alabama guy" which has become a trend in recruiting, a guy who wants to be there and will do whatever it takes as a team player to succeed.
Michael Parrott, who is a North Carolina native is also friends with 2016 running back commitment, B.J. Emmons of Morgonton, N.C. and says he is excited to play with him. "I know him from going to camps at other schools and we talk on Twitter periodically. I'm honored to be able to block for a player of his caliber. We've talked before about playing together and now it will be a reality."
Parrott is excited to get to Tuscaloosa and is currently working on getting the correct paperwork to enroll early in January of 2017. By then he would like to get to 250 pounds and get his speed and quickness up a notch. Parrott will be coming in at a position of need next year and has a chance to be an impact player in the near future.
Justin Wagner is the Lead Recruiting Analyst for Touchdown Alabama Magazine. You can follow him on Twitter at @jwag718