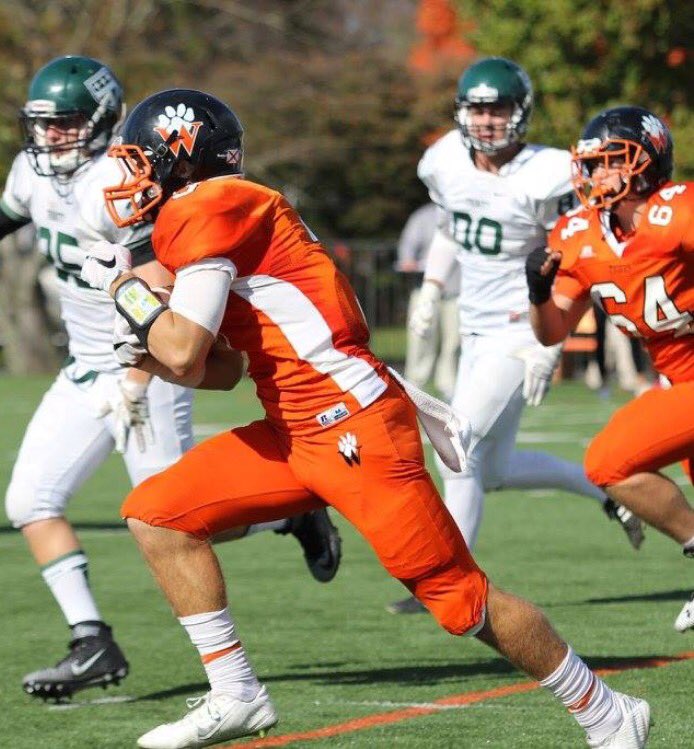 Alabama picked up a late addition to its 2016 class with WR/TE Mac Hereford out of Woodbery Forest, Va. The 6'2″, 210 pound prospect drew interest from Northern Iowa, Samford and other schools before deciding to commit to the Crimson Tide.
I am so excited to have the opportunity to play for the Alabama Crimson Tide next year! #bama pic.twitter.com/Ad5JI74tkw

— Mac Hereford (@Mac_Hereford) February 16, 2016
"I want to be the best football player and person that I can be and there's no better place to do that than Alabama." Hereford said. "I'm a fourth-generation student at the university and I have dreamed of playing there since I was little." Despite finishing his high school career at Woodberry Forest, he is originally an Alabama native, attending Mountain Brook High School in Birmingham. When asked about being a fourth-generation attendee, Hereford responded with "It makes me feel very humbled to be apart of something so much bigger than myself and I'm just blessed to have the opportunity."
Alabama coach Nick Saban brought in his eighth top-3 recruiting class, dating back to 2008. The Crimson Tide's 2016 unit finished No. 1 overall according Rivals, 247sports and Scout. In a class that has the likes of 4-star WR Trevon Diggs and 4-star WR T.J. Simmons, Hereford's discipline and hard work is sure to push them in their attempts to earn a starting spot.
"It makes me feel really special and honored to be apart of this class. I'm just really glad that Alabama is giving me the opportunity to be apart of it." he said.
Hereford watched his childhood team win a national championship in 2015, despite a 43-37 loss to Ole Miss. After watching the Tide raise the College Football Playoff trophy in January, he is most looking forward to playing alongside rising sophomore WR Calvin Ridley and rising senior TE O.J. Howard. "[Calvin] Ridley is an incredible athlete and getting to work with a great guy and player like O.J. [Howard], who will be willing to teach me the game. It's going to feel great to play with the best of the best." Hereford admired the leadership of Heisman-winner Derrick Henry in 2015, although he has declared for the NFL draft. He has also been in contact with senior walk-on offensive lineman Brandon Moore, who was the first to contact him after his announcement.
There's something about the Alabama brand, during the early years of Alabama football, when Paul "Bear" Bryant told you to come play, you came. The same could be said for Nick Saban, he has the recognition and a certain aura about himself that has lead to eight top-3 recruiting classes and other impressive hardware. "The way Coach Saban holds himself and what people say about him is what's appealing to me. He's a man who says great things and I've been able to witness those first-hand at his camps."
Since committing on Monday, the support for Hereford in both Birmingham and Woodberry Forest has been unparalleled. "For me, it's the best feeling I've ever had. The people around me have been so supportive, I really want to thank them. They have pushed and helped me along the way to where I am today." said Hereford. "It's really nice to hear people tell me 'your hard work paid off'".
He dedicated his senior season at Woodberry Forest to his grandfather, who passed away in 2015. He says that his most memorable moment was when he caught a 60-yard pass just days after he passed away and although it wasn't his biggest game on the stat sheet, it meant a lot to him and he considers it to be the "highlight of his season."
Hereford plans to enroll at Alabama this summer at 215 pounds, and be well conditioned before fall camp starts in August. He is also looking forward to getting into some Dreamland Barbecue when he gets to Tuscaloosa.
Justin Wagner is the Lead Recruiting Analyst and Stephen M. Smith is the Senior Analyst/Columnist at Touchdown Alabama Magazine. You can follow them on Twitter at @jwag718 and @ESPN_Future