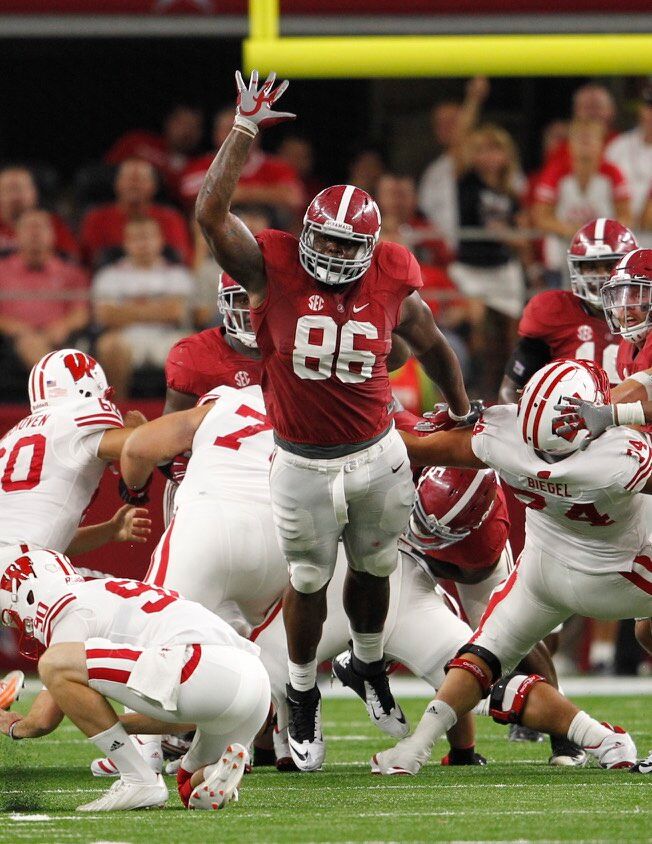 Jarran Reed, D.J. Pettway, and A'Shawn Robinson put their athletic abilities on display at the NFL Combine.
Reed ran a 5.21 second 40-yard-dash, Robinson clocked in at 5.2 seconds, and Pettway was the fastest of the trio, running a 4.99 (he is also the lightest, weighing in at 265 lbs.).
In terms of strength, Robinson put up 22 reps on the bench. To compare, Derrick Henry put up 22 reps during the running back testing. Pettway performed sub-par, putting up 17 reps. Jarran Reed, whose noted as one of Alabama's stronger players, sat out due to a nagging shoulder injury.
Reed led the d-line trio in vertical jump, with a 31-inch leap, while Robinson jumped 26 inches and Pettway 28 inches.
Alabama fans are aware of Robinson's leaping ability. Think back to his blocked field goal against LSU.
Pettway led the way in the broad jump leaping 9-feet, while Robinson jumped 8-feet, 10-inches, and Reed 8-8.
Both Reed and Robinson tipped the scale at lighter weights than their listed playing weight at Alabama. Robinson's playing weight was listed at 312 pounds, and Reed 313 pounds. Both weighed in at 307 pounds at the combine.
On Friday, Robinson took to the podium to answer questions. When asked how to beat blockers, he replied with a fiery, passionate answer. Robinson talked about how defensive line coach, Bo Davis, taught his players to shed blockers.
"He told us to try to choke someone," Robinson said. "If anybody ever made you mad, just try to choke them ― choke them to death. So once you start squeezing, grabbing the pads inside, just squeeze them, shake them, shake the feelings out of them so that's what we try to do every time we get our hands inside."
Draft analysts can agree that Robinson certainly is a fierce competitor, paired with his athletic ability that will make him a highly sought draft pick.
Blain Bradley is a contributor for Touchdown Alabama Magazine. You can "Follow" him on Twitter, via @blainbradley1 or "like" him on Facebook