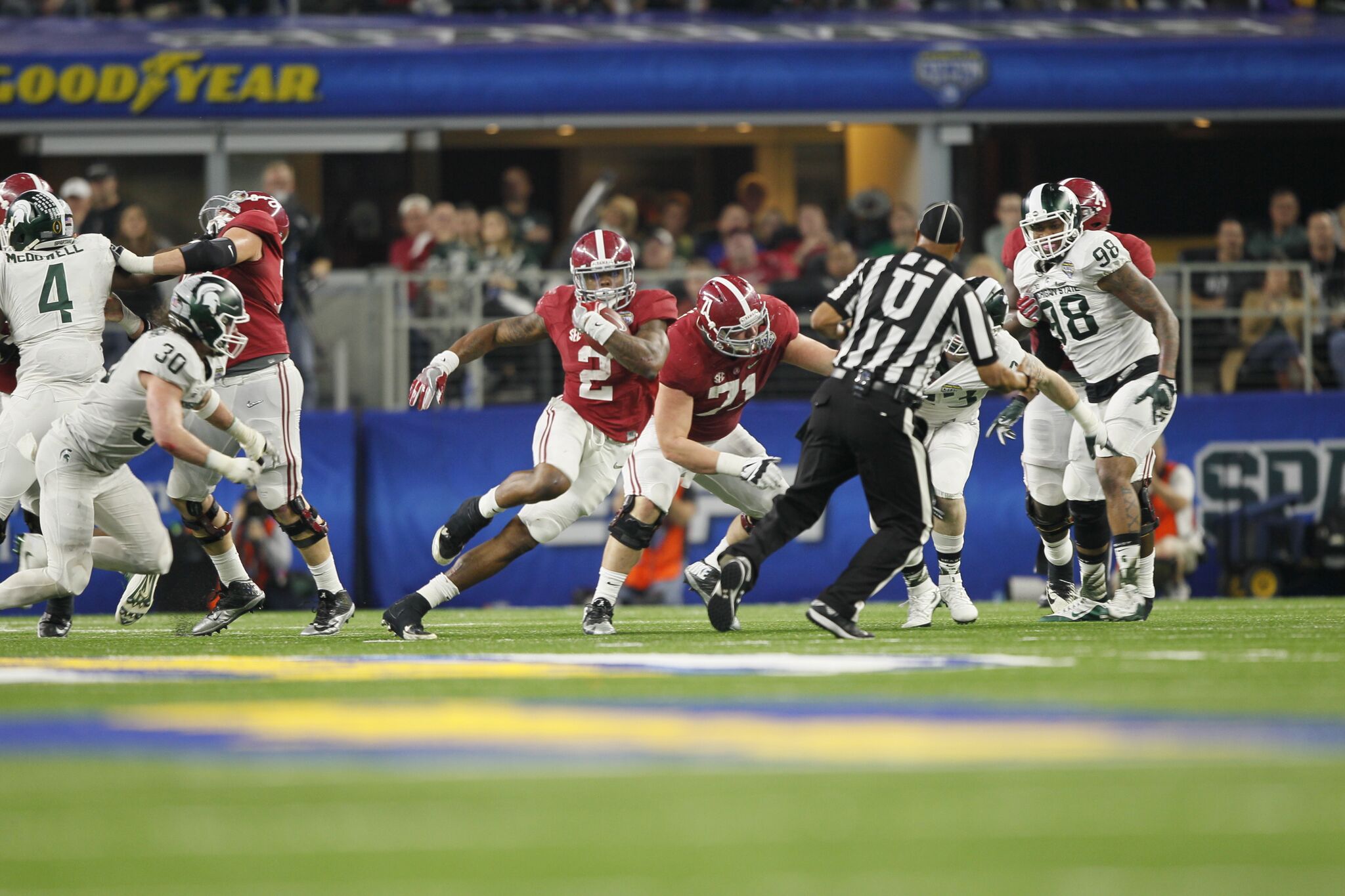 Lots of hype has been surrounding the Alabama stars who have declared for the 2016 NFL draft.
Analysts and fans agree that the players who have decided to come out this year from Alabama all have the potential to make a name for themselves in the league.
The best way to understand how a college player will perform is to see who their style of play most resembles. We'll cover Derrick Henry, A'Shawn Robinson, and Reggie Ragland, and see whose style of play in the pros matches with the Alabama stars.
Derrick Henry
The most noted comparison for Derrick Henry has been former New York Giant and San Francisco 49ers running back Brandon Jacobs, most notably for their size (Jacobs measured in at 6'4″  and weighed 264 pounds at his heaviest).
Jacobs was an upright runner, with an impressive upper body. His weakness was in his lower half, where tacklers would target him. Henry has shown some upright running in the past, but he has aimed to improve this flaw. I feel that size is really the only comparison I could draw between Jacobs and Henry.
If I had to make a more accurate comparison, I would lean towards Eddie George. The former Titan great had the height and speed combination that Henry posseses. Despite being taller backs, both show the ability to find balance, a trait that Brandon Jacobs lacked at times.
Henry can also look at Steelers all-pro running back Le'Veon Bell. He may want to model his game after bell. Coming into his rookie season, Bell weighed 240 pounds, standing 6'2″. He shed weight going into his second season, and found more explosiveness. Henry can drop 10 pounds, and fly around the field. He already runs a 4.52 at 247 pounds…imagine how fast he could be at 235.
A'Shawn Robinson
NFL experts and insiders have thought long and hard to find a comparison for Robinson. The consensus is that he resembles two-time Pro-Bowl defensive tackle John Henderson.
Both Henderson and Robinson are well-proportioned for defensive tackles. Henderson had a long 6-foot-7 inch frame, while Robinson carries 300-plus pounds well on his 6-foot-4 frame. Both have long arms and the ability to toss would-be blockers aside.  Henderson was the 9th overall pick in the 2002 draft, and Robinson has the chance to be a top-20 draft pick this year.
Henderson enjoyed a long NFL career due to his ability to consistently perform and out work his blockers, and Robinson has shown the ability to be a consistent player too.
Reggie Ragland
If A'Shawn Robinson is John Henderson, Ragland is former Vikings linebacker E.J. Henderson, who was twice named a consensus All-American at Maryland.
The hype surrounding Ragland going into this year's draft is greater than the hype that surrounded E.J. Henderson, but both are high-motor, hard hitters. Their size is similar, as well as their personalities. Henderson was noted for being a hard-nosed, leave it all on the field kind of guy like Reggie is.
Ragland's instincts will take him far, and his ability to stop the run will help him set himself apart from other linebackers in the draft.
Be sure to tune in to the NFL Draft on April 28th to see where these stars will make a name for themselves.
Blain Bradley is a contributor for Touchdown Alabama Magazine. You can "Follow" him on Twitter, via @blainbradley1 or "like" him on Facebook