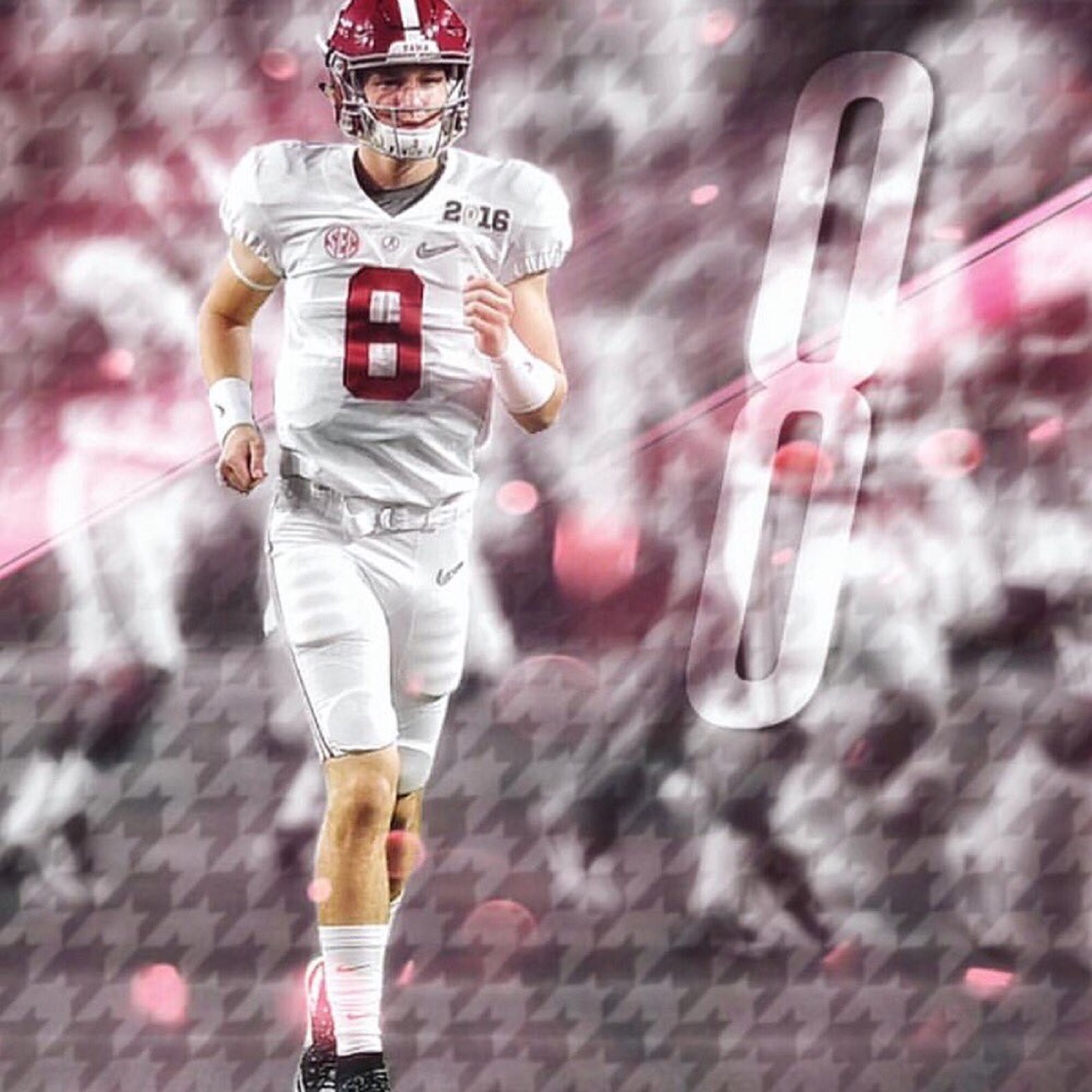 Blake Barnett Could be the New Face of Alabama
By: Larry Burton
Not everyone knows Blake Barnett, but he soon could be the new face of Alabama football. Even if you think you know Blake, it will be interesting to learn the things about him you didn't know.
Did you know he can throw a pass 70 yards through the uprights? Watch this:  https://twitter.com/WCTideFans/status/627848549242269696 That was a while ago. Wonder what he can now after sitting through a year of Scott Cochran's training. Can you say stretching the field?
He has moves with his legs. See these: https://www.youtube.com/watch?v=26i6kr5i7Yw  That shows his stiff arm and cutting ability. This shows his ability to shake a tackle and sprint a long distance. Watch this 79 yard run. https://www.youtube.com/watch?v=tsnFBWnrxLY
He loves a good shoe. Hey don't read anything funny into this, but this guy really likes shoes. When he turns pro, look for him to try and cut a deal where he designs and markets his own shoe. In his social media, he likes to post dozens of shots of the newest shoes that strike his fancy. Some of his Twitter pics are: 
Like most red blooded young men, he is not only attracted to pretty women, but he's able to land them too, as evidenced by the pics he posts on social media like this and girls, hate to burst that bubble, but he looks like he's taken. She's professional surfer Maddie Peterson. Boy, quarterbacks always get the good looking women don't they? She hails from New Jersey, but competes all over the world.         
Like most athletes, Barnett has also dabbled in other ball sports, but what's interesting is that he also has tried mountain biking, racing, skateboarding and he hits a long golf ball. He also enjoys keeping up with mixed martial arts fighting.
Most Alabama fans may not remember that Alabama had to fight Oregon for Barnett's signature. In their mind, he was the next Marcus Mariota and with his passing and rushing numbers from high school, it was easy to see why. But the real team he was enamored with early on was Notre Dame. That was the school he was really hot after. As a younger man went from "just another kid" playing middle and high school football to a late bloomer. He didn't start a game at quarterback until his junior year, but went from a no" star" talent and no college scholarship offers to a five star, number one prospect in a very short time. In playing for a team that was never known to be a football powerhouse and without a strong supporting cast, Barnett threw for 3,404 yards, 23 touchdowns and 11 interceptions. But what really got Oregon's and Notre Dame's attention was the 479 yards rushing and seven rushing touchdowns.
Barnett wasn't initially known as a great quarterback, with his size and speed, he was initially a very scary defensive player, at least in elementary school. Barnett still has that mentality when it comes to "switching roles" in the few times he's thrown an interception, instead of trying to get out of the way as some quarterbacks do, Barnett goes into headhunter mode.
Blake may have not started a game yet at Alabama, but the players knows all too well what he's capable of doing. You see, he's was a scout team quarterback last season going against the first team defense and not only has caused some jaws to drop, he's also bruised a few egos. "He's really something." said Reggie Ragland last season. "And if he takes off running, he can be quite a handful." When picking a starting quarterback, Saban says the winner must be the one that wins the team over and Barnett certainly already has a leg up on that assignment already.
It was almost predetermined that he wind up at Alabama. What was the most memorable costume from his childhood? It was when he was a "Not So Big Al". According to his Twitter account, "It was meant to be."
Barnett loves to tease his buddies. This includes practical jokes, taking pics of them asleep or in awkward positions or whatever. His Twitter account is full of such victims.
He eats healthy when he has to, but his love is anything with chili, cheese and sour creme on it.
Yes, at 6'5" and 203, he's a big quarterback, but Alabama has lots of big quarterbacks. Jake Coker was 6'5", David Cornwall is 6'5" and about 221 and the other quarterback that will battle this fall is Cooper Bateman, at 6'3" and 220. It's not the size though that makes Barnett "big". It's his big arm strength, nobody has his cannon and none of the others have his big play running ability.
Larry has been published in almost every media outlet for college sports and now primarily writes here for Touchdown Alabama. Follow Larry on Twitter for inside thoughts and game time comments at https://twitter.com/LBSportswriter
THANKS FOR SHARING THE LINK TO THIS STORY ON YOUR FACEBOOK PAGE