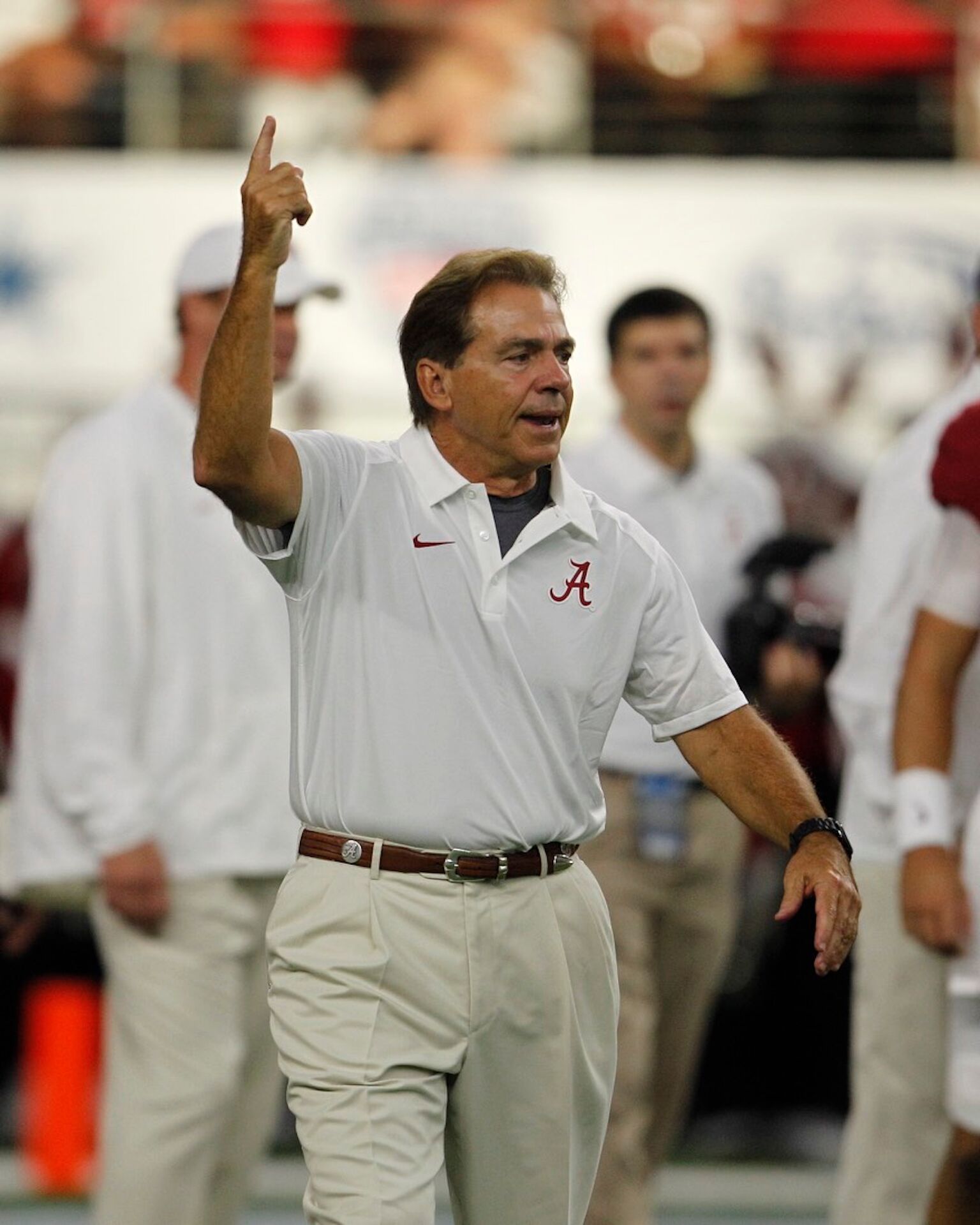 After visiting the White House Tuesday to celebrate Alabama's national championship, Crimson Tide running back Kenyan Drake tweeted a photo crowning Nick Saban as the "most powerful man in the country".
We came to The White House to celebrate our championship season with Obama and I got a … https://t.co/GqfKmx50T5 pic.twitter.com/Pz5gDN7x6U

— Kenyan Drake™ 🥋 (@KDx32) March 2, 2016
Drake tweeted: "We came to The White House to celebrate our championship season with Obama and I got a picture with the most powerful man in the country #rolltide".
Now, we know Saban has the votes of the people of Alabama if he were to run for president, but it's safe to say he wouldn't be too popular with folks in Mississippi… or Louisiana…or Tennessee.
All jokes aside, how powerful is Nick Saban? Let's break down his impact both on and off the field.
Performance
Take a look at Saban's resume`, and it's easy to see that he has cemented himself amongst the all-time great coaches in college football.
In the last seven years, Alabama has won the national championship four times. The last team to post comparable numbers was Notre Dame, between 1943-49.
Texas, Florida, Florida State, LSU, Auburn, Michigan, Penn State, Tennessee, Clemson, Georgia, Texas A&M,  and UCLA all have one thing in common: Nick Saban has won more, or as many national championships as these schools have.
Since 2011, the Crimson Tide have gone a remarkable 62-7. Saban has dominated the SEC.
Fans can even look back at his tenure at LSU. During their 2003 championship season, Saban went 13-1 (8-1 SEC).
Against AP top three teams, Saban has a record of 13-8, which is the best amongst all college football coaches (Lou Holtz is in second with a record of 12-15-1).
For Saban, the list goes on. Numbers don't lie: Nick is a winner.
Community
In 1998, while at Michigan State University, Nick and his wife, Terry, founded Nick's Kids. The charity has supported numerous children, helping them grow as individuals. According to the site, the foundation has raised $6 million to date.
Saban and his wife personally donated $1 million to the First Generation Scholarship at the University of Alabama. The scholarship aims to assist first generation students, which both Terry and Nick were.
During the Tornado in 2011, Nick Saban used his powers to help aid in the relief. Saban was able to secure a donation to Nick's Kids from former Virginia Tech coach Frank Beamer right after the Tornado.
Immediately after the tornado, Saban spent time in local shelters offering words of encouragement to victims. In 2011, Saban was presented with a $70,000 check for charity during the Chick-fil-A Bowl Challenge. He also raised $50,000 during an auction at the Champions Tour's Regions Tradition.
Saban also encouraged his players to participate in the Tornado relief. Saban has always made sure that players realize that their status as football players for the University of Alabama makes them pivotal figures in the community.
Revenue
It's all about the money, and Nick knows how to make it. Nick Saban is the highest paid college football coach.
In 2015, he made $7,087,481. Yes, $7,087,481.
Alabama fans and university officials know he is worth every penny (look back at his performance stats if you think differently).
In 2013-14, Alabama's football team profited greatly, helping the athletic department turn in a $33 million profit. In an article by Aaron Suttles of the Tuscaloosa News, it was documented that the Alabama football team made a profit of $46 million in 2015.
Still think Saban is overpaid?
Saban has shown his ability to generate money and turn the Tide into a national brand. When Alabama comes to town, everybody wants to watch.
Since hiring Saban in 2007, the university enrollment has increased from 25,580, to 37,000 students in 2015.
Saban has profited outside the world of football too. He partnered with Mercedes and McSweeney Designs to create the Nick Saban Signature Series Mercedes-Benz Sprinter. Saban and a business partner purchased Mercedes-Benz of Birmingham (located in Hoover, Ala.).
On game day, he's all crimson, but Saban has an eye for making sweet, green cash.
Powerful persona
Nick Saban has transcended the world of college football, and by doing so has become a cultural icon. Whether it's being poked fun at on Tosh.O, or having unauthorized tell all biographies published about him, it's safe to say that he most definitely is one of the most powerful men in the country, on and off the field.
Blain Bradley is a contributor for Touchdown Alabama Magazine. You can "Follow" him on Twitter, via @blainbradley1 or "like" him on Facebook