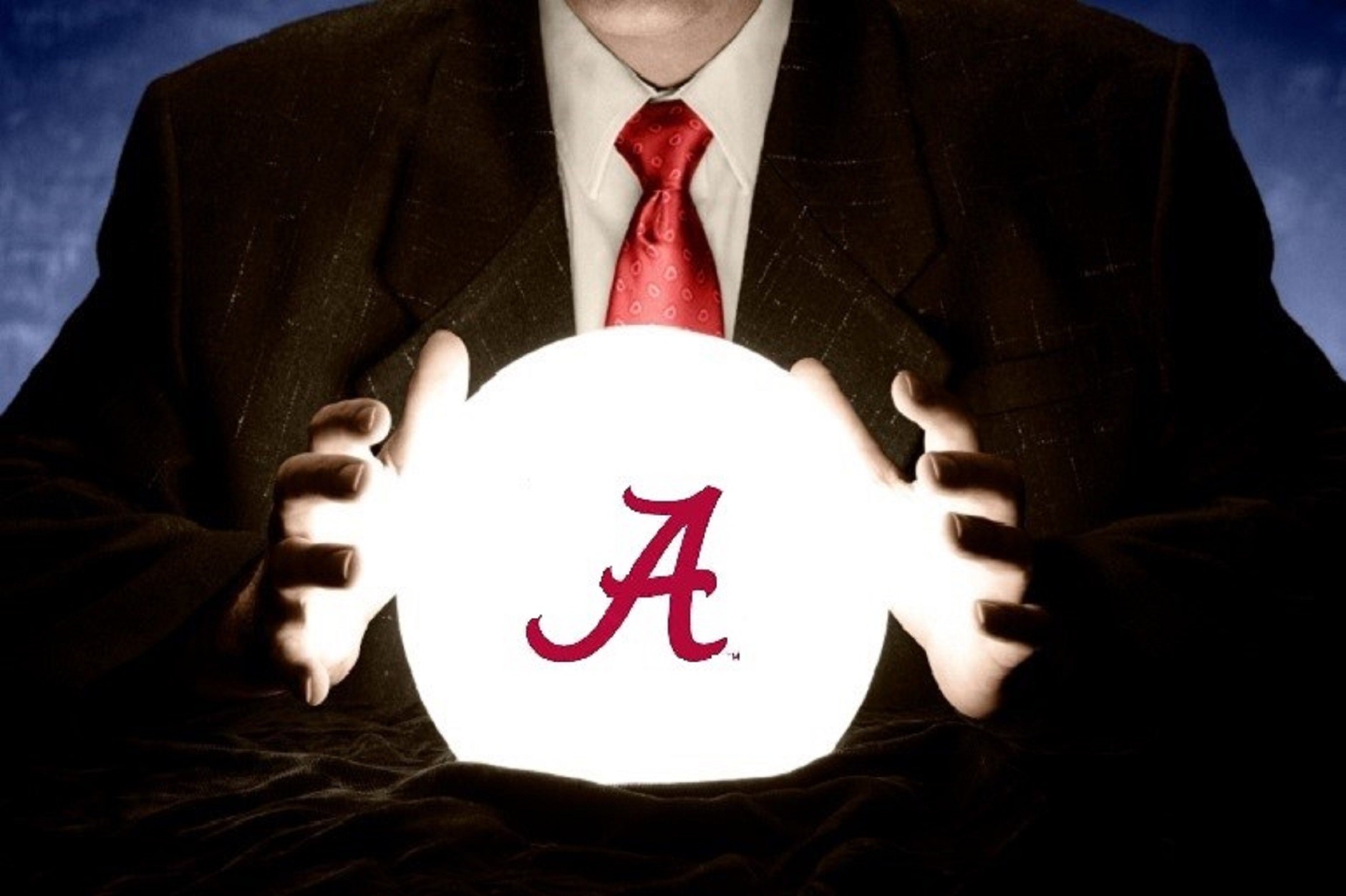 Here are one dozen predictions of the 2016 Alabama football team that show what to expect from this year's team. With many years of accurate prognosticating, these insights could be the best guide to seeing what will unfold over another long and exciting season. (Photo Larry Burton)
2016 Season Projections for Alabama Football
By: Larry Burton
For the last 12 years, we've had a lot of fun with Larry's Losers in the SEC, but the seriousness of it is that over that span, no one has come close to matching our accuracy with the predictions made. Over the years the other predictions we made have come to pass to on personnel and team stats. One glaring mistake was not picking Blake Sims to win the starting job two years ago, but most of the rest were dead on. Now, with all that bloviating over, let's make some projections on this year's squad and you can save it to see how we how we did at year's end.
One Dozen Predictions of the Alabama Crimson Tide Football Team
Blake Barnett will win this spring's quarterback battle and become the new face of the program. He will have a great year and Alabama's passing yardage will have a boost from last year's numbers. Last year Alabama averaged just over 227 yards per game passing, this year it jumps to over 270. Interceptions last year were just 10, it stays the same this year.
Last year, in what was fortuitous for Derrick Henry, Alabama's usual one-two punch was changed to the "Derrick Henry Show." This was due to Kenyan Drake's injuries and the inexperience of the backups. With a healthy bunch of running backs this year, the overall rushing total will also go up over last year's total of 2999 to 3125 yards.
Everyone knows Calvin Ridley is a star, maybe the next Julio Jones or Amari Cooper, but his numbers could dip a bit this coming season because of the talent around him either being 100 well or just great also. You could already guess that tight end OJ Howard is going to snag more passes this year than last year, cutting into Ridley's numbers, but Robert Foster should also finally have a big year, ArDarius Stewart will be great and another graduate transfer senior, Gehrig Dieter could be an improvement over last year's senior transfer Richard Mullaney. There's just too much talent for Ridley to put up as much yardage this year. But overall, as stated before, receiving yardage goes up.
So, based on those three projections, overall offense will be better and so should scoring. Yes I know the offensive line is being rebuilt, but it won't matter. This is going to be one scary offense to try and contain. Alabama goes from 35 points a game to 38 points a game.
On the bad side, offensive penalties should go up this season.
Also on the bad side, Alabama could lose another quarterback at some point in the season to transfer because Barnett will seem to have sealed the starting job for a few years to come.
On the good side, Barnett's quick feet and speed means fewer sacks this season despite a rebuilding line and more quarterback rushing yards. Jake Coker ran for 68 yards this season, Barnett could do that on one run. He's just that good. Look for Barnett to put up about 350 yards total counting sack yardage.
On defense, the biggest and maybe most controversial projection is that despite big losses of personnel, this defense will post better numbers than last year's squad in total defense. Yes, the boys coming off the bench are just that good. Last year that squad gave up an average of 15.1 points a game and 273+ of offense per game. This year's squad should give up only 13.5 per game and something close to 265 yards per game.
Last year I predicted that 2015 would be the year that Saban would let the dogs loose and that sack numbers would exceed anything from the last dozen years. That came true. Now I'm telling you that those numbers will rise this year as Saban lets them loose again and the ones he lets loose are faster and better overall. Last season they had 52 sacks, almost 3.5 per game. Look for that number to go to 55 this season, but you shouldn't be surprised to see it hit 65.
This defense will struggle to match last year's rushing defense. It may be close, but just under last year's numbers. Partly that is due to the increase in the defensive secondary's numbers and that teams may want to try the run a little more because the defensive secondary won't be the patsy it has been in the past. Last year's squad gave up 7 rushing touchdowns, this one will give up 11. The 2015 squad gave up just over 75 yards total rushing a game. That was a mind numbing number and was the runaway best in the nation. This year's squad will give up around 90 yards a game and finish in the top 5.
The secondary posts the best numbers of any secondary in a few years and goes from being the weak link to the ball stealing game changer avengers that Saban has wanted for a while. Last year they gave up about 200 yards a game with 19 interceptions with four of those being taken back to the house. Look for this year's squad to give up close to 172 yards per game and take at least 22 interceptions.
Special team's projections – JK Scott will lead the SEC in punting and continue to be a huge asset. Scott's average last season was 44.2 yards a punt, in 2016 it will go to over 46. Cole Mazza, the long snapper will continue to be perfect and kicker Adam Griffith will be Mr. Reliable and go from a 71.9% accuracy rating to over 80%.
Well that's it for this years projections. Well except that Alabama is also predicted to be in the their third college football playoffs in three years. As for wins and losses, that's the territory of Larry's Losers in the SEC – Preseason Predictions, which is still down the road.
Larry has been published in almost every media outlet for college sports and now primarily writes here for Touchdown Alabama. Follow Larry on Twitter for inside thoughts and game time comments at https://twitter.com/LBSportswriter
THANKS FOR SHARING THE LINK TO THIS STORY ON YOUR FACEBOOK PAGE