SEC
Around the SEC: Top five RBs in 2016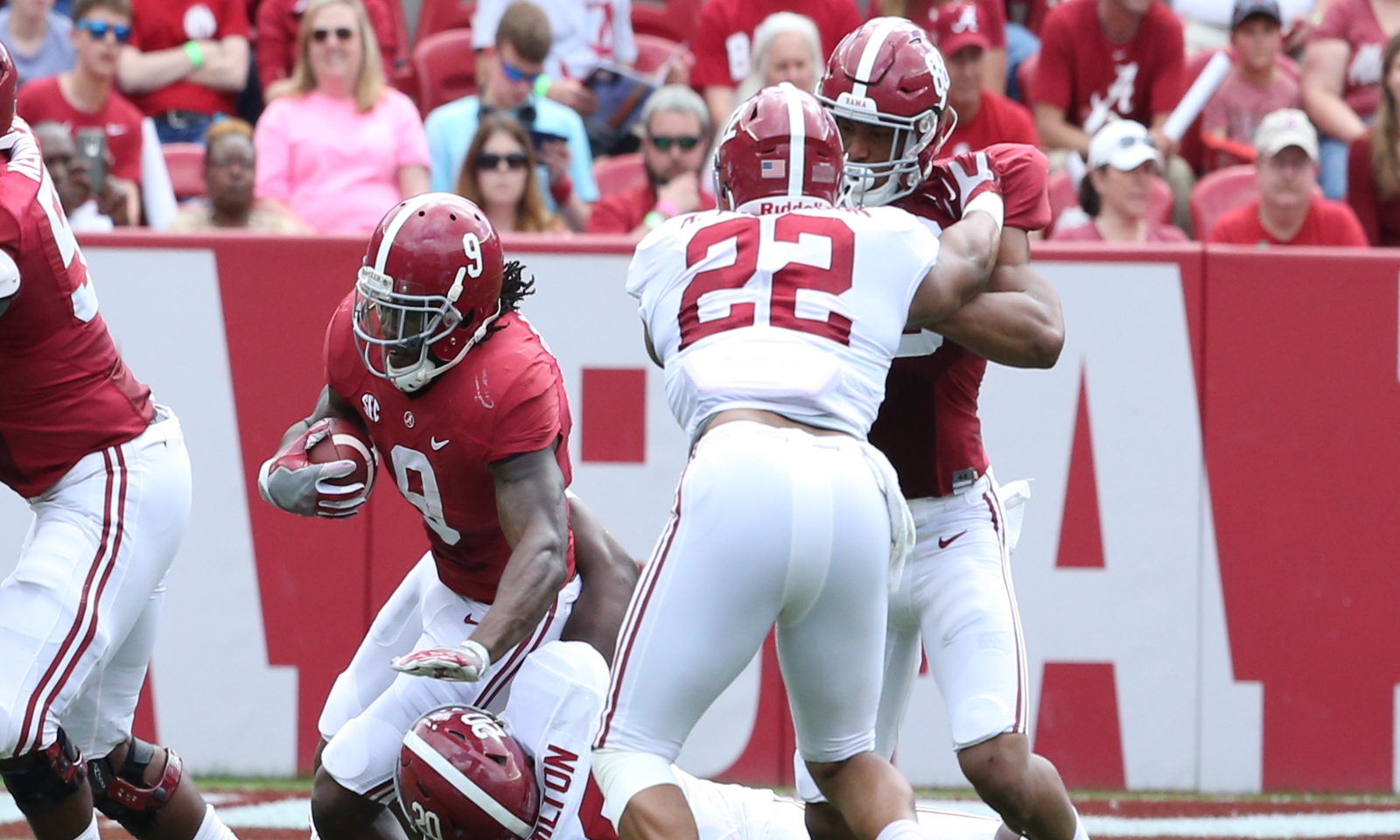 For a region that loses Derrick Henry, Kenyan Drake, Peyton Barber, Alex Collins, Jonathan Williams, Kelvin Taylor and Tra Carson, the Southeastern Conference continues to produce talented running backs.
With spring practice done, all attention shifts toward summer conditioning and fall camp. Fourteen schools will compete once again in the fall for an opportunity to represent the conference as champions and in order for this happen, a strong run game must be provided.
Henry, who won the Heisman Trophy in 2015, led the nation in rushing with 2,219 yards and 28 touchdowns on 395 carries.
He guided Alabama to its fourth national championship under head coach Nick Saban. Yours truly of Touchdown Alabama Magazine projects the top rushers for next season.
5. Bo Scarbrough, Sophomore- Alabama Crimson Tide
Eighteen carries. 104 yards. One touchdown.
This was all it took to get the hype train going for Scarbrough.
The 6-foot-2, 230-pound Tuscaloosa native has been christened as the guy who will pick up where Henry left off.
He's coming off a very good spring session, in which he rushed for 243 yards and four touchdowns on 21 carries in two scrimmages. Scarbrough was held to nine carries for 20 yards on A-Day, but it was against the Crimson Tide's first-team defense. A former five-star recruit, Scarbrough was a stud at Northridge High School and IMG Academy (Bradenton, Fla.).
He accounted for 938 yards and 13 touchdowns as a sophomore, while amassing 1,468 yards and 20 scores in 10 games at IMG Academy in 2013. Sophomore Damien Harris has challenged him every step of the way, making the pair a viable combination in the fall.
4. Ralph Webb, RS Junior- Vanderbilt Commodores 
Coach Derrick Mason needs to recruit a quarterback to complement him, nevertheless, Webb has been nothing short of remarkable in two seasons starting at Vanderbilt.
His compact frame, 5-foot-10 and 200 pounds, gives him the ability to gain tough yards between the tackles and bounce plays to the outside. Webb's redshirt freshman year was solid, collecting 907 rushing yards and four touchdowns on 212 carries in 2014. Production increased for him last year, as Commodore fans witnessed Webb total 1,152 yards rushing and five touchdowns on 227 attempts (96.0 yards per game).
He developed good hands as a pass catcher, grabbing 24 passes for 188 yards and two touchdowns.
3. Nick Chubb, Junior- Georgia Bulldogs 
A new coach and a fresh mindset.
Two things that Chubb is adjusting to, coming off a gruesome knee injury last season against Tennessee. Prior to the mishap, he recorded 747 rushing yards and seven touchdowns on 92 carries in six games. The 5-foot-10, 220-pound back earned SEC Freshman of the Year honors in 2014, after posting 1,547 yards and 14 touchdowns on 219 carries. He averaged 119 rushing yards per game, gaining a status on the Freshman All-SEC team and Freshman All-America team. Chubb was a potent receiver during his freshman year, chiming in with 18 catches for 213 receiving yards and two touchdowns.
Running back Sony Michel (junior) will spell him a lot next season; however, 2016 is a year for Chubb to restamp his name as one of the best in the SEC. 
2. Jalen Hurd, Junior- Tennessee Volunteers
He has the same physical build as Derrick Henry (6-foot-4, 240 pounds), yet Hurd returns for another year of college football.
The junior came so close to delivering Tennessee to victory over Alabama a year ago, as he rushed for 92 yards and a touchdown on 18 attempts. Regardless of a 19-14 loss, Hurd proved to be a force in his sophomore campaign. He put in 1,288 rushing yards and 12 touchdowns on 277 carries (99.1 yards per game), guiding the Volunteers to a 9-4 record.
He's been a talented weapon out of the backfield, bringing in 57 receptions for 411 yards and four touchdowns in two seasons. Having Joshua Dobbs (QB) and Alvin Kamara (RB) both return will make Hurd even more difficult to handle.
1. Leonard Fournette, Junior- LSU Tigers
No argument should be made on this one.
Fournette has been the most valuable player on LSU's offense for two straight years. He had the 2015 Heisman Trophy sown up, until an epic battle against Alabama ripped it from him.
The 6-foot-1, 230-pound back rushed for 1,953 yards and 22 touchdowns on 300 carries (162.8 yards per game).
Fournette earned consensus first-team All-American honors from the Associated Press, Football Writers Association of America and Walter Camp Foundation. He hauled in 19 passes for 253 yards and a score, navigating the Tigers to a 9-3 campaign last season. He's put up 1,000-plus rushing yards in two years, yet LSU needs a quarterback to take some pressure off him.
Running backs to watch (honorable mention): Jovon Robinson (Auburn), Kody Walker (Arkansas), Brandon Holloway (Mississippi State) and Akeem Judd (Ole Miss)
Stephen M. Smith is a senior analyst and columnist for Touchdown Alabama Magazine. You can "like" him on Facebook or "follow" him on Twitter, via @ESPN_Future.