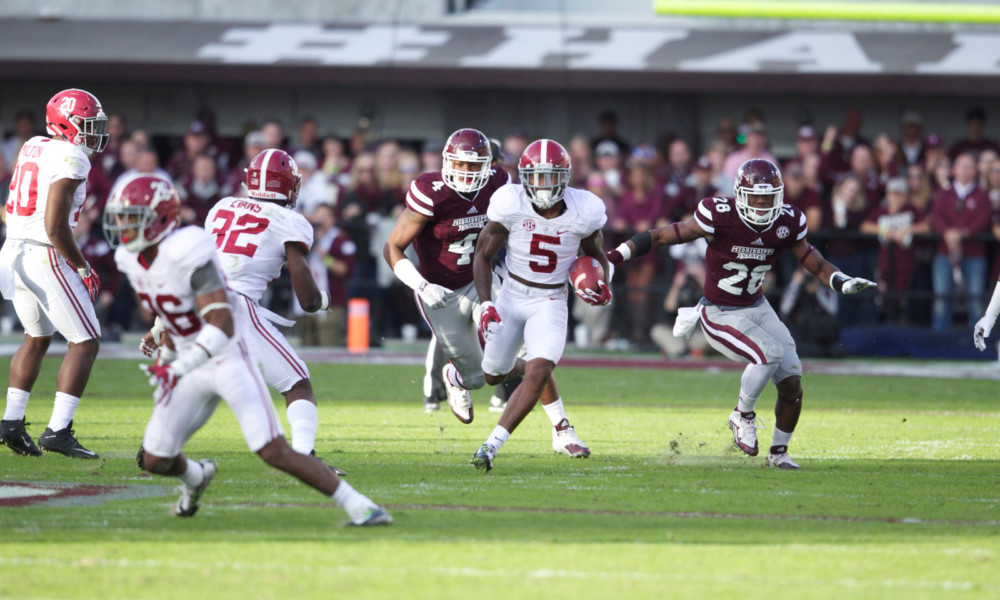 Former Alabama Crimson Tide defensive back Cyrus Jones is a player that has earned everything that he has worked for on his way to winning two national titles
The second round draft pick of the New England Patriots has been doubted by many for most of his football career and now that he is in the NFL that just means there are only more people for Jones to impress.
Jones originally played receiver when he began his Crimson Tide career in 2012. Catching only four passes for 51 yards.
Following his freshmen season Jones was converted to a defensive back and each year he improved on his way to becoming one of the best defensive backs in the nation.
Prior to the draft Jones was project to be a third to fourth round pick due to his lack of size and questions about his one on one coverage skills.
The Patriots made some shock waves when they drafted jones with the 29th pick in the second round.
With Jones playing under Nick Saban, a disciple of current Patriots head coach Bill Belichick's coaching tree, some see the Patriots as a perfect fit for New England and their system.
Belichick's best cornerbacks since 2000 were all shorter than 6 feet. Asante Samuel was 5-10, while Ty Law, Darrelle Revis and Malcolm Butler have all been listed at 5-11.
All of those defensive back were considered the best in the game while they payed, with some even considered future hall of famers.
Almost everyone who has coached Jones has nothing but high praise for a player that has had to defy the odds multiple times in his life.
Former Alabama defensive coordinator and current Georgia head coach Kirby Smart had nothing but praise for his former player.
"Coach Saban and all the guys we had on defense over there, we coached the hell out of that kid because we knew he was one of the better players. He just had to get the reps." Smart said in an interview with the Boston Herald.
The only thing left for the man nicknamed "Clamp Clampington" to do is to go out there and show critics and the Patriots that they didn't waste their second round pick and play with the same fire that got him where he is today.
Ivan L. White is a contributor for Touchdown Alabama Magazine. You can "like" him on Facebook or "follow" him on Twitter, via @ilwhite1