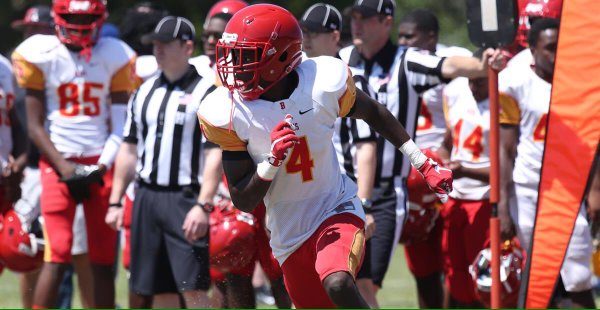 The 2017 class is loaded with as much talent at nearly every position as there ever has been in recent memory. In this loaded group, the uncommitted prospects list goes on and on as we approach the middle of the summer. Recruits go to camps and summer off-season workouts, all in preparation to rack in more offers and select the school they'll spend the following 3-4 years at come National Signing Day on February 1.
Touchdown Alabama writers Justin Wagner, Blaine Bradley, Stephen M. Smith and Derek Hooper weigh in on 10 uncommitted prospects from around the country and where they will end up, giving their thoughts and predictions. The players are not in any particular order.
*These picks are subject to change until National Signing Day*
1.) Marvin Wilson – DT- Bellaire, TX (Episcopal)
Marvin Wilson's Top 10: Alabama, Florida State, LSU, Ohio State, Oklahoma, Ole Miss, Texas, Texas A&M, UCLA, USC
Wagner : "Alabama needs the depth at nose tackle and Wilson fits the mold to a T. He and Daron Payne would dominate SEC offensive lines for the next 3-4 years with Payne's pure strength and Wilson's plethora of moves in his arsenal"
Bradley: "Hard to say, but I think he stays put in Texas and heads to Austin with Charlie Strong."
Smith: "A presence in the middle of the defensive line is needed for Alabama. Terrence Cody, Jesse Williams, A'Shawn Robinson and Jarran Reed represent players that were run stuffers and occasional pass rush at defensive tackle. The Tide loses Dalvin Tomlinson after next season and despite returning Da'Ron Payne, it needs a player like Wilson (6-foot-4, 329 pounds) to man the A-gap, command a double team consistently and allow linebackers to converge and make tackles."
Hooper: "It depends on the Longhorns' season, but if they finish with a decent record — nine or more wins — I think Texas will be able to keep him in the state."
2.) Dylan Moses – OLB- Baton Rouge, LA/Bradenton, FL (IMG Academy)
Dylan Moses' Top Schools: Alabama, Florida State, Georgia, LSU, Michigan, Ohio State, Texas
Wagner : "At first, I would have told you Moses was all Alabama, all day after he decommitted from LSU. Then Alabama picked up the likes of Markail Benton and VanDarius Cowan in this class and LSU is making their way back. I think after a year at IMG, Moses will head home and play in the Bayou in front of him family and friends every week as they could use the depth at linebacker.
Bradley: "I'm gonna have to say LSU, being that he is a Baton Rouge kid, however Texas could be a sleeper."
Smith: "Dylan Moses is a five-star OLB that would thrive under Charlie Strong. During his time as a assistant at Florida (2003-09), Strong recruited a lot of talent at linebacker, including Brandon Spikes. Moses, 6-foot-2 and 220 pounds, has the make up to be that kind of program lifter on defense."

Hooper: "As the top overall prospect in this class, Dylan obviously has his choice of where he wants to go. LSU was in it early, Texas seems to be making a push, but I think it's hard for a top-flight linebacker to turn down a chance to play for the Crimson Tide right now due to the fact that Nick Saban has shown he can consistently churn out NFL talent at that position. "
3.) Jerry Jeudy – WR – Deerfield Beach, FL (Deerfield Beach HS)
Jerry Jeudy's Top 10: Alabama, Auburn, Clemson, Florida, Florida State, Georgia, Ohio State, South Carolina, Tennessee, West Virginia
Wagner : "I've been saying it for months and still stand by it that Jerry Jeudy is the best wideout in the nation. He grew up with Calvin Ridley, molds his game after him and has high interest in Alabama. I think right now they are at the top of his list and Tide fans can get one year of Jeudy and Ridley on the outside."
Bradley: "I'm gonna say The U is a dark horse candidate for this guy. Easily can come to Bama, but could go to UM with Richt and the hot QBs they have in their 2017 class."
Smith: "He saw what Lane Kiffin did with Amari Cooper and is witnessing what's going on with Calvin Ridley. Both Ridley and Jeudy are from the same hometown (Pompano Beach, Fla.), but more so than that is Jeudy wants to be a part of competition. Kiffin's simplified offense of read and react with pro-style mechanisms would give Jeudy a chance to be explosive"
Hooper: "Jeudy is a dynamic playmaker that could fit into the mold of an Amari Cooper or Calvin Ridley, and he probably thinks the same thing."
4.) Jeffrey Okudah – DB – Grand Prairie, TX (South Grand Prairie HS)
Jeffrey Okudah's Top Schools: Alabama, Ohio State, Texas, Texas A&M, Stanford
Wagner : "Jeff Okudah is one of the nation's best players and is as physically gifted as they come in this class. But Okudah is also as academically gifted as they come in this class and his schooling plays a big factor into where he will go to school. The one school that brings him that balance is Stanford, the sleeper pick.
Bradley: "He fits the Ohio State mold to a tee, this one is all Buckeyes."
Smith: "Jeremy Pruitt loves defensive backs with size. Okudah is almost 6'2" and 190. The Tide lose Eddie Jackson next year and with Dieonte Thompson still developing and Shawn Burgess-Becker transferring, this could be a good fit to play opposite Ronnie Harrison.
Hooper: "Okudah is probably more up in the air than anyone on this list. If Texas has a good year, I think the Longhorns keep Okudah in-state and get him to Austin.
5.) Baron Browning – LB – Kennedale, TX (Kennedale HS)
Baron Browning's Top Schools: Alabama, LSU, Michigan, Notre Dame, Ohio State, Oklahoma, TCU, Texas, UCLA, USC.
Wagner: "Raekwon McMillian may be one of the first linebackers off of the board in this year's NFL Draft if he goes and the depth at linebacker is depleted at Ohio State beyond that. Heading to Columbus would give Browning the best bet to play right away and be the next guy up in The Shoe."
Bradley: "Texas gets another big pickup to add to Marvin Wilson on defense"
Smith: "Sergio Kindle was one of the last big time linebackers for the Longhorns from '06 to '09. Getting browning would continue a strong build in Austin. His big time hitting abilities with his speed and frame scream Charlie Strong."
Hooper: "Browning is one of the top prospects on the board for the Buckeyes and I see them going after him with everything they've got. Urban Meyer can be tough to say no to when he's got things rolling in Columbus."
6.) Cam Akers – RB – Clinton, MS (Clinton
Cam Akers' Top Schools: Alabama, Auburn, Cal, Florida State, Georgia, LSU, Michigan, Ohio State,  Ole Miss, Tennessee.
Wagner: "Yes, Ole Miss has a lot on their plate right now with the NCAA investigation, but Cam Akers loves his home state and I think could be the best back the Rebels have had in who knows how long. He would be the face of the Rebels offense quickly. But I think UGA and FSU are sleepers in this."
Bradley: "The Mississippi kid will stay put and play for Hugh Freeze but look for UGA to come in swinging."
Smith: "The Rebels haven't had a primary runner in a long time. Akers would give them a "do-it-all" back. For Mississippi to be taken seriously again, they need a run game and Akers can bring that.
Hooper: "If the NCAA investigation plays out in favor of Ole Miss, they'll have the upper hand on the Mississippi product. As of right now, until we know more, he's a Rebel.
7.) Donovan Peoples-Jones -WR – Detroit, MI (Cass Technical)
Donovan Peoples-Jones' Top Schools: Alabama, Florida, Florida State, Michigan, Michigan State, Notre Dame, Ohio State
Wagner: "Peoples-Jones will fit just about wherever he goes and more than likely be a star. But I think he likes the idea of playing with friend and 5-star QB Tate Martell and could be an instant impact in Columbus"
Bradley: "Jim Harbaugh gets this kid to come down the road to Ann Arbor, will be the next Braylon Edwards in Ann Arbor"
Smith: "The Gators don't have a lot of impact receivers on the roster aside from Antonio Callaway. Getting People-Jones would provide Jim McElwain's bunch with a 6-foot-2 target that can help whomever is under center for Florida."
Hooper: "Peoples-Jones could end up being the first blue-chip wide receiver in the Harbaugh era, so you know Jim's not going to leave any stones unturned in his pursuit of the Detroit product"
8.) Nico Collins – WR – Pinson, AL (Clay-Chalkville HS)
Nico Collins' Top Schools: Alabama, Clemson, Florida State, Georgia, LSU, Michigan, Ole Miss
Wagner: "If Michigan misses out on Peoples-Jones, I think they get the 6'5″ play maker. Or they could have both. Either way, Harbaugh is getting a big time wide receiver threat in this class. Alabama got their big man with Tyrell Shavers and Michigan will get theirs."
Bradley: "The 6'5″ monster has Bama written all over him. Simply put, he'll be the next big one for the Tide."
Smith:"Saban isn't going to pass up a 6-foot-5 frame. Big-bodied receivers are a rarity in the SEC, unless you are Texas A&M (Ricky Seals-Jones, Josh Reynolds). Alabama struck gold with Julio Jones (2008-10) and Cam Sims, who 6-foot-5 himself, has a chance to do well next season. Collins' ability to high-point the ball works in a Kiffin system."
Hooper:"After playing alongside T.J. Simmons last year and becoming familiar with Alabama's program, Nico probably already has his mind made up"
9.) Darnay Holmes – CB – Calabasas, CA (Calabasas HS)
Darnay Holmes' Top School: Alabama, Nebraska, Michigan, Ohio State, Stanford, UCLA, Washington
Wagner: "Holmes is the top ranked corner in the nation and for good reason, and many don't think he will leave the west coast but he can play right away in Nebraska and be an impact player, while joining two of his teammates and best friends out there in QB Tristan Gebbia and WR Keyshawn Johnson Jr. and the 'Calibraska' movement will continue."
Bradley: "Stanford. I don't think he'll leave the west coast"
Smith:  "The Buckeyes lost Vonn Bell and Eli Apple to the National Football League, but Urban Meyer is pretty solid in recruiting defenders. Holmes has the size (5-foot-10, 190 pounds) to be an enforcer in the secondary for the Big Ten Conference."
Hooper: "With his relationship to freshmen Cornhuskers Tristan Gebbia and Keyshawn Johnson, Jr., Holmes will be welcomed with open arms by Mike Riley and his staff as yet another west coast connection"
10.) Robert Beal – DE – Norcross, GA/Bradenton, FL (IMG Academy)
Robert Beal's Top Schools: Alabama, FSU, Georgia, Notre Dame, Texas
Wagner: "Beal is an elite defensive player in this class and after decommitting from Notre Dame and then not attending his visit last week, I think they're out of the race. I think after a year at IMG next year, Beal will be ready to come back to his home state and play for Kirby and the Dawgs."
Bradley: "ND seemed to be a favorite, but Kirby smart will land him at UGA"
Smith: "Defensive end will be a position of need for the Tide in 2017 (Jonathan Allen, Da'Shawn Hand= NFL). Under Karl Dunbar, Beal (6-foot-4, 230 pounds) could excel either at DE or a jack linebacker with his hand technique and quickness"
Hooper: "I think Beal's decommitment from Notre Dame in February benefits Georgia more than anyone. Kirby and company will surely roll out the red carpet for Beal and let him know how much they need him."
Justin Wagner is the Lead Recruiting Analyst for Touchdown Alabama. You can follow him on Twitter at @jwag718.
Stephen M. Smith is the Senior Analyst for Touchdown Alabama. You can follow him on Twitter at @Smsmith_TDALMag.
Blain Bradley and Derek Hooper are Recruiting Analysts for Touchdown Alabama. You can follow them on Twitter at @BlainBradley1 and @derekjhooper.