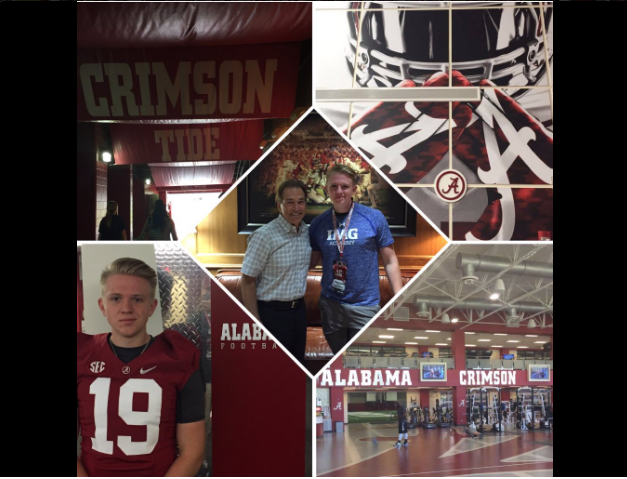 Long snapping is a talent, that according to 5-star prospect, and Crimson Tide commit, Thomas Fletcher, takes both skill and hard work.
"It's a combination of [skill] and [hard work]," Fletcher said. "The majority of it is work. There's a lot of frustration at first. Snapping is different for every long snapper. Every snapper snaps different, just like quarterbacks throw different."
Whatever form Fletcher is snapping with has worked out greatly for the IMG Academy star. He earned six scholarship offers. In the end he decided to commit to Alabama, for numerous reasons.
"[Alabama] reminded me a lot of home geographically," Fletcher said. "The trees, and green space."
Home for Fletcher is Washington state. But, he has moved around quite a bit. He played in Texas for a few years, and now is in Bradenton, Fla. playing with some of the nation's best talent at IMG.
"Washington is where I learned to play football. You go down to Texas, and go from playing in front of 1,000 fans, to playing in front of 12,000," Fletcher said. "In Florida [at IMG], the skill players are the fastest you've ever seen."
When asked about the time that he knew he wanted to pursue long snapping, Fletcher reflected back to his Freshman season.
"At the end of my freshman season, I got called up to play as snapper," Fletcher said. "It was an eye opener. I realized that if I want to play at the next level, I had to pursue snapping."
Blessed and honored to announce that I have committed to THE University Of Alabama! #rolltide #snapperU 🅰🐘💸 pic.twitter.com/IpcvbwAP78

— Thomas Fletcher (@longsnapfletch) June 23, 2016
Good thing he decided to pursue snapping. It has paid off greatly, but snapping is something that is in Fletcher's genes.
"My dad played long snapper at San Diego State, during the Marshall Faulk years," Fletcher told us. "He played with the Raiders and Seahawks. It's very unique having a dad who's [long snapped]. I remember my dad teaching me the basics when I was five or six."
Although he learned how to snap at a young age from his father, he honed his skills under long snapping guru Chris Rubio.
"He is the undisputed, best snapping coach in the country, in my opinion," Fletcher said.
Fletcher joins a loaded 2017 recruiting for the Tide. He said he has built a relationship with kicker Brandon Ruiz, and is looking forward to forming bonds with his other future teammates.
One thing Fletcher mentioned was how he admired Coach Saban's ability to analyze everything.
"Coach Saban analyzes everything always reminding me of the process," Fletcher said.
We asked Fletcher if he would pursue his other teammates, and try to persuade them to go Alabama. Several players from the IMG Academy have offers to play for the Crimson Tide.
"Defintitely, I am going to pursue every single one of them," Fletcher replied. "IMG has guys who are SEC and NFL caliber."
Blain Bradley is a contributor for Touchdown Alabama Magazine. You can "Follow" him on Twitter, via @blainbradley1 or "like" him on Facebook