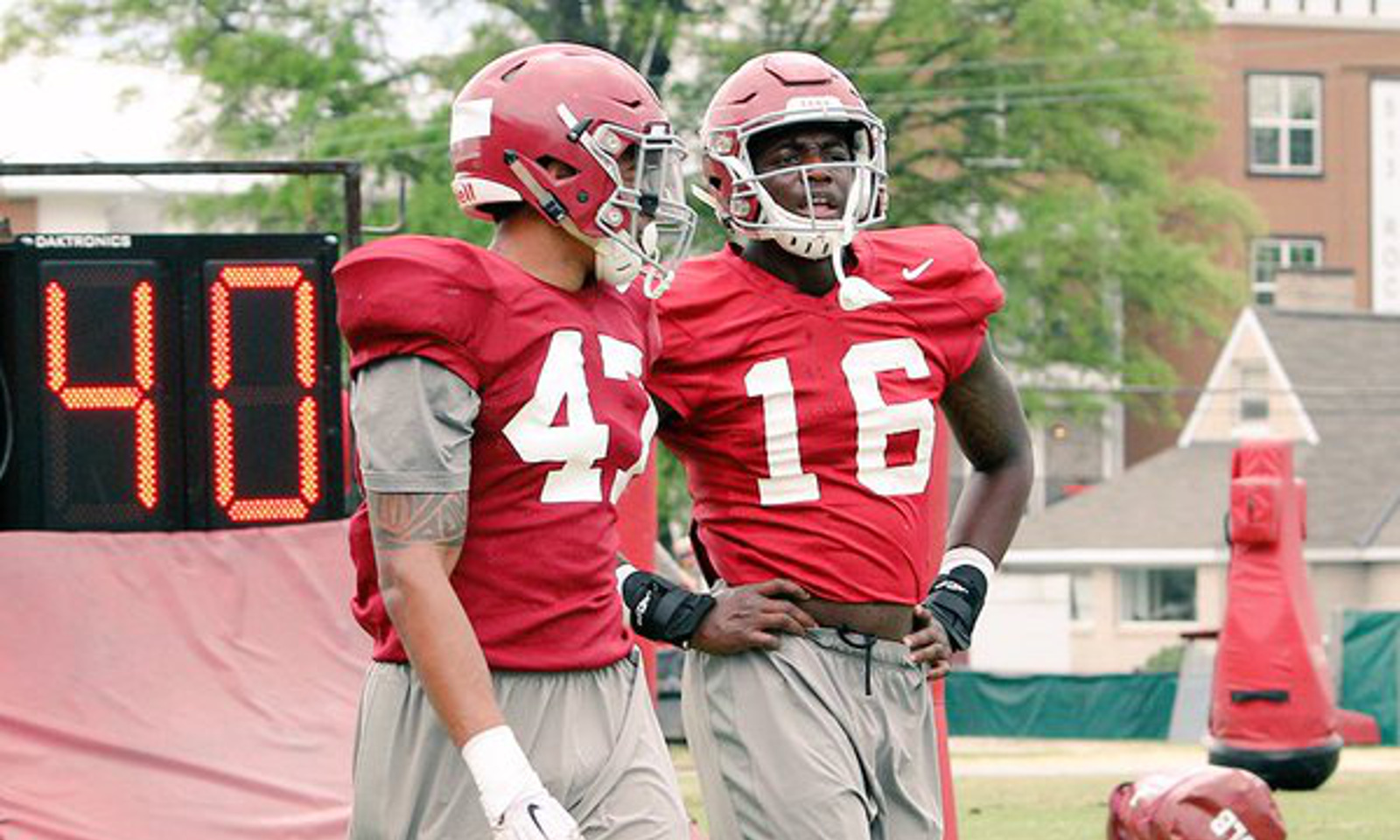 Speak softly, but carry a big stick. This was the demeanor that made the oldest son of Clinton and Tracy Mosley special in high school, college and thus far in the National Football League.
C.J. Mosley finished his career as one of the most decorative linebackers in Alabama football history.
A two-time national champion (2011, 2012), he accounted for over 300 tackles, 23 tackles for loss, 6.5 sacks and seven interceptions. His team-high 106 tackles and nine tackles for loss in 2013, earned him the Butkus Award, consensus All-American and first team All-SEC honors as a senior.
Mosley would go on to be selected by the Baltimore Ravens in the first round of the 2014 NFL Draft, leaving behind an individual that's ready to start his own legacy—his brother, Jamey Mosely.
While C.J. was at Alabama, Jamey Mosley was developing his own career at Theodore High School.
He helped the Bobcats secure a 6-4 record in 2010 as a freshman, qualifying it for a berth in the Class 6A playoffs. Mosley served at outside linebacker and strong safety, before transitioning to quarterback during his senior year in 2013.
Despite getting offers from five other schools, Mosley followed in the path of his brother and signed to the Crimson Tide in January of 2014. He redshirted his freshman season, while spending all of 2015 as a scout team player. The addition of Tosh Lupoi at outside linebackers coach paid dividends for Alabama last season, as the position group collected 23 of the team's FBS-leading 52 sacks (44.2 percent). Lupoi was a recruiting analyst prior to 2015, but his energy bumped him up to co-defensive coordinator in the latest approved contracts for assistant coaches via UA's Board of Trustees.
"His attention to details has helped my game expand," Mosley said on Lupoi.
"It gives me a lot of versatility within our linebacker core."
Mosley came under the command of Kirby Smart in his first two seasons at Tuscaloosa, but this fall he will answer to a familiar yet new name at defensive coordinator—Jeremy Pruitt.
Ironically, C.J. Mosley was recruited by Pruitt in 2010 to Alabama. He helped Mosley develop a role on one of the fiercest defenses in college football during the 2011 season. The Crimson Tide led the nation in all five major categories, resulting in a 12-1 record and a BCS national championship.
Pruitt was hired back to Nick Saban's staff earlier this year and now that he's a $1 million man, his approach will be to constantly generate pressure on opposing quarterbacks. Seeing his track record in six years with the Tide and time spent at both Florida State (2013 national champions) and Georgia, the younger Mosley knows that Pruitt obviously has what it takes to be successful.
"You can tell that he is one thousand percent invested in us," Mosley said.
"He wants to win and be successful just as bad as we do."
He came in weighing 221 pounds, but now the 6-foot-5 outside linebacker has added more weight. During the fall of last year and spring of this year, Mosley was spotted third in position drills. He had a good spring, posting a 315-pound power clean, 365-pound bench press and a 405-pound squat lift.
The redshirt sophomore was clocked at 4.70 seconds in the 40-yard dash.
"I am definitely playing this season at 250 pounds," Mosley said. "I'm at 240 now. Saying I want to have a lot of tackles, sacks and etc…sounds good, but honestly all I need to do is dominate, control my box and execute my assignments to help this year's team be the best we can be."
Part of Mosley's drive to be a complete player is the talent around him to push him.
Alabama returns Jonathan Allen, Da'Shawn Hand, Dalvin Tomlinson, Da'Ron Payne, Reuben Foster, Tim Williams, Ryan Anderson and others to its defensive front, but at linebacker; Mosley singled out Anfernee Jennings, Christian Miller and Rashaan Evans as impact players to watch in 2016.
Football is good, but education comes first at the end of the day. Mosley was a national honor society student in high school and his mother wants that trend to continue at Alabama.
"On the field, I think his personal goal is to be the best player that he can be," Tracy Mosley said.
"Jamey wants to make a name for himself and he has a great path through his brother, so he knows what he needs to do as far as getting on the field. When it comes to graduating and his grades, he knows that it's very important. It's school first and football second."
After winning a national title in 2015, Alabama will try to repeat as championships for the second time since the 2011 and 2012 seasons. As for Mosley, he will enter his third year with the Tide; a season in which he will find ways to have an impact on the field.
Stephen M. Smith is a senior analyst and columnist for Touchdown Alabama Magazine. You can "like" him on Facebook or "follow" him on Twitter, via @Smsmith_TDALMag.