Stephen's Report
Alabama offensive lineman Matt Womack pushing to start at right tackle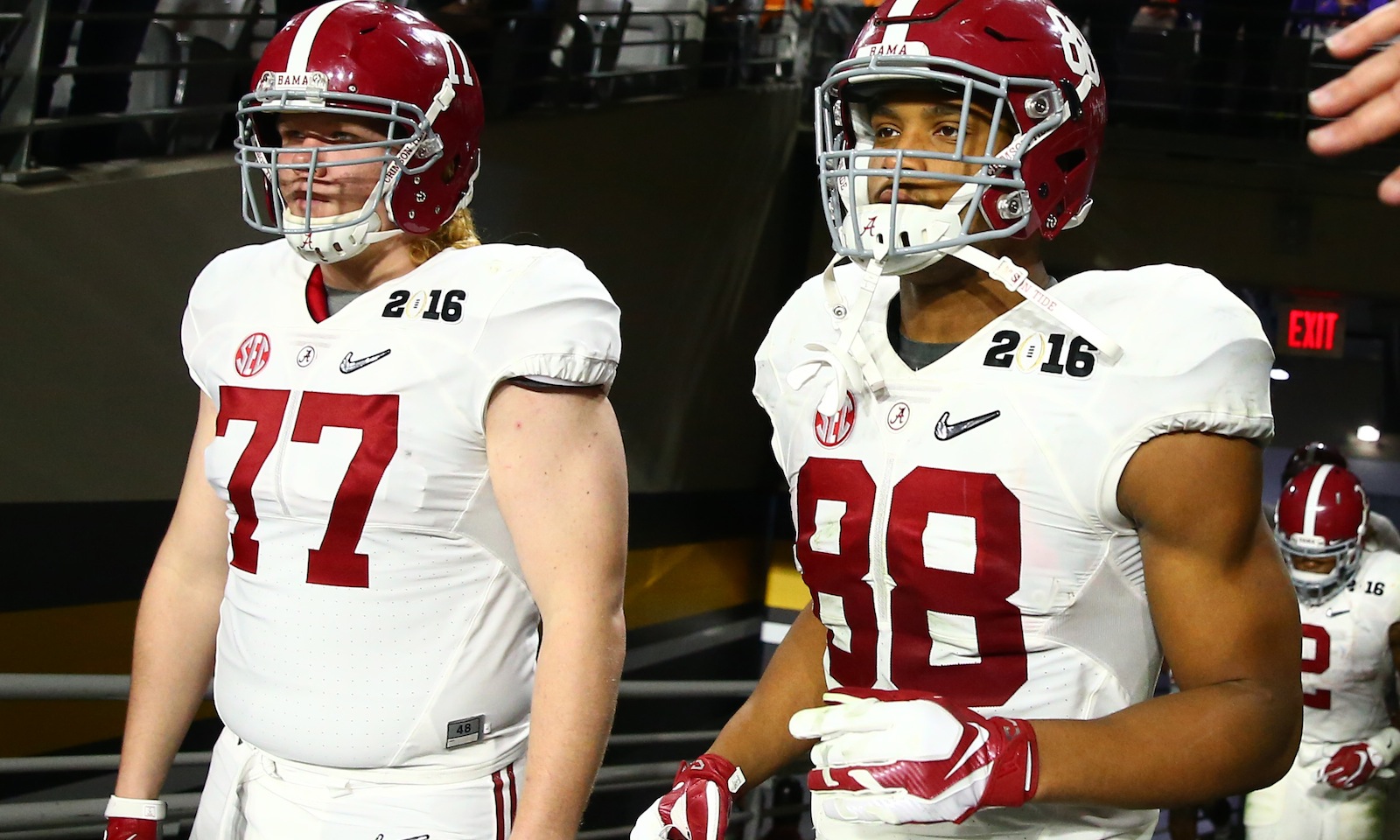 Sex appeal is no where in the cards when one talks about offensive tackles, yet it's a critical position to initiate the run game and keeping a quarterback from seeing dirt.
Andre Smith, James Carpenter, D.J. Fluker, Cyrus Kouandjio and Austin Shepherd where a few names that anchored a spot at a tackle position under Alabama head coach, Nick Saban. Carpenter stands out from the other three as he blocked for the program's first ever Heisman winner—Mark Ingram (2009), but all five would secure a national championship ring during their careers.
Rising junior Cameron Robinson is widely-regarded as the best offensive tackle returning to the Southeastern Conference in the fall. While he is projected a first round value for next year's draft, California native Jonah Williams is one everyone's radar to start as a true freshman at right tackle.
As we anticipate the 2016 college football and look toward the future, one guy that all should focus on is Alabama's 2015 signee Matt Womack. He's a native of Senatobia, Miss., who came in with four other offensive linemen. Three other SEC schools pushed for his attention, including LSU. Saban and the Tide were able to pluck the three-star prospect from the Tigers, ensuing more damage on Les Miles and company on the recruiting trail.
Despite his size (6-foot-7, 320 pounds), Womack has been an athlete since childhood. According to his father, David Womack, the redshirt freshman juggled both football and baseball.
"In football, he was the guy we ran behind," Womack said. "Very solid player."
Womack served at offensive tackle and defensive tackle during his senior year at Magnolia Heights High School. He anchored an offensive front that guided coach Cliff Young's team to an 8-3 season in 2014. His passion for the gridiron game started when he was four years old.
"He started playing flag football around that time and has been playing it ever since," Womack said. "Matt played also baseball with a travel team and never batted under .600."
The golden glove and silver slugger dream died when he was 14, nevertheless, football remained a priority for Womack. He took a redshirt in 2015, giving himself a chance to learn the coaches, offensive system and his teammates. His desire to be stronger health wise took over, as strength and conditioning coach Scott Cochran put him on a diet to burn fat and generate muscle.
Every inch of focus and attention to details is starting to pay off for Womack.
After the dismissal of Charles Baldwin (violation of team rules), he would be seen earning reps with Alabama's second team offensive line during spring practice. Constantly running before and after practice puts a strain on some offensive linemen; however, it's grounded Womack mentally.
David Womack said his son is in the "best shape of his life."
"Matt is very determined to start at right tackle," he said. "He said running 20 110s doesn't even bother him anymore."
The Tide will lose Cam Robinson to the NFL Draft in 2017 and despite the hype around Williams at right tackle, someone will have to play at left tackle next season. Lester Cotton (Tuscaloosa native) has been Robinson's understudy for a little over a year, but Saban has stated on multiple accounts that he wants to use Cotton as a guard. Whether it chooses to slide Williams to left tackle and have Womack at right tackle or keep Williams at right and have Womack at left, Alabama will need to have someone competent at both tackle positions in the years to come.
Womack received a national championship ring as an observer. Now, he's ready to play.
Stephen M. Smith is a senior analyst and columnist for Touchdown Alabama Magazine. You can "like" him on Facebook or "follow" him on Twitter, via @Smsmith_TDALMag.