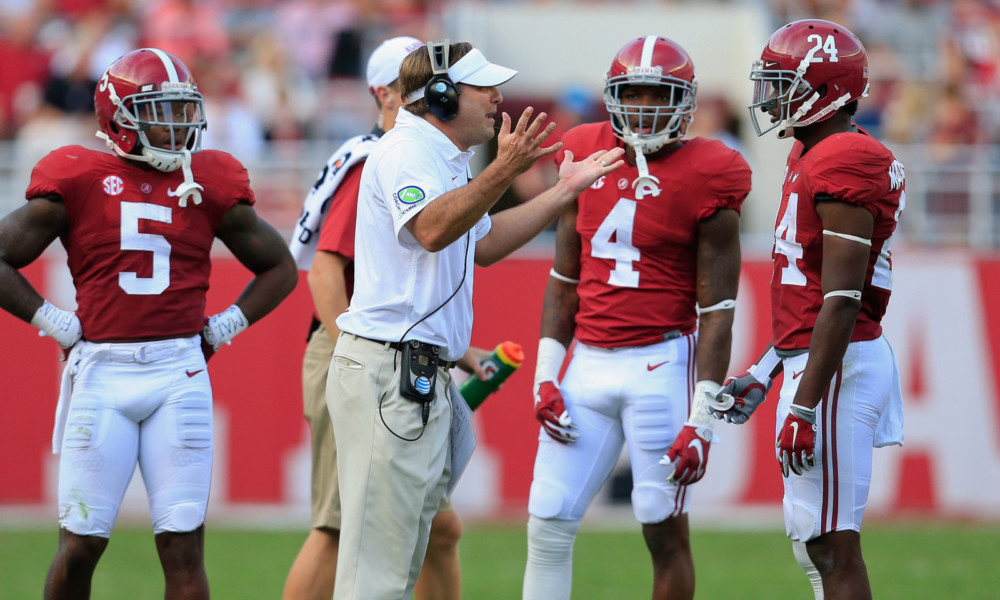 SEC Media Days continue today at the Hyatt Regency in Hoover. You can see live updates throughout the day here that will include the best quotes, photos, tweets and more. The Monday schedule for the Internet/Radio media room is below.
9:15 – Georgia TE Jeb Blazevich                                                                         1:10 – Tennessee QB Joshua Dobbs
9:25 – Georgia SS Dominick Sanders                                                                1:20 – Tennessee DB Cameron Sutton
9:35 – Georgia OL Brandon Kublanow                                                              1:30 – Tennessee LB Jalen Reeves-Maybin
9:45 – Georgia Head Coach Kirby Smart                                                          1:40 – Tennessee Head Coach Butch Jones
9:55 – Mississippi State WR Fred Ross                                                            1:50 – Texas A&M QB Trevor Knight
10:15 – Mississippi State LB Richie Brown                                                      2:10 – Texas A&M DL Myles Garrett
10:25 – Mississippi State DE A.J. Jefferson                                                    2:20 – Texas A&M WR Ricky Seales-Jones
11:05 – Mississippi State Head Coach Dan Mullen                                         3:00 – Texas A&M Head Coach Kevin Sumlin
---
LIVE UPDATES (all times CST)
3:17 – Day two of SEC Media Days is wrapping up. Four of the seven remaining teams will come in tomorrow to answer plenty of questions. We'll have updates on Alabama, Arkansas, Kentucky and Missouri starting at 9 a.m. right here on Touchdown Alabama.
3:15 – Sumlin closes with comments about Johnny Manziel, saying that he will always be a part of the Aggie Family.
3:11 – Sumlin says other teams (i.e. Arkansas) that have had more talent and more NFL draft picks than A&M has. He mentions Myles Garrett, Armani Watts, Josh Reynolds and Ricky Seales-Jones as guys that could be drafted on the first night.
3:07 – Sumlin says he is more confident in the offense's ability to run this season. But he mentions Tra Carson who rushed for 1,200 yards and people still said it was a bad running game. Sumlin says they have more depth that will help them be more consistent.
He transitions by saying it goes both ways. Sumlin says the rush defense has to get much better in order for the team to be better.
3:04 – Kevin Sumlin has arrived for the final interview of the day. He answers yet another question about how crucial this season is to his future. Sumlin says he thinks every year has been crucial. He says the expectations are good because the program set the bar for themselves because of success of his first seasons.
2:53 – A lot of confidence surrounding Texas A&M this season from players, Sumlin and the media. None of that matters of course but they won't be a pushover this year.
2:23 – Seales-Jones says they have a hard time getting the ball off on offensive plays during practice because Myles Garrett is always in the quarterback's face. Either a good sign for opposing defensive lines or a bad sign for opposing offensive lines.
2:22 – Ricky Seales-Jones says he doesn't think of this as a crucial season for A&M and Sumlin. He says they just need to be their best and take care of business.
2:18 – Aggie defensive end Myles Garrett says last season was a down year for him. He said he needs to improve.
Garrett had 19.5 tackles for loss, 12.5 sacks, five forced fumbles and one blocked kick in 2015. I'll be scared if he improves.
1:59 – Knight says the transfer spot was an easy decision because he knows the A&M culture and area. He says it was also the right situation with the need for a quarterback in the right offensive system.
1:55 – Knight talks about entering a new offense and says he hasn't had to make many adjustments based on the offensive scheme.
1:50 – Texas A&M quarterback Trevor Knight is up next and stands in the back of the room as Butch Jones finishes his questions. Alabama fans are trying not to think about the 2014 Sugar Bowl.
1:47 – Jones says it takes time to build a winning culture but it's about improving everyday.
"If you improve one percent every day, you're going to like what you see." – Butch Jones
1:44 – Jones takes on a question about the Tennessee Title IX lawsuit. He says he doesn't see it as a settle because it is still a societal issue. He says they will continue to teach the players and staff how to avoid and/or handle those situations.
1:40 – Butch Jones has taken the stage. He says the team is ready to own the expectations with good leadership. He says expectations may seem high but they're higher internally.
1:34 – Reeves-Maybin finally takes the stage and faces a question about not entering the NFL Draft last season. He said his class had a goal to put Tennessee back on top and he doesn't feel like that has been accomplished yet.
1:32 – Sutton says this season is not "SEC Championship or bust." He says the season will be about achieving the team's internal goals and making sure they're working the best they can.
1:28 – Jalen Reeves-Maybin has entered the room to watch the last part of Sutton's interview. Sutton talks about finishing the season strong and making the decision to go back to school. He says the decision was not just about him but on the impact he can make on those around him.
1:27 – Tennessee's Cameron Sutton also returns for his second year at SEC Media Days. Sutton continues to talk about the team mindset of helping teammates and keeping each other accountable both on and off the field.
1:25 – Dobbs talks about how he can use his image to help influence others for good. He says he needs to keep his teammates accountable by speaking up when he sees one of them, or anyone, doing something wrong.
1:20 – Josh Dobbs says the first game is the most important but mentions Tennessee and Florida as important rivalry games. No mention of the return of The Third Saturday in October. Do Vols fans still see it as a rivalry?
1:15 – Dobbs says that the mindset of the team is getting better rather than realizing how good they are already. He says they ask everyday what can we do to make Tennessee great.
1:12 – The break is over and Joshua Dobbs has entered the room for the second consecutive season. He talks about the continuity of the team and the confidence that goes with it.
11:19 – Mullen continues to get questions about the Jeffrey Simmons case. A media member pushes at Mullen, asking what he would do if it were one of his family members that had been assaulted. Mullen says he doesn't deal with hypotheticals and continues to say he doesn't want those ten seconds of video to ruin a kid's chances at a better life. He does say that he is against all violence against women, and all violence against anyone.
11:17 – Mullen says he imagines whoever plays quarterback will do some things better than Dak Prescott and some things worse than Dak. My money is on doing more things worse than better.
11:15 – The mood lightens a bit as Mullen talks about running the Boston Marathon. He also mentions his new Yeezys helping him being swagged out for SEC Media Days.
11:13 – Mullen's second question is about starting a freshman quarterback. He says those first road games will be tough but he has the confidence in the team to rally around anyone at that position.
11:10 – Coach Mullen shows up five minutes late and jumps straight into a question about Simmons. He continues to say it was the University that made the decision but Mullen says he is just happy to have Simmons as a part of the family. He says that he did not put that much thought into whether the punishment was enough. Mullen said he wants to make sure that they don't let 10 seconds ruin a kid's career.
11:02 – Dan Mullen will be the last interview before the lunch break. Expecting most questions to be about the quarterback situation and the discipline issue with Jeffrey Simmons.
10:30 – Jefferson mentions former LSU offensive lineman La'el Collins as the first guy who put his hands on him during a game. Jefferson says he remembers thinking "This is the SEC."
10:27 – Mississippi State's A.J. Jefferson sticks with the defense is defense theme. He says having a third defensive coordinator in three years has not been a difficult adjustment.
10:17 – "Defense is defense…You tackle the guy with the ball." – Richie Brown
He continued by talking about the work ethic and play style that will make them stand out as a defense.
10:16 – Mississippi State LB Richie Brown talks about the impact that college football players have on such a big stage. He says recent events have been "tough but we're going to get through it."
9:57 – Georgia's time has wrapped up and Mississippi State wide receiver Fred Ross has arrived. He says the best defensive player he has faced in the SEC was Cyrus Jones.
9:54 – When asked about his relationship with Florida's Jim McElwain, Smart said they survived Nick Saban's staff meetings before so they had to be close.
"You've never been in a Saban staff meeting… Sometimes you have to hold hands." – Coach Smart
9:50 – Kirby Smart asks the media how many head coaches are at their alma mater. No one knew the answer.
"I did the research for you… It's 19." – Kirby Smart
9:47 – Kirby Smart already mentions a lesson he learned from Coach Saban: We're charged with doing the best job we can with the players that we have. If we do the best job we can, then that's good enough for us.
9:45 – First-year head coach Kirby Smart sneaks in the room through a different door from every other coach. The room's moderator did not see him until Coach Smart was sitting right next to him.
9:39 – Kublanow mentions former Missouri DE Shane Ray as one of the toughest players he has had to face during his career. Says that the SEC is filled with strong defensive line talent though.
9:35 – Georgia center/guard Brandon Kublanow calls Kirby Smart an amazing coach. He mentions Smart's attention to detail and making sure every little thing is perfect. Kublanow says that is the way it should be.
9:26 – Blazevich says the whole team is buying into new head coach Kirby Smart. He remembers the first team meeting under Smart when he told the team they need to be great, not good.
9:24 – "If one guy goes down, we won't be screwed for the rest of the season." – Blazevich on how the team deals with the weight of injuries, especially in the backfield
9:21 – Blazevich says he can't take about the quarterback battle on an individual basis. He says they work hard as a group and he will be good with any of them playing the position.
9:18 – Georgia TE Jeb Blazevich gets us started and is really excited to be in Hoover. He says the whole experience is great, saying he feels "pampered."