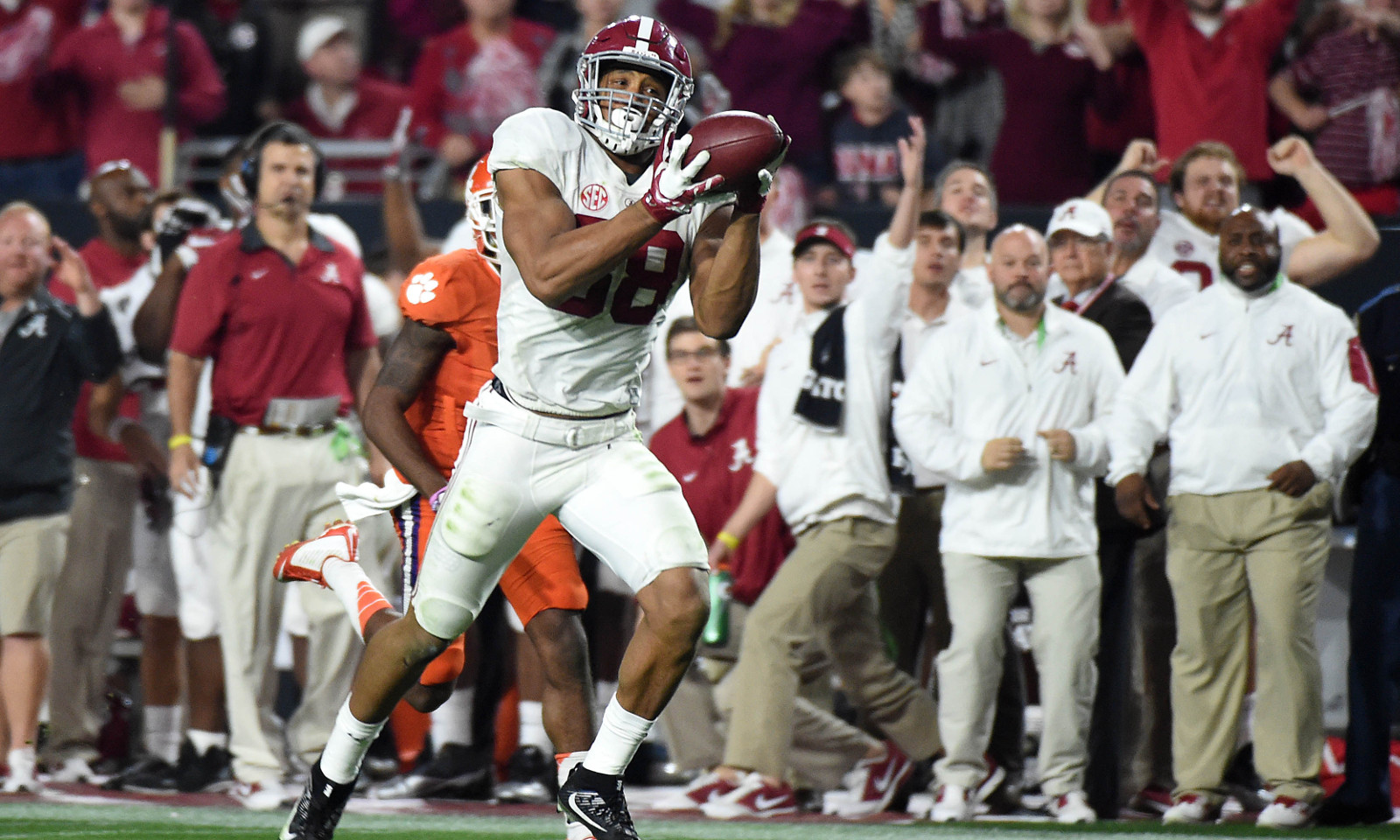 SEC Media Days continue today at the Hyatt Regency in Hoover. You can see live updates throughout the day here that will include the best quotes, photos, tweets and more. The Wednesday schedule for the Internet/Radio media room is below.
9:15 – Alabama DL Jonathan Allen                                                    1:10 – Kentucky RB Jojo Kemp
9:25 – Alabama S Eddie Jackson                                                                        1:20 – Kentucky C Jon Toth
9:35 – Alabama TE O.J. Howard                                                                        1:30 – Kentucky LB Courtney Love
9:45 – Alabama Head Coach Nick Saban                                                          1:40 – Kentucky Head Coach Mark Stoops
9:55 – Arkansas DL Deatrich Wise Jr.                                                               1:50 – Missouri DE Charles Harris
10:15 – Arkansas LB Brook Ellis                                                                         2:10 – Missouri TE Sean Culkin
10:25 – Arkansas TE Jeremy Sprinkle                                                              2:20 – Missouri LB Michael Scherer
11:05 – Arkansas Head Coach Bret Bielema                                                    3:00 – Missouri Head Coach Barry Odom
---
LIVE UPDATES (all times CST)
3:15 – That wraps up the third day of SEC Media Days. Check out our highlights from Alabama's day and make sure to tune in tomorrow for LSU, Ole Miss and South Carolina.
3:05 – Missouri head coach Barry Odom has entered the room and we are underway with the last interview of the day. He mentions the work he did at Memphis and how it has helped him prepare for the future of Missouri.
2:27 – Mizzou linebacker Michael Scherer says he is confident in his ability to make it to the next level. He mentions that it will be about staying healthy and making sure his body can make it through the 15 week season.
2:13 – Sean Culkin is the third tight end of the day. He says the position is all about doing the little things right, whether it be sealing the edge on a block, pass protection or making a short-yardage catch.
1:55 – Harris says that the transition to Coach Odom has been smooth and the team still has the same identity as they did under Gary Pinkel, with just a few position changes.
1:51 – Stoops finishes up and that ends the day for Kentucky. Missouri's Charles Harris is up next.
1:44 – Stoops says you can't prepare differently for Alabama. He says you have to control what you can control.
"They've earned the reputation that they have." – Mark Stoops
1:43 – Stoops continues his high praise of Courtney Love. Says he is a smart player and exactly the type of guy you want in the center of the defense.
1:41 – Third-year head coach Mark Stoops has arrived. He talks about Courtney Love, who hasn't played a snap for Kentucky, but has shown great leadership so Stoops says Love deserved to be here at Media Days.
1:32 – Courtney Love is asked about Kemp's comments and he says he can't say he is the best but he wants to be the best. He said that's why he goes to Kentucky: to train with the best, to compete against the best and to be the best.
1:29 – Kentucky linebacker Courtney Love says he had spent the last year realizing his role on the team and becoming a better leader while not playing. He says he missed being out on the field with his teammates more than anything else.
1:26 – Toth mentions being appreciative of being on the Rimington Award watchlist but he says he takes it with a grain of salt. Toth has been on it the last three seasons so he says "at the end of the day, it's just a watchlist,"
1:20 – Jon Toth also mentions the new leadership on Kentucky that will help them get over the hump as a team. He says the approach of the team is making sure to put it the day-to-day work to change the football culture in Lexington.
1:15 – Jojo Kemp was asked to do his go to endzone dance. He said he is here strictly for business and no fun. He then busted out in laughter.
Kemp mentions Courtney Love as the best linebacker in the SEC. Said he's not going to mention anyone else.
1:12 – Kemp says he has taken it upon himself to be a more vocal leader while leading by example for the younger players in the team. He says the difference from last year to this year is the experience to be able to finish games and the season strong.
1:09 – Kentucky RB Jojo Kemp has arrived and makes the room laugh after a selfie with the room's moderator. He says this is a room full of wonderful faces.
1:02 – Plenty of excitement during the lunch break including an appearnce by World Heavyweight champion Deontay Wilder and an apparent feud between Paul Finebaum and Nick Saban. Hopefully they made up.
Saban and Finebaum are still going. Maybe they're making up now. pic.twitter.com/SkLbeDrZXk

— Caleb Turrentine (@CalebTurrentine) July 13, 2016
11:26 – Bielema has concluded his questioning and it's time for the lunch break at SEC Media Days. I'll be enjoying some BBQ, fried chicken and biscuits. Continue following all our writers on Twitter.
11:22 – Bielema gets a question about the NFL Draft system. He believes the NFL guys should get any draft-eligible player to come in for a non-football evaluation before sending out combine invites. He says it leads to wrong decisions by players that lead to agents and draft scouts lying to them about their draft stock and money. He said those evaluations should take place three weeks before signing day.
11:21 – Bielema talks about the quarterback situation and said that everyone is obviously concerned about guys who you've never seen play at this level before. He continues by finding compliments for each quarterback in the battle.
11:18 – Bielema has finally showed up and begins by talking about the poor start to 2015 that included losses to Toledo and Texas Tech. He said fall camp will have some focus on sustaining success through four quarters.
11:12 – Coach Bret Bielema is already seven minutes late for the Internet room.  The jokes in the main room are starting to add up.
10:26 – I've spent time with Sports56 radio of Memphis and had to miss Arkansas players. You'll be able to find the segment on Alabama football on their show from 3-6 this afternoon.
9:57 – Saban mentions that Cam Robinson and Hootie Jones were not charged. He says they have both done work to help them change their behavior and if they show that, it will help the staff handle things internally.
9:54 – Saban says there is no question that we have a social issue with domestic violence. He says they have had an ongoing program to make sure his players are taught on all the issues, whether it be violence, gun control, drugs, alcohol, etc.
9:52 – Saban also talks about players who enter the draft early. He says the system may need to be adjusted and said that many players are getting false information on being ready for the NFL. He says the people who give draft grades are not around the players all year. They don't know how they practice or play every game. He says players need more specific draft grades that are based on a player's entire season.
9:47 – Coach Saban has entered the room and has already been asked about players making poor decisions about his players being found with a stolen gun. Saban says it's a global culture that people need to focus on solving problems rather than creating them.
9:44 – Howard says he can't get a good read on how the offense will be this year. He says they haven't put in work on the whole playbook yet.
Howard mentions reasons why he did not enter the NFL Draft including improving his run blocking and route running skills.
9:41 – Howard speaks highly of Tennessee and says they have always given them a good contest. He says they're a great team and keep improving so he's excited to get a chance to play them this year.
9:40 – Howard mentions Jonathan Allen and trying to block him. He says Allen is fast and explosive which is surprising for his size.
9:39 – Howard says "we've done it before" when it comes to the quarterback position. He said the he is not worried with which quarterback wins the job.
9:34 – O.J. Howard says that the offseason has been the place to work hard to make sure he capitalizes on his breakout game from the National Championship game against Clemson. He also says he has to work hard to make sure his technique is ready to be strong in the running game.
9:31 – Eddie Jackson says DB Shyheim Carter is one of the freshmen who have stood out to him this offseason at Bama. He may not see much playing time with the loaded secondary but watch out for when he does.
9:30 – Eddie Jackson with the cliche of every game is important after being asked if the Ole Miss game stands out after losing the last two seasons.
9:27 – Eddie Jackson is at the stage now and says that his teammates were a huge help when he was transitioning from cornerback to safety last season.
Jackson says having the five defensive backs on the field helps take the pressure off the safety position. He says he has more freedom to play the position.
9:25 – Allen says the biggest place for improvement is too stay consistent by working every day to get better.
9:23 – "If Coach Saban trusts him, then I have 100 percent trust in him." – Jonathan Allen on the quarterback situation
9:20 – Allen mentions Dalvin Tomlinson, Dasean Hand and Darron Payne as guys that will fill in on the defensive line after the loss of A'shawn Robinson and Jarran Reed. He says he is highly confident in the abilities of the guys that will be coming in. He says the depth forces teams to block one-on-one instead of double teaming the best pass rushers.
9:17 – Jonathan Allen has entered the room and we are ready to get started with the Alabama players at SEC Media Days.
Allen says the scheme is not too different with Jeremy Pruitt. He says it is all about the system Coach Saban has had in place over the last few years. Allen does say that Kirby Smart may be more outgoing than Pruitt during practices.
9:06 – All eyes of the main media room are on the podium as Nick Saban is ready for his opening statement. We are minutes away from getting the three Alabama players in the Internet media room. Stay tuned.