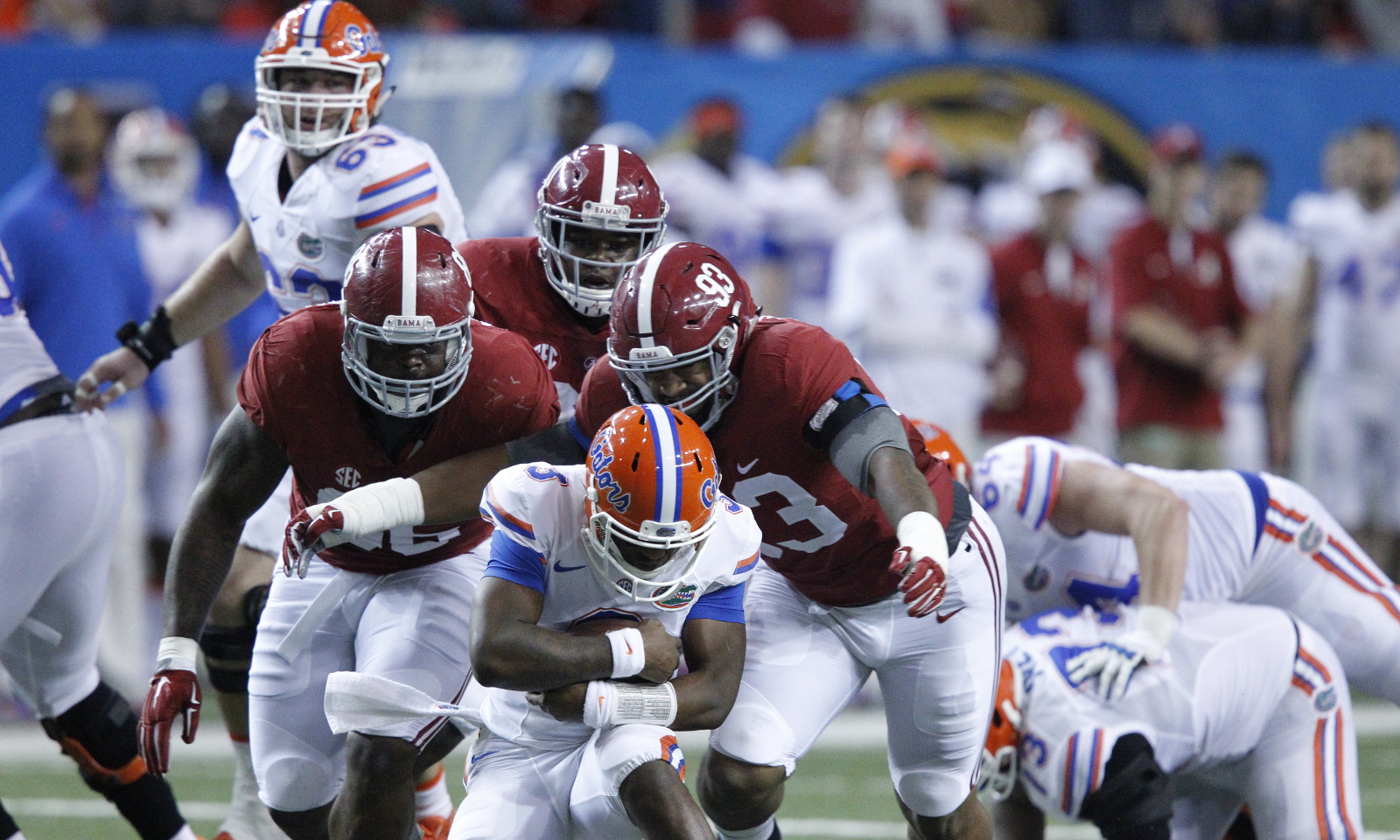 Alabama defensive end Jonathan Allen was the first player to take the stage at SEC Media Days on Wednesday. The senior chose to come back for one more season despite leading the national champions in sacks in 2015. And he still wants to improve.
"I've seen a lot of hunger in this team," Allen said. "Coach Saban is not going to do anything that is a detriment to the team so you have to come with intensity every day and prove why you deserve to play. So I really haven't seen any complacency so far this year."
Allen finished last season with 12.5 sacks but has lost two other stars, A'Shawn Robinson and Jarran Reed, that played beside him last season. Allen doesn't seem too worried about that though. The senior mentioned Da'Shawn Hand, Dalvin Tomlinson and Daron Payne as players who have quickly filled the void.
Allen said that the defensive line's depth will still be a strength. He warned opponents that they cannot afford to double team on their pass blocking schemes. Allen said that the depth forces offensive lines to block one-on-one and allows them to get to backfield quicker.
One media member asked Allen if he felt like the voice and leader of the defense, being one of the main returning starters and seniors on the unit.
"I wouldn't say that I'm the voice of the defense," Allen said.  "Obviously I'm one of the voices but honestly there are a lot of leaders on the team, such as Eddie Jackson, Reuben Foster and Dalvin Tomlinson. So I wouldn't say that I'm the only voice."
Despite already being a strong force in a strong defense, Allen is continuing to improve while recovering from a shoulder injury.
"The shoulder feels great," the defensive end said. "I'm actually three weeks ahead of schedule. Obviously it was a little frustrating to miss a lot of the spring practices, but I have to recognize the bigger picture and focus on accomplishing the ultimate goal [of winning a championship]."
Allen made the decision to return to school despite having a terrific season in 2015. There's no reason to expect anything less this season and it's not crazy to expect the senior to be better. Another National Championship may not hurt either.