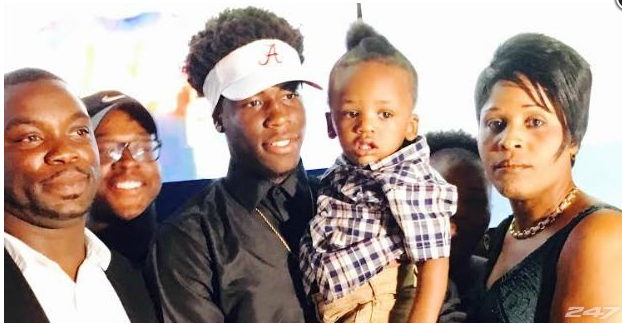 Now that the Jerry Jeudy courtship has come to a close, fans of the Crimson Tide can rejoice.
Many analysts argue that Jeudy was the best receiver prospect in the Class Of 2017, and rightfully so.
Watch his film.
ATH : Jerry Jeudy '17 : Deerfield Beach High (FL) The Opening Spotlight 2016
No one should be surprised Jeudy committed to the Tide. He tweeted out a warning shot before his commitment, because some sites made early predictions that assumed he already committed.
I didn't commit nowhere yet

— Jerry Jeudy⁴ (@jerryjeudy) July 29, 2016
Despite his attempt to act non-transparent, it was clear: He was an Alabama commit long before his announcement.
According to AL.com, and other various sources, coaches began recruiting Jeudy when they pursued Calvin Ridley and Shawn Burgess-Becker (Becker recently transferred to UCF).
That relationship that coaches built with Jeudy during his sophomore year at Monarch High resonated with him. He would transfer to Deerfield Beach, and the bond grew even stronger.
Everything for Jeudy has been a process, and at Alabama, being part of a process is mandatory. He transferred high schools, built a name for himself and worked on academic goals so he could enroll early at Alabama. All that's left is finishing his senior season off with a state championship.
The influence from in-state schools Florida and Miami was strong. The Gators were the second favorite for Jeudy, and Hurricanes wide receivers coach Ron Dugans did all he could to land the 6-foot-1 stud. But, a close relationship with coaches at Alabama, a bond formed at The Opening with guys like Vandarius Cowan and Tua Tagovailoa, all helped seal the deal for Jeudy.
The odds were stacked against other schools. A history of friendship with Ridley, and numerous visits made it almost impossible for any other schools to land Jeudy.
What will Nick Saban and his staff get out of Jeudy? Well for starters he's comparable to former Tide receiver Amari Cooper, in terms of footwork and route running. He has made a few big drops, especially a big one at The Opening, but he'll fix that as time goes on. His ability to make a cut and lose a corner is unparalleled in this class.
His high school coach, Jevon Glenn said it best: "He's a great kid, a dynamic talent, a once in a lifetime talent."
Alabama has had many players who could have been dubbed as "once in a lifetime" type talents. Derrick Henry smashed high school rushing records. Blake Barnett and Jalen Hurts were both some of the most highly sought after quarterback talents in the nation. What sets Jeudy apart?
Only time will tell us what makes Jeudy one of the great ones, but one thing is certain: He'll make sure that he won't disappoint.