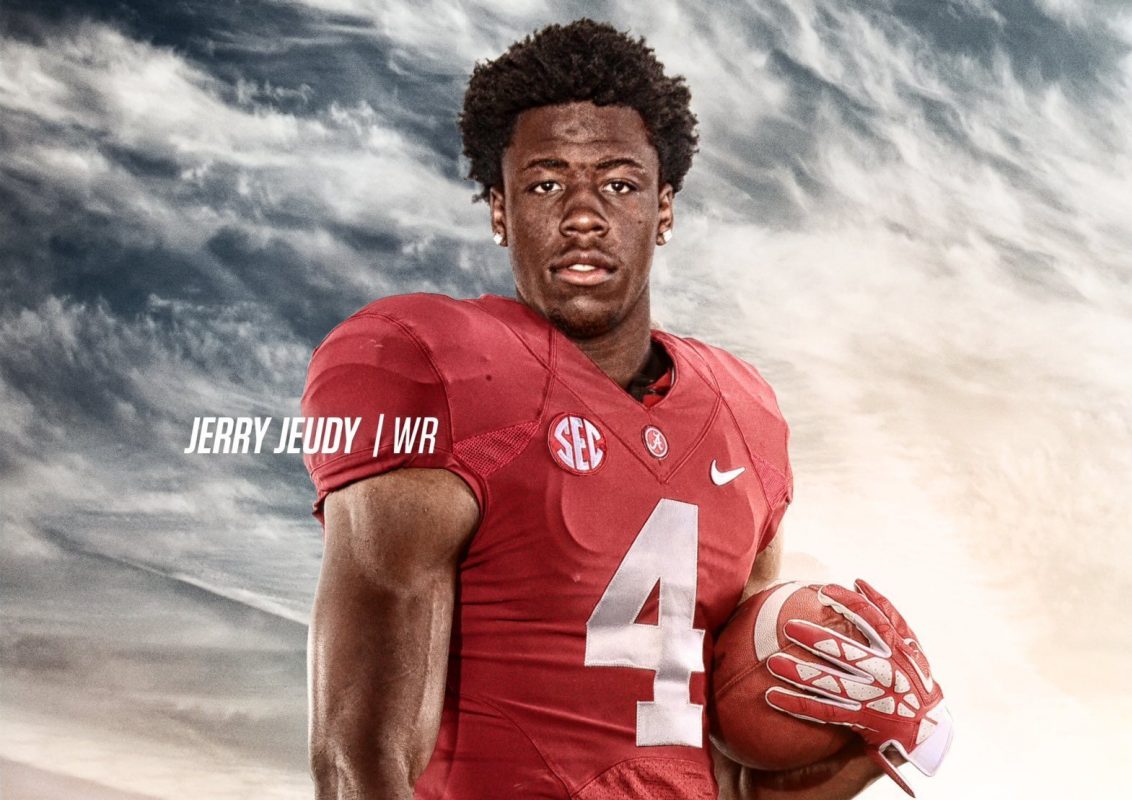 It was big night for the University of Alabama across the board. Between the fans, coaches, players and current commits, Jerry Jeudy had them waiting on the edge of their seats as he was announcing where he would be headed. As Jeudy ended up picking Alabama over Florida, Miami, Florida State and Tennessee, the entire nation took a huge sigh of relief and celebrated the commitment of the next big south Florida wide receiver heading up that pipeline to Tuscaloosa.
It was also a long night for Touchdown Alabama's No.1 wide receiver as he was set to commit on The Tony Sands Show in Fort Lauderdale, FL, and the actual announcement didn't come until 9:30-10:00 after someone leaked that Jeudy had committed to the Crimson Tide. Sources tell me that a family member leaked the information after hearing him commit on the phone to Nick Saban. After letting Twitter know he had not committed yet, he finally made the real decision. Here is a video of the commitment from Jeudy's trainer, Zack Rehman.
@jerryjeudy commits to Bama🐘🐘🐘🐘🐘🐘 pic.twitter.com/AlpajPN5SZ

— TUFF Training, Inc. (@RehmanZack) July 29, 2016
Once that Alabama visor, which is very fitting as he will inevitably become the center of that Lane Kiffin offense in a few years, Crimson Tide nation sure reacted.
Sophomore wide receiver and close friend of Jeudy, Calvin Ridley
@jerryjeudy time to eat

— CALVIN RIDLEY (@CalvinRidley1) July 29, 2016
Senior safety and fellow south Floridian, Eddie Jackson
Time To Get Money Congrats Soulja @jerryjeudy 💯✊🏾 https://t.co/p2WhqIsNyt

— Eddie Jackson (@BoJack4) July 29, 2016
Freshman Linebacker Lyndell Wilson
Amari Cooper to Calvin Ridley to Jerry Jeudy 😈🤘🏾🔥 .. Congrats lil bro @jerryjeudy ! 🐘 #TheProcess

— Mack Wilson Sr. (@5mackwilson1) July 29, 2016
Former Alabama wide receiver Kenny Bell
Welcome to bama @jerryjeudy ✊🏾💯

— Kenny Bell (@TheKennyBell7) July 29, 2016
Senior defensive end, Ryan Anderson
https://twitter.com/Anderson_365/status/758867353253785601
2017 Running Back commit Brian Robinson
Official Savage 💯 @vandarius98 https://t.co/WDmo4hrhUn

— Brian K Robinson Jr. (@BrianR_4) July 29, 2016
Our class going crazy 💯 https://t.co/CZIPh9Mrb8

— Brian K Robinson Jr. (@BrianR_4) July 29, 2016
5-star linebacker and CEO of the "Savage Season" Movement, VanDarius Cowan
BRO COMMITTING GOT ME TURNT ASF ‼️‼️‼️‼️

— VanDarius Cowan (@vandarius98) July 29, 2016
Been telling y'all @jerryjeudy was coming to Alabama .. BEST WR IN THE COUNTRY !!🐘🐘

— VanDarius Cowan (@vandarius98) July 29, 2016
Sophomore offensive lineman Dallas Warmack
Savages play w/ Savages….

— Dallas Warmack (@DallasWarmack) July 29, 2016
4-star QB commit Mac Jones
THERE WE GO. It's the real #Booooommm this time #RollTide! FL✈️ AL #RTR

— Mac Jones (@MacJones_10) July 29, 2016
When @jerryjeudy commits pic.twitter.com/am4TVhaG7A

— Mac Jones (@MacJones_10) July 29, 2016
And of course nobody was more excited than the man of the hour himself.
RTR baby 🐘🐘🐘🐘💯💯💯

— Jerry Jeudy⁴ (@jerryjeudy) July 29, 2016
The University Of Alabama🐘 #savageseason pic.twitter.com/lJepB5qsWB

— Jerry Jeudy⁴ (@jerryjeudy) July 29, 2016
Jerry Jeudy's commitment is huge for the Crimson Tide especially now that they know he will be enrolling early in January and fans should be excited that he is getting that head start to join his good friend Calvin Ridley and soak in any knowledge he can from the All-American.  And one can only expect that Ridley is excited to have his guy coming to Tuscaloosa being able to represent their city together and continue that south Florida to Alabama pipeline.
Justin Wagner is the Lead Recruiting Analyst for Touchdown Alabama. You can follow him on Twitter at @jwag718.