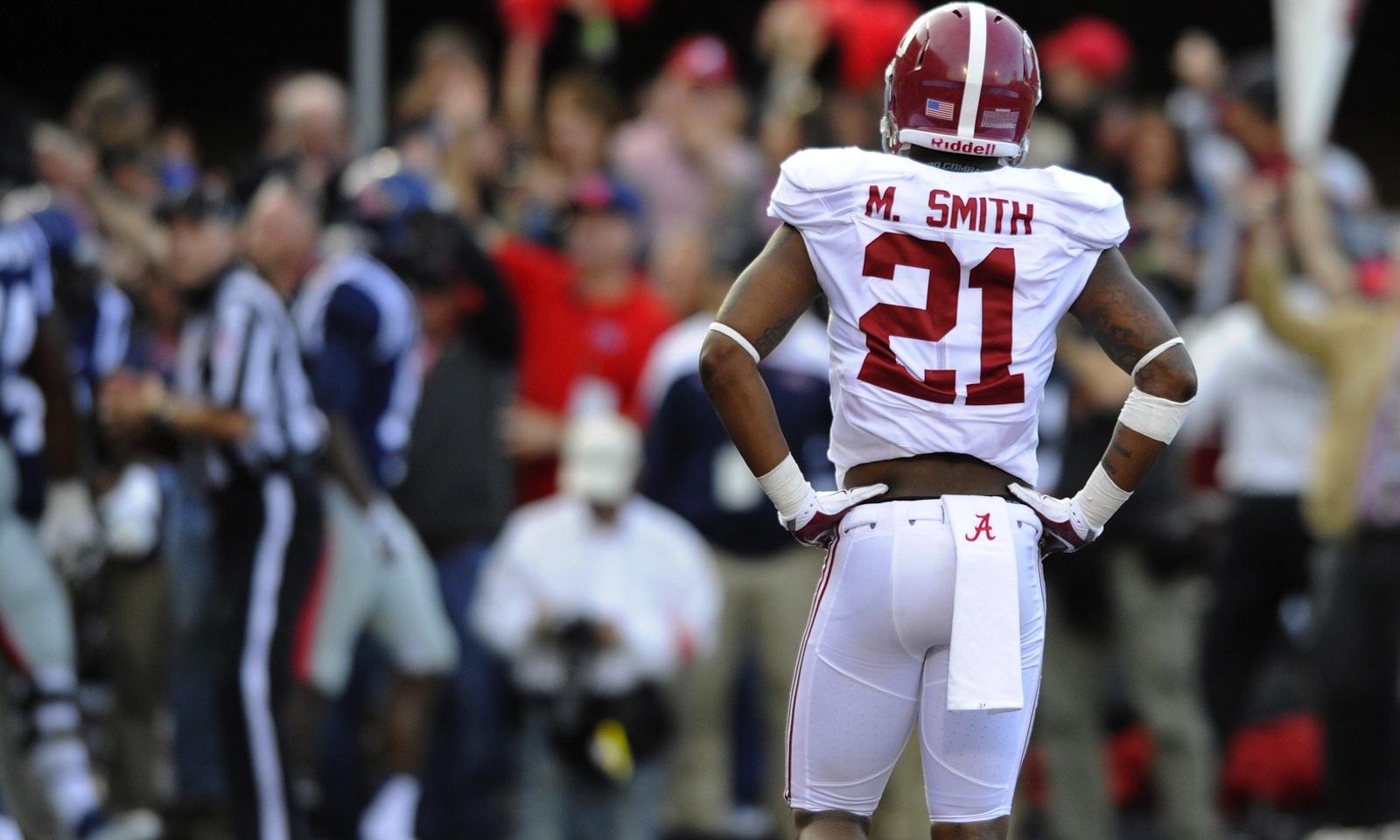 There are two sides to every story, here they are, now make up your mind who's right and who's wrong.
Maurice Smith and the Transfer Debate – Here's Common Sense
By: Larry Burton
On the surface there are many reasons for and against the transfer of Maurice Smith from Alabama to Georgia for his senior year. In the why not category you have the following arguments:
Didn't Saban let Chris Black, another Alabama player, transfer to and SEC school? That was Missouri.
Hasn't Alabama had seniors transfer onto their program? So why not have turnaround as fair play?
I thought players could leave once they've graduated and go where they wanted to without sitting out a year.
Saban just wants to keep him because he's a good player at a position they need help at and is being selfish.
On the against arguments, one can consider these:
Saban is following the rules of transferring players to the letter and the SEC agrees.
Saban doesn't want to lose a player to a team that could be on their schedule or in his conference.
Saban allowed Smith transfer to any school that isn't in conference or on their schedule.
Smith was told all this before all this debate started, but still insisted on Georgia over previous school he mentioned before, so if Smith wanted no problems, he just had to follow the SEC rules and Saban's requests.
Now, let's get the common sense and real answers on all these.
First all yes, Chris Black was allowed to go to and SEC school, so why not Smith? Well, there again, it's all about following the rules. According the rules put on paper that govern such things, Alabama has seven business days from the time a request is made to give a yes or no answer to the transfer. In Chris Black's case, he asked to leave the program and transfer the week of the LSU game and though it may be a bad reason, the truth is the Alabama staff was so involved in the game preparation that they dropped the ball and failed to contact Black in that seven business day period. That allowed Black to go to whatever school we wished. Smith's request came during a very slow period and that mistake was not made again.  There's that difference.
Yes, Alabama has players transfer to them, but it was all done with both coaches agreement and within the rules of such transfers, this one did not meet that criteria.
And if you thought the graduate transfer rule meant Smith could go to any school after graduation, you may not have known that the rules clearly state only "If transferring from an NCAA or NAIA school, the athlete's previous school states in writing that they have no objection to the athlete using the one-time transfer exception." Saban told Smith he had an objection with going to an SEC school. Therefore Smith is not allowed to go to Georgia without sitting out a year.
Lastly in the why not let him go category, Saban did in fact it would be better for Smith to stay at Alabama, finish his career with his friends and school and go to the NFL and yes, he could use Smith's abilities and he would have seen significant playing time.
Now for the other reasons, yes, Saban is following the rules and if you think he'd do otherwise, you don't know Nick. Plus the appeal process ruled against Smith saying Alabama is following the rules.
No team wants to lose a player to a team that will or could appear on their schedule. For the Georgia fans crying that Smith isn't being allowed on the Dog's team and that Saban is being a jerk, maybe you didn't know your own new coach, Kirby Smart also blocked a Georgia player, A.J. Turman, from transferring to Miami he sought to leave the Bulldog squad earlier this spring. What's more, Miami isn't even on the Bulldog schedule or likely to meet postseason. So what good for goose is, well you know the rest.
From the initial meeting until now, Smith has been interested in three schools, first Baylor, which Saban would allow, but they had problems at Baylor and Smith thought of going to Miami, again, Saban agreed. Then it went to Georgia , where Saban had said it wouldn't be allowed. Not in the first conversation, not now. So to say that Saban is just trying to keep him, he's letting him go to any school but an SEC school. That leaves over 100 other schools.
If Smith wants to go somewhere so he can be a starter, get more playing time and have the NFL notice him, that's 100 other places he can do that. Hardly seems limiting him very much does it?
Still the PR battle will continue to rage. Those that don't like Alabama and Nick Saban will paint them as the villain, while Tide fans side with Saban. It's not a question of personalities clashing and neither side can claim the high ground as to what is right and wrong. But Saban is within his right to do what he's done, Smith was aware what would be allowed and wouldn't be so that's the finality in all of this. Maybe for Smith, he just proved the old saying, "You can't have what you want all the time." But he just isn't understanding that.
Larry has been published in almost every media outlet for college sports and now primarily writes here for Touchdown Alabama. Follow Larry on Twitter for inside thoughts and game time comments at https://twitter.com/LBSportswriter
THANKS FOR SHARING THE LINK TO THIS STORY ON YOUR FACEBOOK PAGE OR A FACEBOOK GROUP YOU BELONG TO, FACEBOOK RESTRICTS HOW MANY PLACES WE CAN POST IT ON, SO PLEASE SHARE!