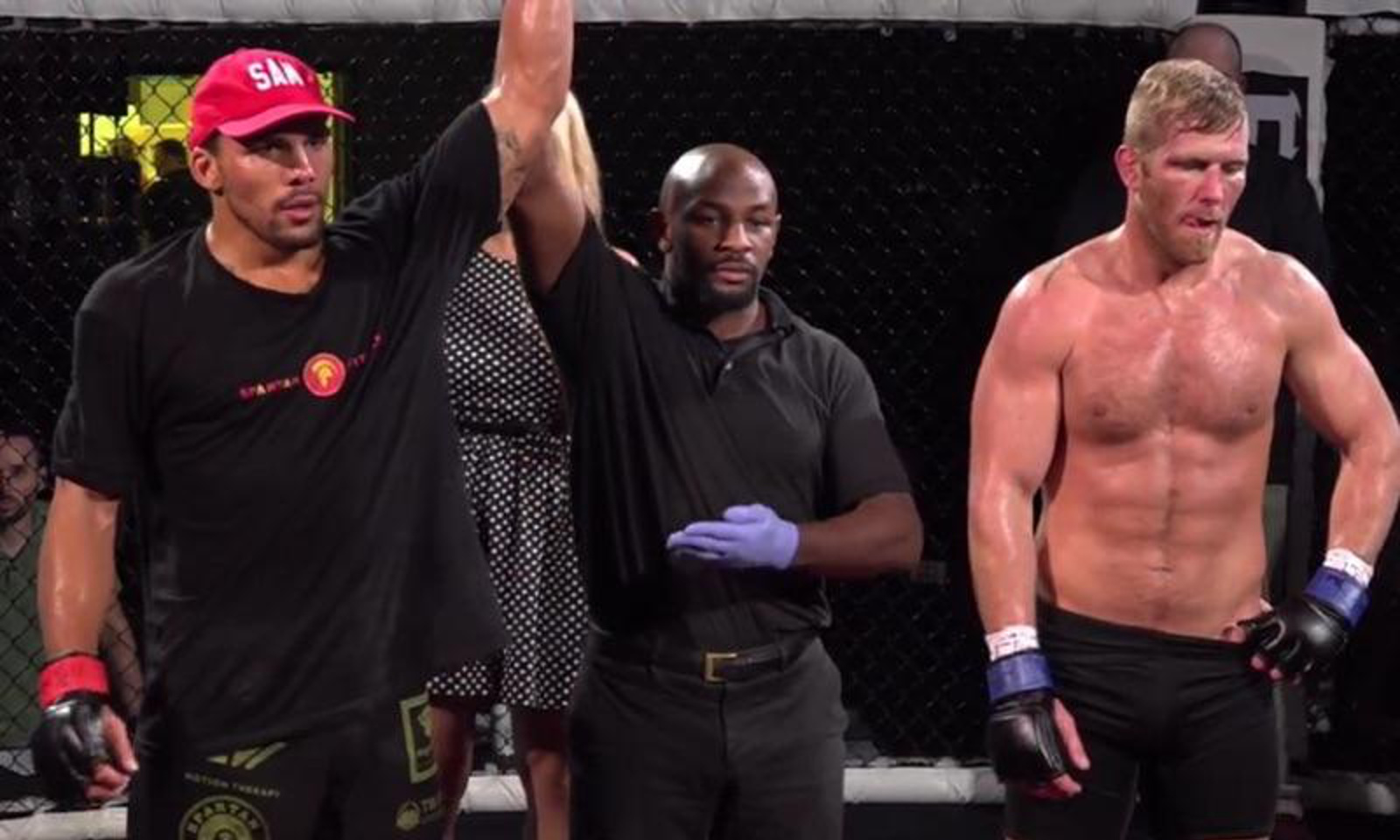 TUSCALOOSA, Ala.| He was undefeated during his senior year at Alabama (14-0, 2009 national champions), and is now unbeaten through five match-ups as a professional mixed martial arts fighter.
Ex-Crimson Tide linebacker Eryk Anders fought Jesse Grun on Saturday in Valor Fights 37 at Cleveland, Tenn. Anders secured his fifth win as a pro, via technical knockout in the first round.
Twenty-two fights as an amateur prepared him for a strong start, but in Saturday's contest, Anders told yours truly of Touchdown Alabama Magazine that there was a slight change in the game plan.
"I did a little more cardio in preparation for this fight," Anders said.
"It was still business as usual, though we were preparing for a different skill set in Grun."
It usually takes time for one to feel the opponent out before attacking; however, Anders was all business—making sure he got the job done without sustaining an injury.
"Getting a TKO in the first round is what you aim for," he said. "The longer you hang around, the more comfortable the opponent gets. I was thankful to emerge with no injuries and not much soreness."
Despite the contrasting styles of MMA and college football, confidence factors as a similarity between the two. Whether it was his sack of Texas' quarterback Garrett Gilbert in the 2010 BCS national title game or his victory over Grun, Anders consistently plays with an edge to him.
"I was confident in my training before the fight and I knew I had when the bell first rung," he said.
"My thing is to get in and get it finished, no matter who the opponent is."
Coaching and time have helped Anders form a career in the cage. He dedicates much of his efforts to his coach, Chris Conelley—a different instructor than who he had as an amateur.
"He does a great job of developing a game plan and a skill set to make each person a complete fighter," Anders said on Conelley. "He's one of the best, when it comes to developing guys for MMA."
Anders celebrated his victory in Chattanooga (Tenn.), but is currently resting in Birmingham.
Stephen M. Smith is a senior analyst and columnist for Touchdown Alabama Magazine. You can "like" him on Facebook or "follow" him on Twitter, via @Smsmith_TDALMag.