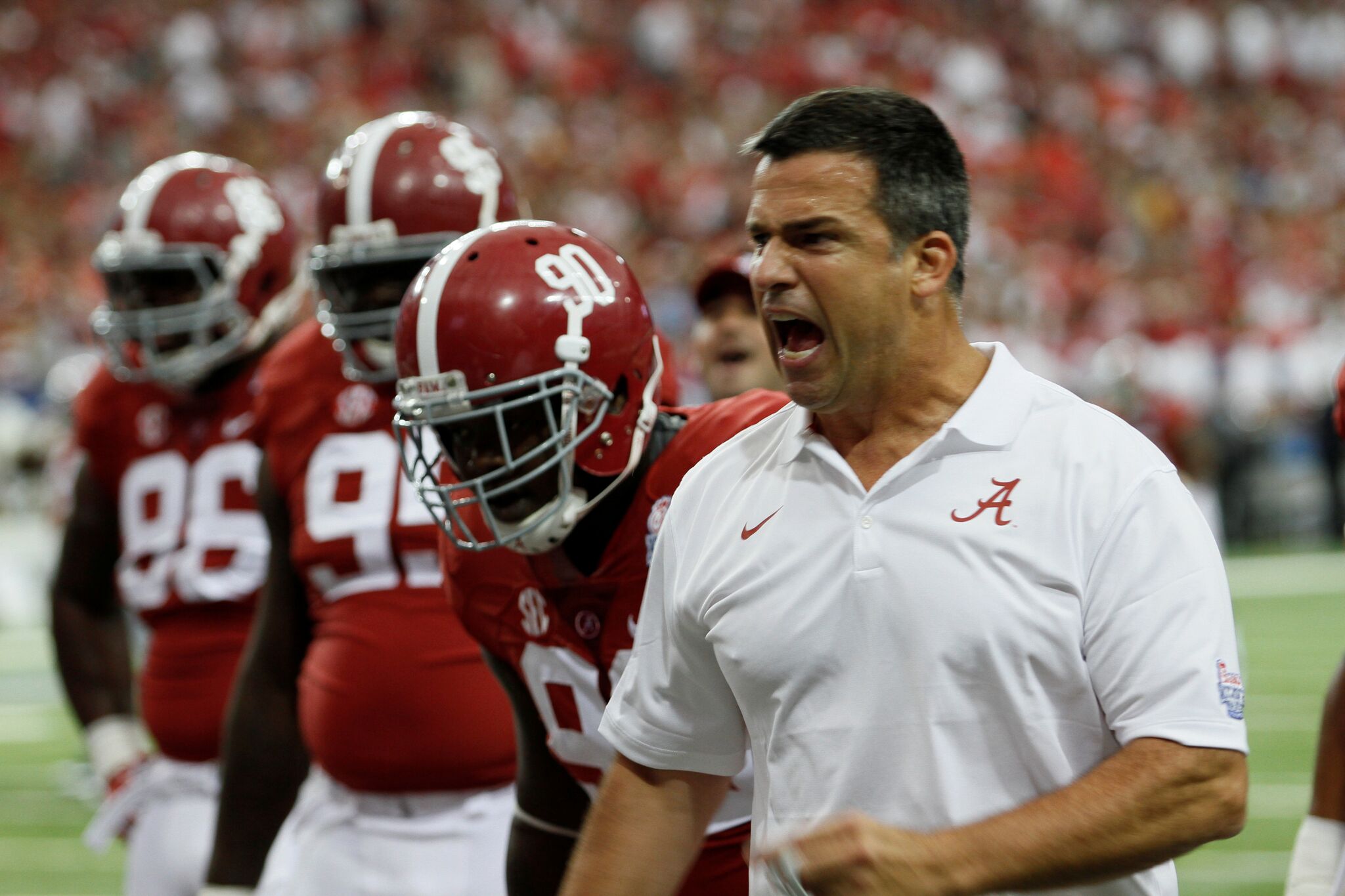 Here at TDA we want to offer full coverage of all things concerning Alabama Football. Our recruiting based team has been making waves on Bama Sports Radio, thanks to their show The 5-Star Report.
Our recruiting analysts took the time to break down the top 10 recruiting classes in the country. Where did Alabama land? Hint: Not, number one, but very close. Let's take a look at the top 10 recruiting classes and what they have to offer. The class has been coming together very well, thanks to recruiters like coach Mario Cristobal.
This will be a two-part series. First we'll break down our 10-6 ranked classes.
10.
Miami Hurricanes, 20 Hard Commits, 5-Stars: 0, 4-Stars: 7, 3-Stars: 13 
Blain Bradley: I've followed this class thanks to my work at State Of The U (a Miami Hurricanes based site), and I can tell you that this is one of the better classes in the country. It's deep, and Mark Richt and his staff are doing everything they can to keep talent close to home. South Florida, in my opinion, offers the best recruiting talent in the country. If they can land Devonta Smith, watch out. This team is on the rise, and I love this class. Deejay Dallas is my favorite player on the list. He's a pure athlete and is willing to do anything for the team. He can play any position. He's really vocal on Twitter and actively recruits on there. Gotta love that.
Must Get: Devonta Smith. He needs to be the guy that Miami focuses on. He is a dynamic playmaker who can be a star from the get-go.
Key Commit: I'm gonna say D.J. Johnson. He's as physical as it comes for d-end. He has great instinct and a frame that is college ready. He was a major pickup for the Hurricanes, and look for him to be the next great defensive player at The U.
Craig Nolan:  Miami starts off this list with my favorite recruiting Class Of 2017. They have an excellent mix of athleticism, size, and physicality with commits like D.J. Johnson, Christopher Henderson, and Navaughn Donaldson.
 Must Get: Anthony McFarland , a running back out of Hyattsville Md., is top priority for the Canes. McFarland is the definition of an all-purpose running back. He has the ability to wear down a defense with a physical style of running, but is also capable of turning any run of the mill play into an explosive, game-changing play. McFarland is also phenomenal in the pass game. He accumulated nearly 700 receiving yards and eight touchdowns over his two year varsity career.
Key Commit: N'Kosi Perry, a dual-threat quarterback out of Ocala, Fla. Perry is a 6'4″, 176 pound physical specimen with a rocket arm, and exceptional speed. His dual-threat ability makes him a perfect fit for the Miami offense. Expect to be hearing Perry's name often in the near future.
Liam Quinn: Overall, Miami has a great class with a lot of upside. I like the work Mark Richt has put in so far. It will be interesting to see where this program is headed.
Must Get: A must get for new head coach Mark Richt and the new look Miami Hurricanes has to be Amari Carter. The Hurricanes will be losing five DB's at the conclusion of the 2016 season. Carter is a game changing safety that has a knack for cutting off routes, limiting big plays for opposing offenses and even making a difference in special teams.
Key Commit: With recent turmoil involving a luxury car dealership and two defensive stars (Al-Quadin Muhammad and Jermaine Grace), the focus has to turn to the future. And that future on the defensive side of the ball is D.J. Johnson. Johnson displays tremendous speed and ability to beat the offensive lineman one on one and pressure or hit the quarterback. 
9. 
Florida State Seminoles, 13 Hard Commits, 5-Stars: 1, 4-Stars: 8, 3-Stars: 4
BB: It was pretty tough for me to rank the Seminoles in front of Miami, but I put my biases aside. This class is great. Jimbo Fisher is constantly finding a way to land top recruits in the state of Florida. Stanford Samuels leads the way at corner, and he was a big pickup. He may flip to Alabama, but I doubt it. I think he'll be a your stereotypical athletic, dynamic FSU corner. He's a mix of every great FSU corner from Deion Sanders to Jalen Ramsey. I love this kid.
Must Get: If they could somehow manage to sway Donovan Peoples-Jones to come to FSU, that would be huge for the Noles. He's a freak talent from the Mitten State (that's Michigan if you weren't aware), and he has the ability to change the game. If the can sway DE Jarez Parks from Florida, watch out.
Key Commit: Has to be Stanford Samuels. It's his tenacity, his instinct and athleticism. He's the most complete corner in this class, in my opinion. He's a freak athlete, sure tackler and good at zone and man coverage.
https://twitter.com/SSIII_/status/743509804493250564
CN: FSU dominated the state of Florida in recruiting. They acquired seven recruits from the 2017 class that are either 4 or 5 star recruits just from Florida alone, with some notables being Khalan Robinson and DJ Matthews.
Must Get:  Marvin Wilson, defensive tackle out of Bellaire, TX. Wilson is a mammoth of a man. He checks in at 6'4″, 329 pounds. He uses that size to well. Wilson dominates the trenches on a consistent basis, and makes it extremely difficult for opposing teams to establish a ground game inside.
Key Commit: Stanford Samuels, cornerback out of Hollywood, Fla. Samuels is nothing short of a lockdown corner. He dominates receivers at the line of scrimmage, often not even allowing them to run their route. His physicality is very apparent, but it doesn't make him sacrifice anything in the athleticism category. He has phenomenal speed and ball skills.
LQ: FSU has dominated recruiting in Florida for awhile. They look to be the leader in the ACC for a few years to come. I only see Clemson above them. The class is loaded with dynamic playmakers, like corner Stanford Samuels. He's a freak. Prime Time 2.0. Yeah, I said it.
Must Get: Donovan Peoples-Jones is a must get for Jimbo Fisher. Fisher will be losing veteran experience from three wide receivers at the end of the 2016 season in Jesus Wilson, Kermit Whitfield, and Daniel Maddox. Peoples-Jones has an opportunity to make some serious noise in the ACC as a freshman and carry the torch from previous FSU stud WR Kelvin Benjamin.
Key Commit: Khalan Laborn should be the primary focus in Tallahassee. With Dalvin Cook most likely on his way out at the conclusion of the Seminoles 2016 campaign, it is important that they find a new back to add to the stable. Dalvin has left some big shoes to fill, but if there is anyone that can carry on the tradition of dominance at the RB position at Florida State, it has to Khalan Laborn. He is a tremendous open field runner, leaving all defenders in the rearview mirror and has displayed great hands even as a receiver. Jimbo Fisher definitely got a game changer and should do everything to make sure he does not jump ship.
8.
Michigan Wolverines, 18 Hard Commits, 4-Stars: 10, 3-Stars: 8
BB: Credit Jim Harbaugh here, he has done a great job. I know he's not the most popular guy in the state of Alabama, but let's not deny his talent as a recruiter. Dylan McCaffrey is such a dynamic player, and you can thank his genes for that (you should all known his brother Christian). Luiji Vilain is a terror at defensive end. Great class.
Must Get: Drew Singleton, or Nico Collins. I'll say Singleton, because he's a Paramus Catholic kid and there's a direct pipeline from PC to Michigan.
Key Commit: It's McCaffrey. He's the Michigan Man. He's your face of the program. He's got size, skill, smarts and the name. There is no doubt about it that he is the leader of this class.
— Drewski (@_DrewSingleton) July 2, 2016
CN: Michigan has a surplus of top-end four-star recruits. Seven of Michigan's commits are ranked in the top 20 of their respective position. Among some of these is the highly instinctive linebacker, Josh Ross, and the crazy athletic defensive end, Luiji Vilain.
Must Get: Baron Browning, outside linebacker from Kennedale, TX. Browning's frame and play style reminds me greatly of Jamie Collins'. He is a freak of nature. Browning can run with anyone on the field and his explosiveness is eye popping. He could make an already stellar Wolverine's defense that much better.
Key Commit: Dylan McCaffrey, quarterback out of Colorado. Just by looking at McCaffrey, you can tell he has "Michigan QB" written all over him. He isn't much of a threat on the ground, but he makes up for it with a deadly accurate arm. Mccaffrey is going to fit beautifully in Jim Harbaugh's pro-style offense.
LQ: Michigan is a team on the rise thanks to great recruiting. They have been active on the recruiting trail, thanks in part to Harbaugh's satellite camps. Guys like Luiji Vilain set the tone for this class.
Must Get:  The Michigan Wolverines are losing a lot with this senior class. But most importantly, they are losing a bulk of their offensive line. Seven out of 19 on their roster to be exact (roster from ESPN). To compete with the likes of Ohio State and Michigan State, the battle must be won in the trenches. This is why Isaiah Wilson should be the top priority for Jim Harbaugh to reel into Ann Arbor. Wilson has a pro ready body and can help the revitalized Michigan Wolverines make some serious noise in the Big 10.
Key Commit: Dylan McCaffrey is a must keep for Jim Harbaugh and the Michigan Wolverines. Michigan will be losing three QB's on their roster at the end of the 2016 season, and McCaffery is more than ready to step into the limelight. McCaffery has lethal accuracy in the pocket and makes phenomenal decisions, under pressure or not. One look at his film, and it is clear that he is ready for the next step.
7.
Clemson Tigers, 13 Hard Commits, 5-Stars: 2, 4-Stars: 8, 3-Stars: 3
BB: Clemson stays relevant and dominant with another strong class. Dabo Swinney got a taste of what it's like to reach a national championship, and you can bet he wants to get back. This class will help him do so. Leading the way is Hunter Johnson, the nation's No. 1 pro-style QB. He's so methodical. Other guys like CB A.J. Terrell and RB Cordarrian Richardson are key pieces in building a future title team.
Must Get: OT Trey Smith would be a great addition to the offensive line. With all these talented skill players, Clemson will need some beef up front to protect their stars. It will be hard to sway him from Tennessee, who he seems to be highly interested in.
Key Commit: I'll say Tee Higgins, a versatile five-star receiver out of Oak Ridge, Tenn. Sure Hunter Johnson is a great QB, but he can't make plays without playmakers. Higgins is the playmaker you want in a big game.
https://www.youtube.com/watch?v=4AwKmP7LzP0
CN: Clemson's 2017 commits are pretty much all bluechip caliber guys. They have signed two, five-star recruits, and eight top-tier four-star recruits, along with a handful of three stars. Clemson has managed to sign a big name at every position.
Must Get:  Darnay Holmes, cornerback out of Calabasas, Calif. Clemson already has a very solid group of defensive backs. But, signing Holmes would put Clemson up there as the best group of DBs for years to come. Holmes is a five-star recruit who shuts down some of the best receivers in the nation on the daily.
Key Commit: Tee Higgins, wide receiver out of Oak Ridge, Tenn.  Higgins was bestowed the title of "Mr.  Football 2015", and for good reason. He is the best playmaker in the 2017 class, and it is not even close. Higgins has all the makings of being a star in college. His play style is very similar to Deandre Hopkins, and don't be surprised if Higgins has similar results as well to Hopkins.
LQ: The ACC has been hot on the recruiting trail (FSU, Miami, etc.), but Clemson leads the way. A class full of playmakers and athletes. Just down right talent loaded.
Must Get: Darnay Holmes is a must get for Dabo Swinney and Clemson. Holmes is a speedy corner with great leaping ability and phenomenal hands, always challenging the receiver at the ball. This would be a great addition for Dabo, and would continue Clemson's recent success in the ACC.
Key Commit: Hunter Johnson is a must keep for the thriving Clemson Tigers. After the performance that Deshaun Watson gave last year, it is very unlikely that he will stay another year after the 2016 season. Although Watson and Johnson have different styles of play, the ceiling is very high for Dabo Swinney and his future Tigers.
6.
Notre Dame Fighting Irish, 17 Hard Commits, 4-Stars: 11, 3-Stars: 6
BB: Brian Kelly has faced the tough task of recruiting at Notre Dame, and has come out victorious every year since he's been involved with this program. This school has an academic and behavior standard that's strict, and despite some slip-ups this off-season, Kelly and his staff have still managed to put together a very strong class.
Must Get: If they can find a way to land OT Jedrick Wills, this class would jump a bit in rankings. He's a favorite to head to Alabama, with Kentucky close behind, but Notre Dame is in the mix. They could be a dark horse.
Key Commit: Tight end Cole Kmet is a freakish, 6-foot-5 athlete who can make big grabs anywhere on the field. Pair that with his blocking ability, and you have a complete tight end. Tyler Eifert 2.0, maybe?
Thanks to all my family and teammates. I have decided to commit to the University of Notre Dame! #goirish pic.twitter.com/O9R30Io4yb

— Cole Kmet (@ColeKmet) October 2, 2015
CN: It shouldn't be a surprise to anyone that Notre Dame has one of the best recruiting classes in the nation. Every year they reload with grade A talent. And 2017 is no different. The Irish have committed dominant run-blocking guard Robert Hainsey. They also managed to pull David Adams, a nightmare inducing linebacker out of Pittsburgh, along with some other top-notch talent.
Must Get: Donovan Peoples-Jones, wide receiver out of Michigan. With the graduation of Will Fuller, the Irish lose over 2,500 yards from the prior two seasons. They need a new playmaker. And what better way to replace such a playmaker than with grabbing the No. 1 wide receiver in the nation?
Key Commit: Brock Wright and Cole Kmet. Notre Dame is  set to have a dominant group of tight ends. Wright is a 6-foot-5 beast out of Cypress, TX. He has everything you want in a tight end: speed, hands, and exceptional blocking skills. Cole Kmet is another 6-foot-5 tight end who is virtually impossible to cover in jump-ball scenarios.  Do not be surprised if Notre Dame has the best tight end group for several years to come after this recruiting class.
LQ: Notre Dame constantly plays one of the toughest schedules in the country. It makes sense they re-tool well. All these guys will help keep the Fighting Irish competitive for years to come.
Must Get: Foster Sarell should be the the Fighting Irish's top target. With the lack of depth on the offensive line, this would be the biggest pickup of their recruiting class. Freshmen may or may not have an immediate impact at such a powerhouse program, but they could be molded into a polished stud on the offensive line.
Key Commit: Robert Hainsey is the most important commit for Brian Kelly's team. Notre Dame will be losing five offensive linemen at the end of the 2016 season, and no one is more college ready in this recruiting class than Hainsey. The 6-4 276 pound Offensive Guard is a certain future stud, starring at high school powerhouse IMG Academy. A bit small at 276, but he'll fill out.