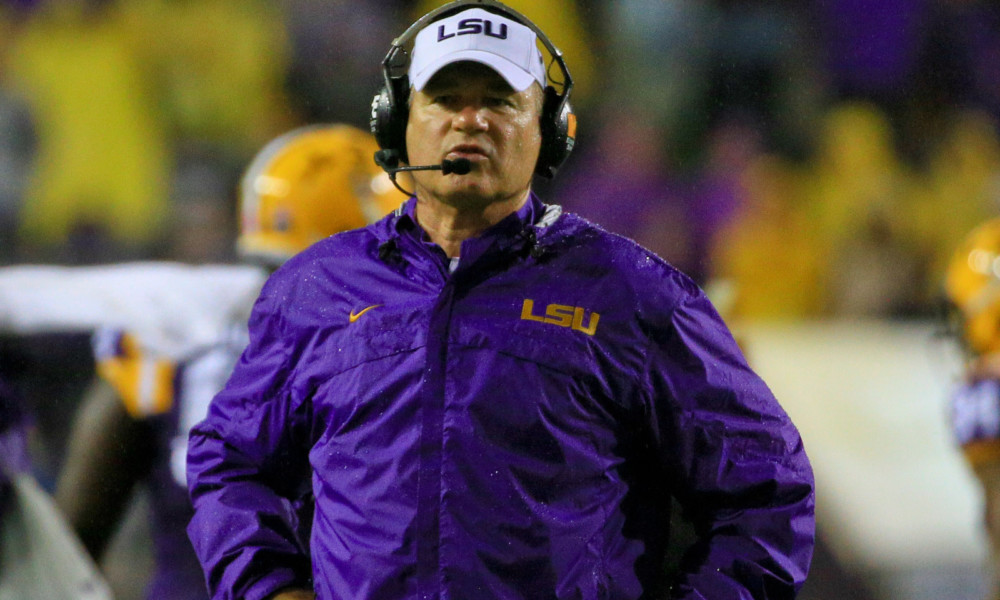 Dare I say it?
The SEC did not look good this weekend.
The seven losses the conference took this weekend marked its worst opening weekend since 1992. Florida State kicker, Ricky Aguayo, scored more points (18) than five SEC teams did against their opponents (Missouri, Vanderbilt, Auburn, South Carolina, and LSU).
The good news…sort of: Alabama saved some pride for the conference, when they demolished USC 52-6. Texas A&M won in overtime against UCLA, Georgia rallied back to beat UNC and Florida beat UMass, 24-7. The Gators hung on a three point lead for awhile over one of the worst teams in the nation. They chugged ahead and handled the Minutemen. Tennessee beat Appalachian State in overtime. This was a Volunteers team who went into the the preseason with a lot of high expectations. Arkansas, who was favorited to win by three touchdowns, came back to beat La. Tech by one point. Think Brett Bielema regrets leaving Wisconsin yet?
Let's take a look at the losses from this weekend and rank them in terms of embarrassment.
7. Auburn 13, Clemson 19. Level Of Embarrassment: Mom shows your girlfriend some old baby photos
Analysis: Auburn was expected to lose…by a lot. But, the Tigers got the moral victory they're always used to. They "hung in there" against a team that was supposed to steam roll them. A solid Auburn defense almost bailed out a mediocre offense, that shuffled through three quarterbacks. Clemson held Auburn to 262 total yards on offense. As Auburn does best, they "put the loss in the rear view" and patted themselves on the back for going out there and giving it their best. As Steeler great James Harrison once said, "There are no trophies for participation."
Moral victory for Auburn? Pfffft … Tigers just missed out on huge opportunity writes @_ceejay22au https://t.co/t7mBKq4MOn

— Ken Bradley (@KenBradleyNC) September 5, 2016
6. Vanderbilt 10, South Carolina 13. Level of Embarrassment: Doing a homework assignment, but forgetting to turn it in
Analysis: Come on. It's Vanderbilt. If they lose it's not a shocker. But, you have to respect Commodores  coach Derek Mason. He tries to motivate his squad week in and week out, despite the poor fan support. The crowd of 30,304 marked the lowest fan turnout for a Vandy home opener since 2011. With little fan support, it's hard to find motivation to beat a team. But, the Commodores put up a fight. The saddest part about this game: The white out was an utter failure, thanks in part to the fact that it made the Gamecocks fans stand out even more.
5. LSU 14, Wisconsin 16. Level Of Embarrassment: A decent NBA shooter air balls a free throw
Analysis: Much like a decent NBA shooter is expected to sink a free throw, the LSU Tigers are expected to win a season opener against an unranked Big 10 opponent. But, like some NBA players, the Tigers tend to goof up. Brandon Harris couldn't find his groove, and the Badgers weren't phased by LSU's No. 5 ranking. They played with passion and persistence. The most embarrassing part of the game came at the end when a Badgers' defensive back picked off LSU to seal the game. He went to the ground, popped up to celebrate, ran a good five to seven yards in celebration and was leveled on a dirty hit by LSU offensive linemen, Josh Boutte. Les Miles defended his player, but ultimately decided to suspend him one game for the hit.
LSU coach Les Miles has suspended OG Josh Boutte for one game. pic.twitter.com/eO8phLU5mr

— LSU Football (@LSUfootball) September 5, 2016
4. Missouri 11, West Virginia 26. Level Of Embarrassment: The high school quarter who made it to the state championship (but lost) reminiscing about that 15 years later
Analysis: For a team that went to back-to-back SEC Championships (2013-14), the Tigers are a pretty poor representation of the SEC. They can hang their hat on the fact that they made it that far, but that's about it. The fact a Big 12 team held an opponent to 11 points is astonishing. The Tigers managed to run 100 plays – yes you read that right – and still only managed to score 11 points. West Virginia literally ran all over Mizzou. The Mountaineers averaged 5.0 yards per carry, and gained 241 yards on the ground. If you look at the turnover battle, Mizzou was better in this category, but time of possession was an issue. The Tigers' special teams were anything but special. From botched field goals, to horrendous punts, the whole unit struggled. Three punts were of 26 yards, or less. That's pretty good… if you're a Pop Warner player.
3. Mississippi State 20, South Alabama 21. Level of Embarrassment: Going to church in a Dale Jr. shirt, with a pack Busch Light and bag of Golden Flake potato chips
Analysis: One team got their signature win. The other team, their signature loss. After losing Dak Prescott, Bulldogs fans didn't set their expectations high. An 8-4 season would've been great. After losing to South Alabama, they're just hoping to be bowl eligible at this point. Keeping schools like USA in a game is something the Bulldogs seem to be good at. Think back to 2010 when MSU barely beat UAB, 2011 when they barely beat La. Tech, 2012 when they squeaked by Troy and 2013 when they went back and forth with Bowling Green. Until Saturday, the USA Jaguars were 0-4 against SEC opponents. They can now say they've beaten an SEC team, and being a school in Alabama that's definitely something worth bragging about.
South Alabama stuns Mississippi State and gets the first major upset of the 2016 college football season. https://t.co/4n7L4rboKc

— AP Top 25 (@AP_Top25) September 3, 2016
2. Kentucky 35, Southern Miss 44. Level of Embarrassment: Peeing your pants in front of your first crush, followed by a "pants-ing" from the school bully and a locker stuffing
Analysis: Does the level of an embarrassment here sound a bit scripted, or extreme? Well this loss was something that was that scripted or extreme. The Wildcats gave up a 34 point lead. At one point in the game, Kentucky was up 35-10. Those 34 unanswered points were off plays called by the same offensive coordinator Kentucky had fired. Was it sweet revenge for Shannon Dawson. I'd say so, after former Wildcats players sounded off about their former offensive-coordinator. Even when Kentucky tried to stir up the Golden Eagles, they couldn't. On a blatant pass interference call involving two UK defensive backs, the Southern Miss receiver still managed to catch the ball. Embarrassment all around.
1. Ole Miss 34, Florida State 45. Level Of Embarrassment: An adult film star exposes your direct messages to her, showing that she shut you down…oh, wait… didn't that happen to Chad Kelly?
Hugh Freeze and the Ole Miss Rebels had a chance to save the SEC from its worst opening weekend in years, and they failed miserably. What started off as a showcase of Chad Kelly displaying his skills, turned into a debacle. At first, it looked like the Rebels were going to dismantle FSU and their freshman quarterback, Deondre Francois. At halftime, Ole Miss was up 28-6. For a minute Alabama fans were actually thinking, "Darn, do we have to face these guys? Will they win again?", but FSU did what they do best… dominate the second half. The Seminoles scored 33 unanswered points, their freshman QB threw for 478 yards, and managed to leave the game without an interception. Chad Kelly tossed three picks. He also fumbled the ball. FSU fans went from becoming viral memes, to being the happiest bunch of fans on this side of the Mississippi (no pun intended). Hugh Freeze's Rebels usually choke midseason. At least this time they got it done with early.
Chad Kelly deletes Twitter after former adult film star and FSU fan releases direct messages between them: https://t.co/FNTixf5KAv

— RedditCFB (@RedditCFB) September 6, 2016
… And what does all of this mean? Well, Alabama should dominate the SEC West. The rest of the SEC needs a bit of a wakeup call.