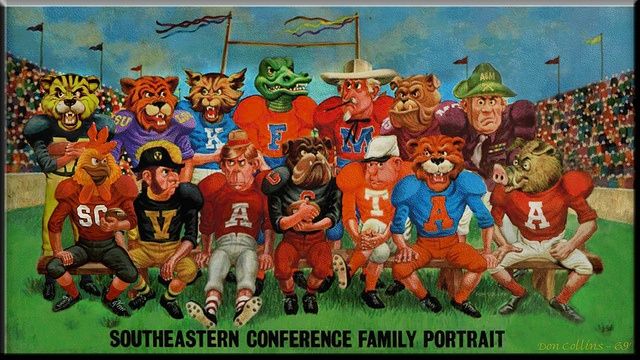 Can you out predict this pair of pigskin prognosticators from Panama City Beach that have made picking losers a laughable entertainment. This is going to be another big week.
Larry's Losers in the SEC – Week Two – 2016
By: Larry Burton
Well folks, we thought week one would be a cakewalk, but the upset bug bit us hard and we only got a few of those right. We went 10 right a 3 wrong scoring just a very uncharacteristic 70% for this week. On another aside, this is the worst opening week total in our entire history. Who knew the Kentucky Mildcats could blow an 18 point lead against a crap school, that Messy State could lose to the lowly South Alabama boys or that even LoSerU could choke and puke away a sure win by throwing an INT in field goal winning range.
Yes folks, it was a humbling and dizzying week to practice prognostication, so this week Bacardi the Wonder Dog and I have locked ourselves into the Loser's bunker and studied like never before to come up with a list of losers that is sure to put us back into high cotton once again.
So without further ado, let's get to listing those losers:
Starting in the East –
Middle Tennessee at Vanderbilt – Last season the Blue Raiders from whatever they consider Middle Tennessee, in this case, that would be Murfreesboro, lost a close game to the Song City Sailors and this year they're hoping to scoop and extra score on an SEC team and gain some instate fame.
But Derek Mason, the master of the Commodore's ship, knows that wins are too hard to come by to let this bunch from Little Brother U come in and raid them for one.
So while it may be close again this year, once again Vanderbilt will find a way to win and that makes Larry's loser Middle Tennessee.
Eastern Michigan at Missouri – It's going to be hard to find a cupcake with more sugar in it than this matchup against the plucked Eagles from Eastern Michigan. Even a Cat that down on their luck won't have any problems with this worn Eagles.
After the loss last week, this win will get new head coach Barry Odum back to .500 and give these fans in middle country America a reason to smile this weekend.
In an ugly blowout cupcake kinda special, Larry's loser – Eastern Michigan
Kentucky at Florida – Stoops striped Siamese like Kitties come down to the Swamp to see if they can get a Gator to overlook a lesser foe.
But Jim's jungle reptiles aren't about to overlook anyone in the SEC, not even the usually mild cats in Wildcat uniforms.
On the surface, this looks like a Gator blowout, but both the pigskin pickin' pooch and I have an uneasy feeling about that and think this could be a close one for most of the game. But it is Florida and they are at home, so Larry's loser is Kentucky
 Virginia Tech at Tennessee – These Virginia Techers aim to come down to Tennessee and do the Hokey pokey with the Volunteers and to do so, he's aiming to ground the high flying flings that Butch's boys are planning to complete.
But Tennessee ain't to let their fellow mountain men come in here and throw mud on their season and this is is one mountain that they intend on keeping a molehill on their schedule.
Though the Lost Wages betting parlors opened this up with the Hokies being an 11 point dog, my personal dog who sniffs out such things things thinks this is going to be a tighter game, but one with the same outcome. Larry's loser – Virginia Tech
Nicholls State at Georgia – Folks, this game featuring the Colonels from Nicholls State didn't win but but three games in their bumfart division and one of those sterling wins was against Houston Baptist. I'm not sure if that is a school or a neighborhood church, but this is a cupcake with a capital C.
The only fun of this game is seeing if the Colonels make as much yardage per half as Georgia scores points. This will be an interesting game to see how much compassion new head coach Kirby Smart has in his heart and just when he'll call off his Dogs.
Larry's loser, as bad as they want to beat them – Nicholls State
Now for the West
South Carolina at Mississippi State – In a contest between two teams struggling to recapture a little past glory and a little lost luster, Muschamp brings his Carolina Cluckers to try and lay and egg on an SEC West team.
But Mullen's Mutts ain't about to let these feathered footballers come in and take such a prize out of this dog pound so when he sics the Dog on these flock of footballers, he's not gonna spare no feathers when the plucking gets started.
This is a good measuring stick to see how both these teams will fare for the rest of the season and it will soon become clear that one team just has a little more to work with than the other. Larry's loser – South Carolina
Arkansas State at Auburn – It wasn't that long ago that Auburn's Gus Malzahn was the leader of the pack of these Red Wolves and now he entertains his former employer at his new home confines but that won't mean he's exactly planning on putting out the welcome mat for his old pack.
After losing their first game, nothing will help these clawed up Tigers heal those wounds more than a win, but these wound up Wolves are capable of adding some bites and scratches of their own to these tired Tigers, so while it may look like a cakewalk game, it could be closer than Malzahn wants.
But in the end, a win is a win and the Tigers will certainly chalk one up and that makes Larry's loser Arkansas State
Prairie View A&M at Texas A&M – Ten dollars if you knew this school's mascot is a Panther and if you knew it is close to Hempstead, Texas. In fact, the only thing you do know for sure is that this is a cupcake school for a team to get an easy win.
And come the end of the season, those wins may be the difference between coach Kevin staying or moving on down the line.
But when you need wins as bad at these Aggies do, any win is a good win even if it's against a stinker of a team. In this battle of A&M's, it's easy to tell the real one from the little brother. Larry's loser – Prairie View A&M
Wofford at Ole Miss – Are these pecan Woffords? Actually they're Terriers and not really the biting kind. These are the little fluff ball kind that run from strangers and hide. They did however manage a memorable win over Garner-Webb last season however.
So this is just another of the many cupcake games the SEC is playing this week and it will only be fun to watch if you had money on the over and under line or how many times they'll say that Chad Kelly looks like a Heisman contender.
It's a long way to come from South Carolina for a butt kicking, but the big check will help ease the pain, at least for the administration. Larry's loser – Wofford
Western Kentucky at Alabama – Last season these Hilltoppers won 12 games including a win over an SEC team including a big bowl win too and they're hoping that they can catch this pack of Pachyderms looking past these Hilltop boys and snag the upset of the season.
But Nick Saban's boys don't overlook too much and they say an elephant never forgets, so they'll remember to not let them top this hill and push them off a cliff instead.
To call this a cupcake game is unfair since they were a 12 win team last season, but Alabama will make it look that way in this one as they show the difference of great team versus good one. Larry's loser – Western Kentucky
And he got one this weekend….
Jacksonville State at LSU – James Green brings his flock of Fowls down to LSU and hopes he can put the fear of Fowls in the Tigers from LSU the same way he did against the Tigers from Auburn last season.
But Les Miles ain't about to let these Gamecocks get too gamey with his gaggle of bayou Bengals as he plans to jump on them early and often and have them thoroughly plucked by the end of the first half.
These feathered fighters will learn there's a big difference between Tigers in the SEC and they'll soon learn they've stepped into the wrong Tiger den in this game and this one won't be close like the other one was. Larry's loser – Jacksonville State
Arkansas at TCU – In what will clearly be the most entertaining and highest matchup game in the SEC West this weekend, Brett's Boars will go and try their hand at Frog gigging in the land of the Horn Frog leapers and it's gonna be a great one to watch.
Gary Patterson will have his boys feeling Froggy for this prime time fight against this pack of Pigs and this is a game that could be decided by one big play or a big momentum shift. I am leaning for an SEC upset in this one and my partner not so much.
My shedding sidekick here reminds me two things that usually do happen, one that the Hogs start cold and finish hot and when in doubt, go with the home team. He's a smarter pooch than he looks and with that in mind, Larry's loser – Arkansas
And that's it for this week folks. We're sorry to break the bad news to some of you and give you grin if you didn't make our list. Soon we'll be through with these cupcake games and the pooch and I will have a harder time earning our keep with those picks.
LARRY HAS BEEN PUBLISHED IN ALMOST EVERY MEDIA OUTLET FOR COLLEGE SPORTS AND NOW PRIMARILY WRITES HERE FOR TOUCHDOWN ALABAMA. HE WRITES IS A COLLOQUIAL AND IRREVERENT STYLE FOR THIS SERIES OF ARTICLES. LARRY'S VIEWS AND SENSE OF HUMOR MAY OFFEND, BUT HE AIMS TO OFFEND EVERYONE EQUALLY. IF HE HASN'T INSULTED YOUR FAVORITE TEAM WITH LARRY'S LOSERS, JUST WAIT. FOLLOW LARRY ON TWITTER FOR INSIDE THOUGHTS AND GAME TIME COMMENTS AT

 HTTPS://TWITTER.COM/LBSPORTSWRITER
THANKS FOR SHARING THE LINK TO THIS STORY ON YOUR FACEBOOK PAGE