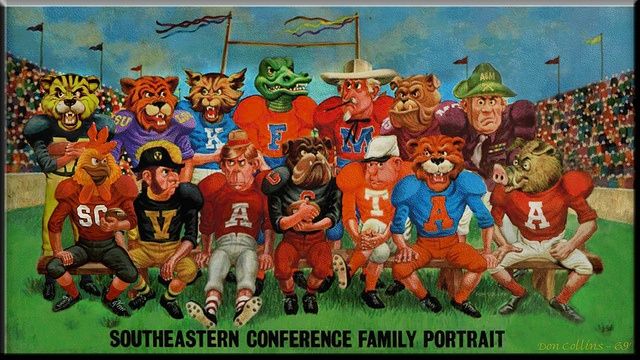 We were perfect with our prognosticating picks last week and are betting we have a good chance to do it again this week. See if you agree.
Larry's Losers in the SEC – Week 4 – 2016
By: Larry Burton
Well folks the pigskin pickin' pooch, Bacardi the Wonder Dog as worn out his legs patting himself on the back from last week's pack of picks that turned out perfect. With that great week, we are now 31-4 for the season so far and just under 90% for the year.
This week has some real head scratchers and the pooch and I have been debating back and forth over two of the games and I've swayed him my way on one and he finally won me over on the other.
Ok folks, let's see if we got it right and more importantly, if you think we're right after reading this. So without further ado, let's jump right in and try it again this week by game time kickoff.
Georgia at Ole Miss – 11:00 am sees the Dog pound from Georgia heading West to rip the reeling Rebels and continue to add to their woes. They're hoping to get 'em before all the wounds heal from the tussle with the tusked ones from Tuscaloosa.
But Hugh Freeze isn't about to let this pack of pooches from the poor side of the conference come in to his home turf and relinquish his Rebels of another win.
Despite the records here old Bacardi the Wonder Dog and I both know a winner when we see one and the Rebels are better than their record while the Dogs may not be. Since the Rebels can score, we're going that way and that makes Larry's loser – Georgia
Kent State at Alabama – The other 11am kickoff is the Kent State Golden Flashes coming to Tide land to get cold and flushed. Believe me, it's funnier if you read that fast; you know Golden Flash – cold and flush…
Oh well, the game itself will be funnier. Trying to make this look like a viable contest is just a down right hoot.
I know, I know, David beat Goliath, everybody has a chance, blah blah blah, but today, David is just 6 months old and forgot his stone. Larry's loser – Kent State
Mississippi State at U Mass – 2:30 sees Dan's Doggies going up to Foxboro to foxtrot on the Minute Men of Massachusetts. They're still smartin' from getting beat with a rolled up newspaper last weekend and they're ready to rip and snap up these 60 second simpletons.
These U Mass men are hoping that these Dogs will overlook these lanky Yankees and be looking toward next week's tussle with the Tigers from Auburn.
But that won't happen and these Dogs raise their back leg in a Bulldog salute and mark this territory as their own. Larry's loser – U Mass
Florida at Tennessee – The best of the 2:30 games finds the Gators coming to call on the Vols and this is the game that both teams have been waiting for to see who's going to fire the first big shot in the East.
We're really torn on this one cuz the offensive leader of the Lizzards may or may not play and may or may not be well and a defensive leader will watch the first half from the bench.
But after much discussion, we think the Reptile's QB will magically be OK and that even though to Lost Wages boys are going big on the Vols, that our original assumption of the Vols holds weight and they don't prove ready for prime time in the SEC this season. Larry's loser – Tennessee
Delaware State at Missouri – 3pm sees one of the worst cupcake catastrophe games of the day when the stingerless Hornets of Delaware State fly into Faurot Field with less buzz than a sorority vibrator with dead batteries.
After losing a close game last week, this is just what these Tigers need to get the game back in their growl and though a Hornet won't make a fine meal, the W will be just be satisfying as a steak.
In a game that few would care about, even if your son was on the Tiger team, Larry's loser – Delaware State
Vanderbilt at Western Kentucky – 3:30 sees the Captain Crunch Bunch dropping anchor in Bowling Green to take on the Hilltoppers and as often as SEC teams see this bunch of Bluegrass boys, you should know by now that they aren't a silly directional school.
Derek Mason's midshipmen haven't played up to their rank of Commodores so far this season and the pigskin pickin' pooch doesn't think this is the day that they'll earn their stripes.
These Hilltoppers are poised to be dream stoppers to any chance of these Song City Sailors sailing off into a bowl game this season and the only question will be how long they wait to mutiny and send Captain Mason off in a lifeboat. Larry's loser – Vanderbilt
LSU at Auburn – The late afternoon kicks off with the Bayou Bengal boys coming to call on the Cat show down in South Alabama at 5pm and they're gonna face off and see which pack of pussycats has the sharpest claws.
Now lately, those players from the Plains seem like they'd have problems scoring with a freshly cashed paycheck in a cat house, but then the Cajun Kitties have had their offensive woes too, so the real question is who can score the most since both teams have decent defenses.
Normally you'd have to go with the home team in a close game, but since the Worn Eagles have a history of laying so many eggs in that nest, there's no real home field advantage, so we'll go with out instincts in this one. Larry's loser – Auburn
South Carolina at Kentucky – The first evening game at 6:30 is the border fight between the Col. Sanders Squad and the real sucky Mildcats, uh I mean the Kentucky Wildcats. They've wilted in games like a corsage on a homecoming date in 97 degree sunny heat.
It takes a lot to make South Carolina look good, but the Mildcats might just pull that off. These Carolina Cluckers have been finding a way to win while the other teams keeps finding a way to lose.
We have some anxiety over this one, but when in doubt, go with the hot hand and we're hoping these feathered footballers use it slap these Mildcats silly. Larry's loser – Kentucky
Arkansas at Texas A&M – The prime time matchup of the night at 8pm finds the Hogs from Hot Springs country coming to call on the Aggies in the lone star state and this is gonna be one worthy of prime time spotlights.
Both undefeated, both wanting to drift up to the top and leave the ranks of the mid tier teams in the SEC, there's plenty to play for and the the fight will be fierce.
But we both expect the Aggies to either keep the Piggies in their pens or send 'em to Hog heaven when it's all over and that makes Larry's loser – Arkansas
Well that's it for this week folks, agree or disagree it's going to be fun weekend to watch the wars in the SEC. If we hit another perfect week, there may be no living with this prideful pigskin pickin' pooch and he's already laying in some fresh bones to chew on during all the games and claiming his spot on the couch.
So lay in your own snacks, get fresh batteries for the remotes or put those tickets in your wallet today and don't lose them and we'll all get back together next week to tally up the totals and lay out another losers list. Till then support your team and continue to dream, the schedule will soon either reward your dreams or crush them and we'll be here to make fun of those losers once that happens.
LARRY HAS BEEN PUBLISHED IN ALMOST EVERY MEDIA OUTLET FOR COLLEGE SPORTS AND NOW PRIMARILY WRITES HERE FOR TOUCHDOWN ALABAMA. HE WRITES IS A COLLOQUIAL AND IRREVERENT STYLE FOR THIS SERIES OF ARTICLES. LARRY'S VIEWS AND SENSE OF HUMOR MAY OFFEND, BUT HE AIMS TO OFFEND EVERYONE EQUALLY. IF HE HASN'T INSULTED YOUR FAVORITE TEAM WITH LARRY'S LOSERS, JUST WAIT. FOLLOW LARRY ON TWITTER FOR INSIDE THOUGHTS AND GAME TIME COMMENTS AT

 HTTPS://TWITTER.COM/LBSPORTSWRITER
THANKS FOR SHARING THE LINK TO THIS STORY ON YOUR FACEBOOK PAGE