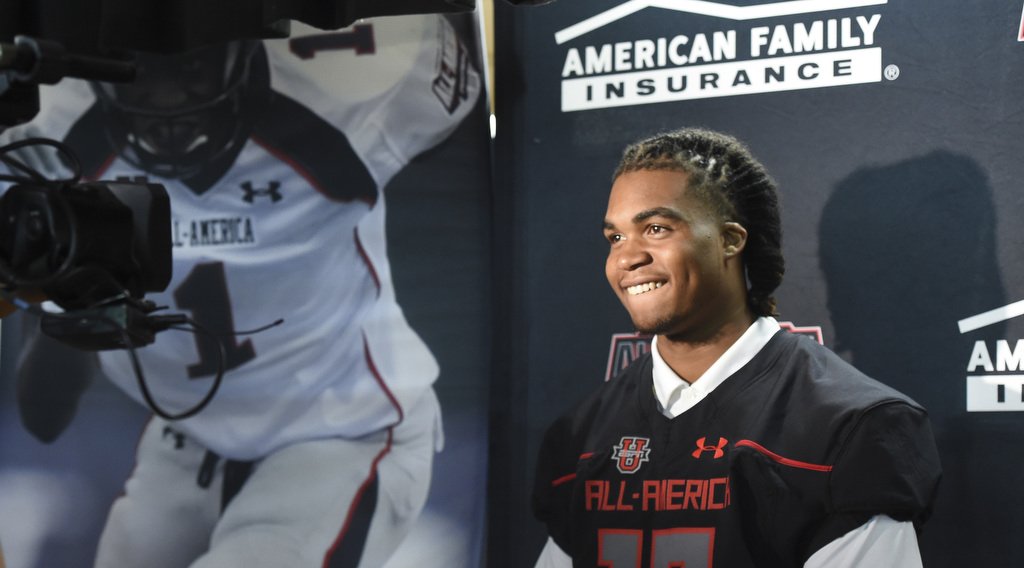 On Sunday afternoon, Alabama fans were all in shock and elation when they received some exciting news. Five-star outside linebacker Dylan Moses announced his commitment to come down to Tuscaloosa and play for the crimson and white.
The hope of this news was an uphill battle for Alabama's staff just a few weeks prior. The 6-3, 235 pound linebacker out of Baton Rouge, was an LSU commit for the duration of his freshman and sophomore year of high school. Despite backing off that pledge in his junior year, Moses was still considered to be a heavy a favorite to dawn the purple and gold of LSU come the fall of 2017. One can only assume that the firing last Sunday of LSU head coach, Les Miles, had a large impact on Moses but that is not solidified. Miles was extremely active in the recruiting of Moses, and was thought to be the main selling point to the five star recruit.
While he may no longer be the 2017's class No.1 prospect, he is still an extremely rare and elite talent. It is not everyday you find a player with his size, who still possesses speed that is superior to that of a large sum of running backs of the 2017 class. Due to his athleticism, Moses is suited to have an immense impact as a freshman.
There is a reason Dylan Moses has been recruited heavily since he was a eighth grader, he is one of the most coveted prospects of the last decade. Moses has been a prized prospect since the eighth grade and has even been called 'a combination of LeBron James, Ray Lewis and Bo Jackson.", but in reality there was always just one Dylan Moses.
After this season, Alabama will lose its top pure linebacker, Reuben Foster, a former five-star at Auburn High School. Moses made it clear that a major, if not the largest factor of his commitment was Foster's influence on him, which elevated after Alabama's leading linebacker hosted Moses during his official visit this weekend. Moses sees Foster as a 'big brother' and is actually thinking of wearing his number when coming to Alabama.
While graduating three starting linebackers in one season can certainly be scary, it should not cause for much distress as an Alabama fan. The Crimson Tide are about as equipped to handle these departures as a team could possibly be. Alabama has managed to land commitments from three of the top five linebacker recruits in the class. Vandarius Cowan, Markail Benton, and Dylan Moses on top of JUCO linebacker Gary Johnson
VanDarius Cowan is Palm Beach County's top-ranked player, and for good reason. Vandarius Cowan was simply the next man up in a line of stud Palm Beach Gardens Gators linebackers. Two seasons prior, Tevon Coney dominated on the Gator's defense, and is now set to begin his redshirt freshman year at Notre Dame. 99% of the time there would be a drop off at the position, after losing such a player. This was far from the case. Cowan took the "next man up mentality" to a whole new level. Cowan was a nightmare for opposing offenses, as he totaled 117 tackles, 7 sacks, and led the Gators to a district title. The 6-4, 220 lb, linebacker initially pledged to play under Jimbo Fisher at Florida State, but then switched his commit in April to Alabama, where he says he is "150% committed."
At initial look, one might think he's a pure pass rusher. And while Cowan is exceptional at getting after the passer, he can also fill the whole very well and stop the run. He has a keen instinct to follow the flow of the play, and sniff out the ball carrier.
You will often hear coaches and football-junkies talk about a player's swagger, but none epitomize the word quite like Vandarius Cowan does. He brings a meanness and tenacity that every team in the nation could use on their defense. Throughout his tape, you will see him come out of seemingly no where, and punish the opponent. No matter where on the field.
The next cog of Alabama's future linebacking core is Markail Benton, a native out of Phenix City, AL. is elite in his own right. The 6-2, 240 pounder's calling card is his coverage ability. "He's one of the only guys in my career I've seen in my career that's 6-3, 240, runs like he does, can cover a wide receiver, can cover a slot guy, can sit inside and handle the bigs getting on him," said Benton's head coach, Jamey Dubose. He has received high praise from analysts, and the in-state stud deserves every bit of it. "He plays with a certain tenacity and toughness that only a few guys have at the position. He fits the mold to play inside perfectly and could develop into a big time player in the future." said former Lead Recruiting Analyst for Touchdown Alabama, Justin Wagner. If that's the case, then Alabama may have a commitment from each of the guys that play like that.
For you NBA fans, which is a better big 3?: Vandarius Cowan, Dylan Moses, and Markail Benton, or Ray Allen, Paul Pierce, and Kevin Garnett? Time will tell I guess.
Craig Nolan is a Recruiting Analyst for Touchdown Alabama. You can follow him on Twitter at @NolanCraig123.