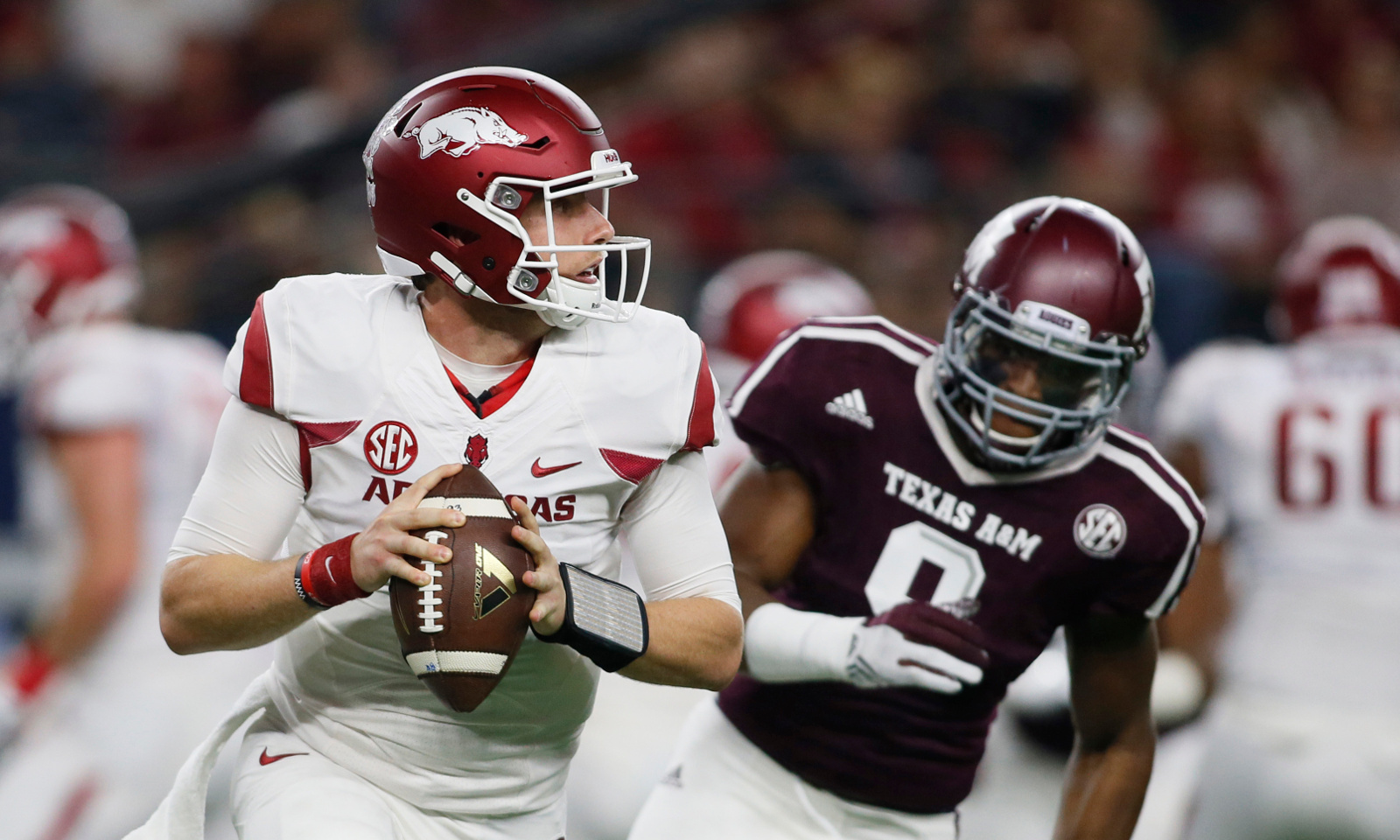 TUSCALOOSA—A different aura has crept into D.W.R. Razorback Stadium, and one that has each Arkansas fan believing it can win every game. Head coach Bret Bielema witnessed his style of physical football take effect two years ago, when the Hogs defeated both Louisiana State University (LSU) and Ole Miss.
At Alabama, Nick Saban's mantra of "Make His A** Quit" is to have all opposition fear the Crimson Tide.
In the last two seasons, however, it was Arkansas that scared Alabama. Bielema's group would have multiple opportunities to win in 2014 and 2015, but failed to capitalize. Despite it being on the cusp of contending for a conference championship, fans in Fayetteville want to win now and it starts with eliminating Alabama.
Prior to being in the National Football League, Brandon Allen was one of the more underrated quarterback in the Southeastern Conference. He became a staple for Arkansas in the latter portion of his career, but he never obtained a win over the Tide in five seasons (2011-15). After watching his older brother take beatings against Alabama and other SEC schools, Austin Allen returns as the offense's new signal caller. While both guys similar in physical make-up, the younger Allen has a few more features that Alabama needs to be aware of.
In talking with Chad Neipling of Gridiron Now, he said Austin's personality is "more fiery" than Brandon's.
"The team has really taken after him," Neipling said.
"Austin is super smart and cool as a cucumber."
Being a hometown kid helps the process of everyone flocking to you, but when one possesses talent to pair with the previous statement—people become very excited for what's to come.
Bielema and the Hogs found Allen in its backyard, tossing pigskin for Fayetteville High School. He led the program to back-to-back 7A state championships, earning most valuable player honors in both title games.
Allen finished with 7,743 career passing yards and 62 touchdowns.
The 6-foot-1, 209-pound quarterback got the nod to start this season, and had a solid performance in Arkansas' 41-38 win over TCU in week two. Part of his exceptional touchdown to interception ratio, 12-2, is his willingness to stand in the pocket and take risks downfield. He's third in the SEC in passer efficiency rating (167.7), while standing second in completion percentage (67.6%) and third in passing yards (1,232).
Allen did this a number of times against Texas A&M and despite a 45-24 loss, both the Aggies coaching staff and players had nothing but respect for him. He accounted for 371 passing yards and two touchdowns.
The Razorbacks will have a healthy receiver corps at its quarterback's disposal for the first time in two years. Allen will look to target Drew Morgan, Jared Cornelius and Keon Hatcher, but keep watch of Jeremy Sprinkle in the red area. Allen eyes a chance to knock over the first domino toward Arkansas' success this week.
Stephen M. Smith is a senior analyst and columnist for Touchdown Alabama Magazine. You can "like" him on Facebook or "follow" him on Twitter, via @Smsmith_TDALMag.