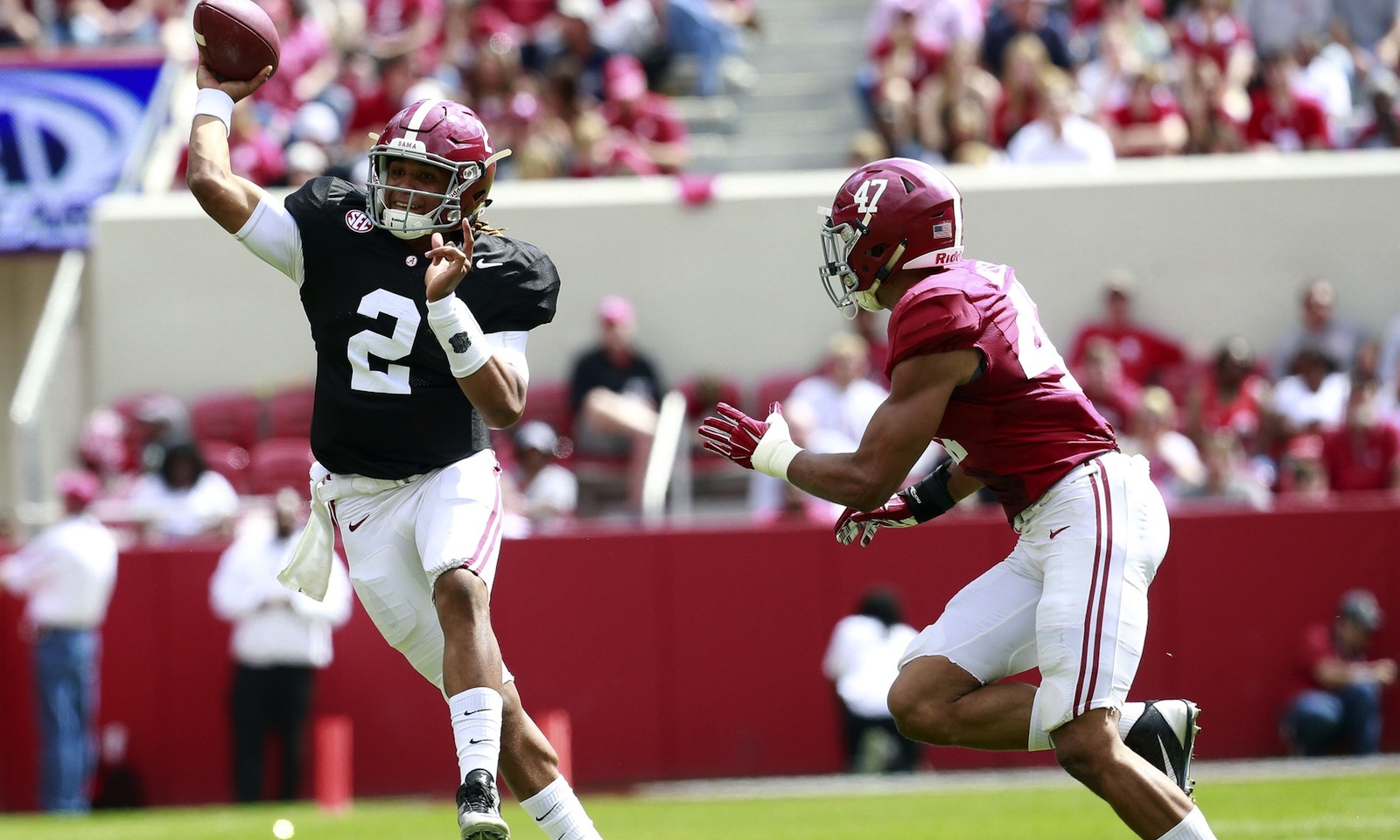 The top-ranked Crimson Tide face another tough road test as they enter Fayetteville on Saturday. Alabama has moved to a 14-point favorite and are looking to win a 10th consecutive meeting in this SEC West rivalry. The home team are hoping to finally transition into a national threat with the biggest win since Bret Bielema took over the program in 2013. As the countdown to kickoff winds down, I make a few final predictions of what we're going to see on Saturday night.
Jalen Hurts finishes with 300 yards of total offense.
The true freshman quarterback has been impressive enough as the Tide's signal caller but his stats may not show it. He's had just one game this season (at Ole Miss) with 300 yards of total offense. That game was also his only week without a touchdown. Hurts will be in charge of controlling the tempo for Alabama. The home team will be trying to hold possession and slow the game down but I expect Lane Kiffin to let Hurts and the offense go quick to get out to an early lead. I think Hurts throws for 200-plus and gets close to 100-yards rushing against the Razorbacks.
Arkansas still wins time of possession but does not score a touchdown.
I've been impressed with Austin Allen so far this season but the Razorbacks have not faced a defense like the Crimson Tide's. Bielema is just stubborn enough to try to keep the offensive gameplan that Arkansas has played with all season. I think they control the ball in the first half and keep it close early on. The Tide's defense may bend but I do not expect them to break in Fayetteville, giving up some field goals but no offensive touchdowns.
Damien Harris leads the Crimson Tide in offensive touches.
Other than the quarterback, I expect Harris to make the biggest offensive impact on Saturday night. Harris only had three touches last Saturday as he recovered from a high ankle sprain but the sophomore running back still leads all Alabama running backs in carries this season. Harris still wore a sleeve on his knee throughout practice this week but I expect him to be back at full force in Fayetteville. If Harris could see 15 to 20 touches on Saturday night, that will be good news for Alabama.
Alabama survives week one of the SEC gauntlet. 
Each year seems unpredictable in this game. In Bielema's three seasons in Fayetteville, the Razorbacks have lost in three completely different ways. In 2013, it was a 52-0 blowout in Tuscaloosa with the Tide running for an average of 9.5 yards per carries. In 2014, Arkansas turned the ball over three times and missed an extra point in a 14-13 loss to the Crimson Tide. Last season, the Razorbacks came to Tuscaloosa and held a halftime lead while frustrating the hosts for three quarters. Alabama scored 17 4th-quarter points to help win another game against the Hogs.
I expect the Crimson Tide to improve to 6-0 on Saturday night. I do not see it coming down to the fourth quarter but I also do not think it finishes anywhere close to 52-0. I've got the visitors winning this one 27-9 with Alabama covering the -14 spread and the teams finishing under the O/U of 48.5.
Caleb Turrentine is a columnist and contributor at Touchdown Alabama Magazine. He also does work for Alabama's team page at Bleacher Report. Follow him on Twitter, @CalebTurrentine.