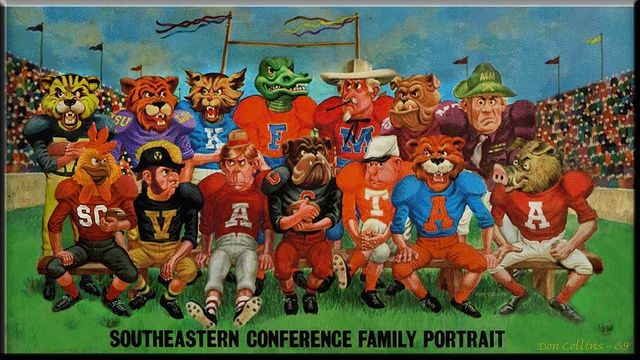 Last week this pair of pickers were perfect and it's not the only week. Do you think they're on task to do it again?
Larry's Losers in the SEC-Week 7-2016
By: Larry Burton
Well folks, you pair of pickers practiced perfection again last week with another week pretty prognostication. For the season, we're up to 49-9 and that ups our average to right at 85% and that tops among anyone picking on a national basis.
But you can't rest on your laurels too long when you're picking games in the SEC and this week has some games that could leave us both scratching our heads and only because one of us might have fleas.
So let's just jump right in with fingers and paws crossed and tell you what we've come up with this week and who will be laughing and who will be losers.
Mississippi State at BYU – Following last week's pasting, these Dogs are hoping to go to a holy place where men of prayer and fellowship might feel sorry for a Dog that's down on their luck and needs a little sympathy when they show up on Friday night at 9:15pm.
But coach "Kalani" comes from Tonga and they only feel sorry for their enemies after they've killed them, so Dan's Doggies aren't gonna get any tea or sympathy from these Mormon men.
So while we'd like to see the Dogs hold up the honor of the SEC, they'll likely leave trying hold each other up to get back on the plane back to Starkville. Larry's loser – Mississippi State
Vanderbilt at Georgia – The Mason Captain Crunch bunch of Commodores got a little soggy last week and they're hoping to bail the water out of ship and try again this week between the hedges in Dogville this Saturday at 11am.
So far this season the defense has kept them in the game bailing water, while the offense just seems complacent to see the water rise. To help that the Commodores have been trying to get that group going and if they do, they could be a handful for any team.
But with a big win this past weekend the Bulldogs are hoping to bully these Song City Sailors and keep the good time rolling and nothing would help them do that more than sinking these swabbies and that's just what will happen. Larry's loser – Vanderbilt
Alabama at Tennessee – The first afternoon game finds Alabama cruising up the freeway to Hardknocksville for a 2:30 tossing of the coin in Neyland Stadium and they'll be trying to do the impossible.
After a great start this season and rubbing more rabbit's feet that a hare pedicurist, the horseshoe finally got knocked from the Knoxvillians keester. But coach Jones ain't joking when he says a win against these familiar foes will not only put him back in the SEC race, but the national one too.
It's not impossible for this Bama team to win, but years ago Bama's legendary Boss said that a 10 year win span including 5 years at their home would never be duplicated after his teams did it. But Saban has busted more than one unbreakable record and we think he'll pilot these pachyderms to do just what one Bama Boss said could never be done again. Larry's loser – Tennessee
Missouri at Florida – The other afternoon game find the Missouri meeowers taking the trip down the sunny state of Florida for yet another familiar Tiger vs Gator fight and this one kicks off at 3:00pm.
Now lately, these Show Me State Siamese haven't show us much lately against SEC teams but they're hoping that they can get these Gators looking forward to a week off and their next contest with the Dogs from Red Clay Country.
But McElwain's Mud Puppies know that if they take care of the rest of their SEC business, that they can wind up in Atlanta and playing for the big prize. So he ain't about to let his raging reptiles look ahead, but take care of business each week and keep their eyes on this prize. Larry's loser – Missouri
Ole Miss at Arkansas – Six o'clock marks the first night game when Ole Miss crosses the border to pound on the Porkers and keep their hopes alive for a great New Year's bowl.
But these Piggies don't want to go wee wee wee all the home in the SEC, so they're hoping to grind out their first win against an SEC foe and stake their claim that they aren't one of the little piggies, but one of the big Pigs in the conference and nothing will do that more than starting it off with a win here.
Meanwhile, the Rebel coach has been drawing up plans that would fill the freezer with pork for the winter and with the cranky Confederates in prime form right now, we think it spells a bad Saturday night for the Hogs. Larry's loser – Arkansas
Southern Miss at LSU – The Golden Eagles end the Saturday showdowns at 6:30 when they swoop in to the not so cozy confines of Death Valley and it's called that for a reason for most teams.
The big bad boss of these bald Eagles, Jay Hopson, is hoping to hop on this SEC team just like they did the Kentucky Kitties and they're hoping that the Tigers taking a week off has gotten them soft.
But instead of getting soft, Orgeron's orange Kitties have been sharpening their claws and their goal is to strip to Southern Flock of all their feathers fast and make Eagle the other white meat. And that's just what we see happening as as the Bayou Boys get to work on these flying footballers. Larry's loser – Southern Miss
LARRY HAS BEEN PUBLISHED IN ALMOST EVERY MEDIA OUTLET FOR COLLEGE SPORTS AND NOW PRIMARILY WRITES HERE FOR TOUCHDOWN ALABAMA. HE WRITES IN A COLLOQUIAL AND IRREVERENT STYLE FOR THIS SERIES OF ARTICLES. LARRY'S VIEWS AND SENSE OF HUMOR MAY OFFEND, BUT HE AIMS TO OFFEND EVERYONE EQUALLY. IF HE HASN'T INSULTED YOUR FAVORITE TEAM WITH LARRY'S LOSERS, JUST WAIT. FOLLOW LARRY ON TWITTER FOR INSIDE THOUGHTS AND GAME TIME COMMENTS AT

 HTTPS://TWITTER.COM/LBSPORTSWRITER
THANKS FOR SHARING THE LINK TO THIS STORY ON YOUR FACEBOOK PAGE