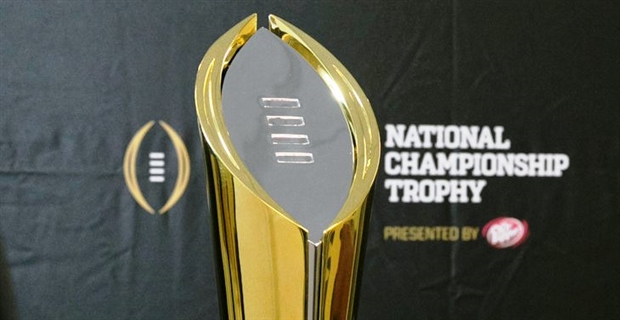 There are good teams out there and most of the top are in this week's top 10 in the polls. What chance would any of them have in beating Alabama? Read and see.
Chances Each Top Ten Team has Beating Alabama
By: Larry Burton
Right now, there is no doubt that Alabama has earned its spot atop college football's polls, but there are other good teams out there and with half the season behind us now, you can judge a bit with a little more certainty how they may fare up with the Crimson Tide.
So starting with the tenth best team of the top ten let's examine the chance of beating Alabama and why and yes, I know some of these teams may not ever have the chance to play them this season.
Number 10 – Nebraska – Nebraska is about a 50-50 run pass so if you shut down the run as Alabama would, that would leave Tommy Armstrong Jr. and his 58.9% completion ratio to try and beat the Tide. This team doesn't have that famous "Black Shirt" defense so now their chances drop to 10% to beat Alabama. A final score might look like 38-13.
Number 9 – Tennessee – I guess we'll find out this weekend how well this prediction is, but overall Tennessee has a 35% chance of beating Alabama. Why? The running game won't click against Alabama and Tennessee's QB Dobbs may not have the time to search for targets downfield and last week when the heat was on, it was turnover city. That combined with a defense that gives up far too much means the Tide wins more comfortably than A&M did. On the plus side, with all their comebacks this season, Tennessee won't quit and they've proven resilient and anything is possible. Also add that Tennessee has played Alabama tough even in years they weren't supposed to. A score of like 35-24 might be reasonable.
Number 8 – Wisconsin – This may be a better team than the Wisconsin team Alabama beat 35-17 last season, but the results wouldn't be much different. Wisconsin would have about a 15% chance of beating Alabama. The Badgers are a close to a 50-50 run pass, but Alabama would take the run away and it would get ugly fast. Alabama should win 35-20 or more.
Number 7 – Louisville – Louisville is everything that has succeeded against the Tide in the past. They have a team with a very mobile QB and a great passing game with a running game to keep you honest and from playing dime all night. Therefore Louisville would have a 40% chance of toppling the Tide. They would lose because they can't match Alabama's defense with their own. A score might be in the 45-38 range.
Number 6 – Texas A&M – Like Tennessee, we'll find out how this goes in a few weeks. The Aggies are a run heavy offense and that won't bode well against the Tide and while Trevor Knight can be mobile, he can't beat Alabama with a 53% completion ratio and his interception problems. Even though they beat Tennessee, Alabama won't give them eight turnovers and they actually have less of a chance than Tennessee. The Aggies have only a 30% chance of beating Alabama and a final score might look like 31-20.
Number 5 – Washington – Call it bias, but I'm just not sold on anyone in the PAC-10 this year. While the Huskies have looked good, there's only one PAC-10 team they'll play with a defense in the top 25 and they're #25 UCLA. Facing Alabama their rushing totals will shrink and they don't have a quarterback capable of beating the Tide without a big rushing total. Washington has a 25% chance of beating Alabama and the score could look something like 32-17.
Number 4 – Michigan – Michigan still has nightmares remembering past games and haven't faced a team yet with a defense like this. Wisconsin held them to 14 points, Alabama may do better. A run first team won't run far against Alabama. Thought they're higher ranked than other teams on this list, they rate low at just a 15% chance of beating Alabama. A score would something like 32-13.
Number 3 – Clemson – We know what these two look like when they tangle and Clemson just almost pulled off an upset the last time. They are tailor made to frustrate the Tide. With a 42% chance of toppling the Tide a final score might look like 48-42.
Number 2- Ohio State – The buckeyes have been the other dominating team so far this season. They have not been seriously challenged so far this season and won't be until they play Michigan, the only team with a legitimate shot of beating them. With such a soft schedule, it's really hard to get a handle on just how good they really are, but they are a run heavy team and that plays into Alabama's hands as does the payback factor. J.T. Barrett's 64% completion ratio will keep them in the game and he's the reason we'll give the Buckeyes a 33% chance of winning with a score that might look like 42-31.
So the only real team Alabama has to worry about is themselves. There are 4 teams in this list who could beat Alabama if the Tide has turnovers and a bad game overall and the opponent plays the best game of the season.
Therefore the point of this article is not to say Alabama can't be defeated, they can, but if both teams play up to their normal games, these odds you see should play out fairly well.
So of the top 10 teams today, the recap of the teams that have the best shot of beating Alabama is:
Clemson – 42% – Louisville – 40% – Tennesse – 35% – Ohio State – 33% – Texas A&M – 30% –
Washington – 25% – Michigan – 15% – Wisconsin – 15% – Nebraska – 10%
Therefore if the Tide escapes the SEC, who has many teams with a higher chance of winning than some on this list, the odds look good to repeat as national champions.
Larry has been published in almost every media outlet for college sports and now primarily writes here for Touchdown Alabama. Follow Larry on Twitter for inside thoughts and game time comments at https://twitter.com/LBSportswriter
THANKS FOR SHARING THE LINK TO THIS STORY ON YOUR FACEBOOK PAGE OR A FACEBOOK GROUP YOU BELONG TO, FACEBOOK RESTRICTS HOW MANY PLACES WE CAN POST IT ON, SO PLEASE SHARE!