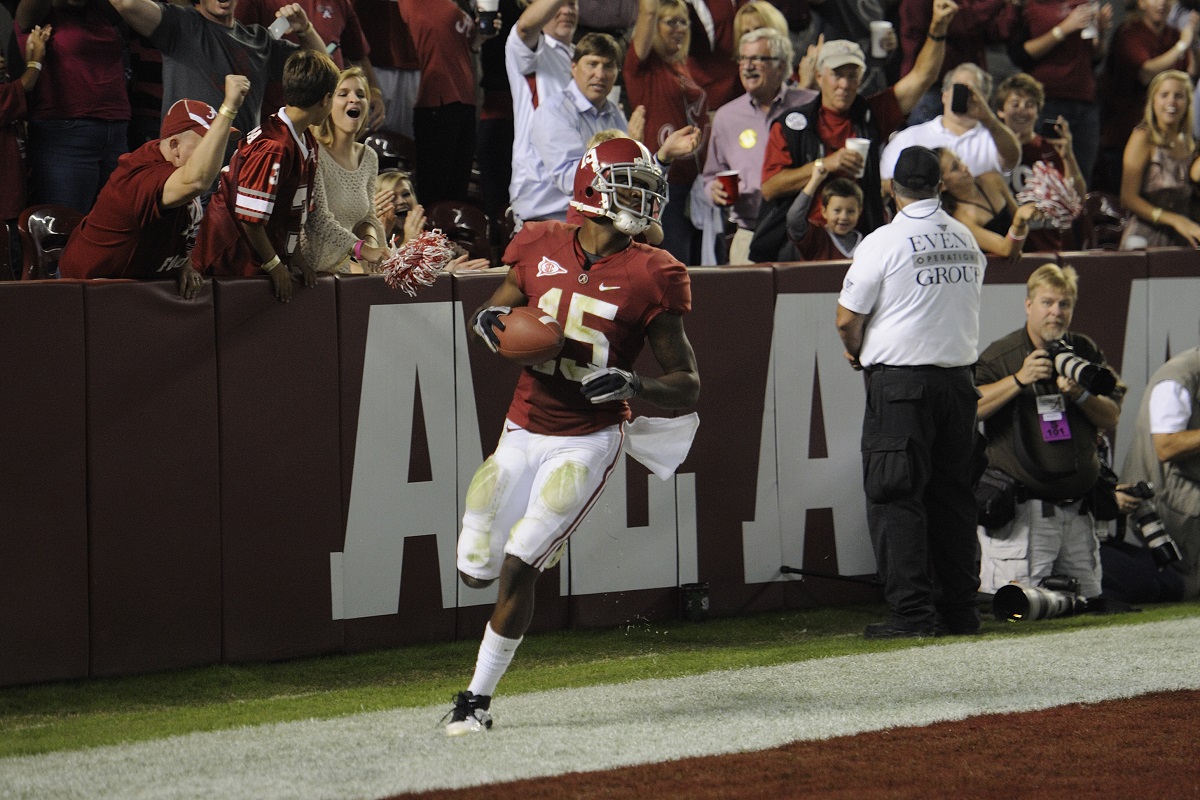 The game is more fun to watch when you know what to look for. Here are the things you can look forward to seeing on Saturday when the Tide and Aggies tangle in Tuscaloosa.
What to Watch for in the A&M – Bama Contest
By: Larry Burton
First of all each team very recently played Tennessee. Texas A&M barely squeaked out a win in double overtime despite Tennessee's six fumbles and two interceptions. Alabama curb stomped them. Both games would have been played on the Aggies home turf.
The A&M players must know they're a big underdog and more than likely feel that way, so Kevin Sumlin's plan is to settle his team, use the underdog card and try and get some quick three and outs against Alabama to show them that the defense can handle the Tide when they're on defense.
Kevin Sumlin will play run defense as much as he can and try and force Alabama to beat him with Jalen Hurt's arm and not his legs or the legs of his running backs.
On offense I'd bet dollars to donuts that he won't try and win an attrition game he knows he can't win, so look for early deep shots and plays that exploit his running quarterback. He knows the only way to beat this Bama team is by going after their weak spot and that is the defensive secondary.
He'll risk a pick because he knows there's one way to beat this team and it's not trying to establish a running game against this brick wall of a front seven. He knows he may as well beat his head against one.
Texas A&M gets about 274 yards rushing a game, Alabama gives up just less than 64 a game. Sumlin won't try and win that war. He hasn't played a team with a defense close to Alabama's but he knows he can use it just enough to keep them honest. He also knows that Tennessee rushed for about 193 yards per game before Alabama, but just managed 32 against them and that was without the Tide having Reuben Foster to help and he'll be back for this game.
On paper, the two teams look alike. Both have quarterbacks who rack up yardage running the ball. A&M's Trevor Knight has run for 502 yards with a 7.7 and is the teams second leading rusher while Bama's Jalen Hurt is also his team's second leading rusher, with 428 yards and a 5.8 yard per carry average. Both run and pass for close to equal yardage.
But A&M struggled against a 4 loss UCLA team before winning 31-24, had a rough game with four loss South Carolina and as we just said, struggled mightily to Tennessee who Alabama killed.
Meanwhile, Alabama has run roughshod over everyone they've played except Ole Miss. Since then Alabama has gone on a tear after settling the quarterback position.
So in this game, Alabama will run when they want to run, pass when they want to pass and simply impose their will on A&M from kickoff to final whistle.
Expect to see Damien Harris, Josh Jacobs and Bo Scarbrough all take turns rushing on the Aggies. I don't expect to see anything fancy from Alabama. They won't have to. Their generic offense with Hurts running here and there is pretty much all they'll have to do.
If the Aggies get lucky and hit some big passes against Alabama, they can make it exciting for a while, but eventually, they'll go to the well too many times and Knight, who averages almost one interception per game, will be picked again, maybe twice and the Aggies day will be done, especially if the Aggies continue to fumble at their current rate, almost two a game. Look for Alabama to keep the defensive scoring streak alive.
Alabama should win by 17 or more, but even if the Aggies are hot and the Tide struggles, they'll still lose to this powerhouse Alabama team.
Larry has been published in almost every media outlet for college sports and now primarily writes here for Touchdown Alabama. Follow Larry on Twitter for inside thoughts and game time comments at https://twitter.com/LBSportswriter
THANKS FOR SHARING THE LINK TO THIS STORY ON YOUR FACEBOOK PAGE OR A FACEBOOK GROUP YOU BELONG TO, FACEBOOK RESTRICTS HOW MANY PLACES WE CAN POST IT ON, SO PLEASE SHARE!