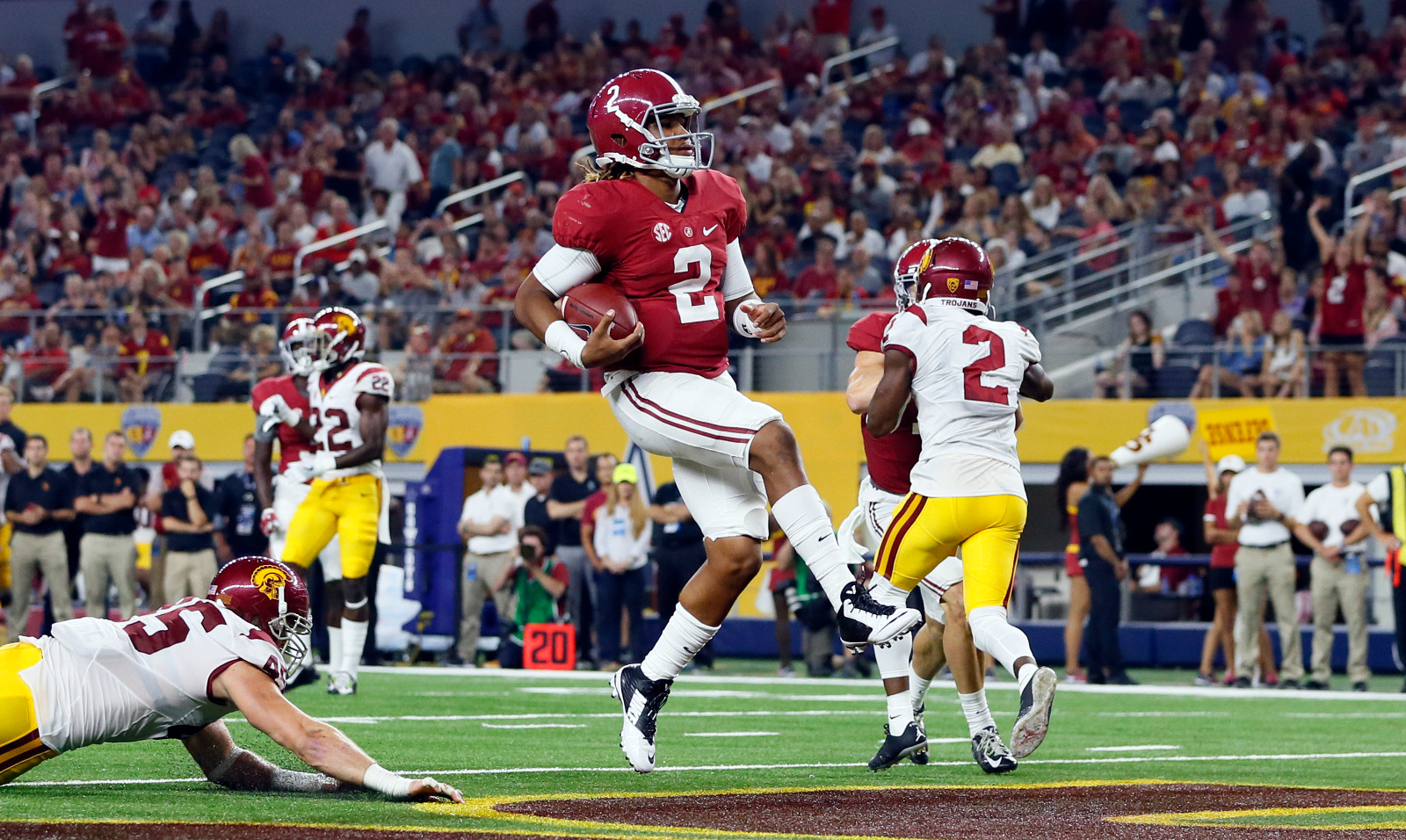 As we sit here today, the Alabama Crimson Tide are a perfect 8-0 and head into their Bye week mostly injury-free. The loss of senior Eddie Jackson is a devastating blow to the team as his presence immediately adds a value unmatched by any player who could  replace him. However, even with his loss, the Tide are still in a great position to do what few teams have done in the history of sports, which is to win back-to-back championships — and do so unblemished. With that said, none of these will happen unless true freshman quarterback, Jalen Hurts elevates his game during the backstretch of this season.
While the love affair for Hurts is warranted and Alabama fans continue to praise his play early in this season, it has not come without its criticisms. While overall, nobody could have guessed that Hurts would be this good so soon, he still has plenty of growing pains that need serious attention. One need to only look at the last few games in which Hurts has missed open receiver, after open receiver. He still waits too long to identify targets and throw receivers open, which has resulted in overthrows, under throws, and a bevy of incomplete passes that has given offensive coordinator Lane Kiffin fits. The mistakes, while few, are very understandable.
Sure, the stats are there. He's completed 128 out of 203 passes (63.1 percent) for 1,549 yards and 11 TD's to only five interceptions. His quarterback rating stands at a very respectable 140.1, so this is not meant to devalue Hurts in any way. But, to suggest Hurts does not need to improve would be inaccurate, and unbecoming of a Nick Saban-coached team.
Granted, Hurts this time last year, was a senior in high school. Now, he is being asked to lead the defending national champions to another championship season at the age of 19. For many, the lights would shine far too bright, but for Hurts, he's looked right at home and has managed to rally an entire locker room filled with prideful upperclassmen to support him at his young age.
With that said, the Tide will not be able to survive much longer with just mediocre play in terms of passing. Teams will begin to notice that Hurts mainly throws to the outside instead of over the middle. Teams will begin to key on more on the designed runs and dare Hurts to beat him with his arm. Teams will be more fired up and ready to prevent Alabama from repeating as SEC champions, and College Football Playoff National Champions.
With the amount of talent this Alabama team has, there is no reason why repeating is out of the question. If this is to become a reality, Hurts must continue to elevate his play each week in the passing game. With a week off, and tons of time to review tape, one can surmise we have not seen the best of Hurts — yet.