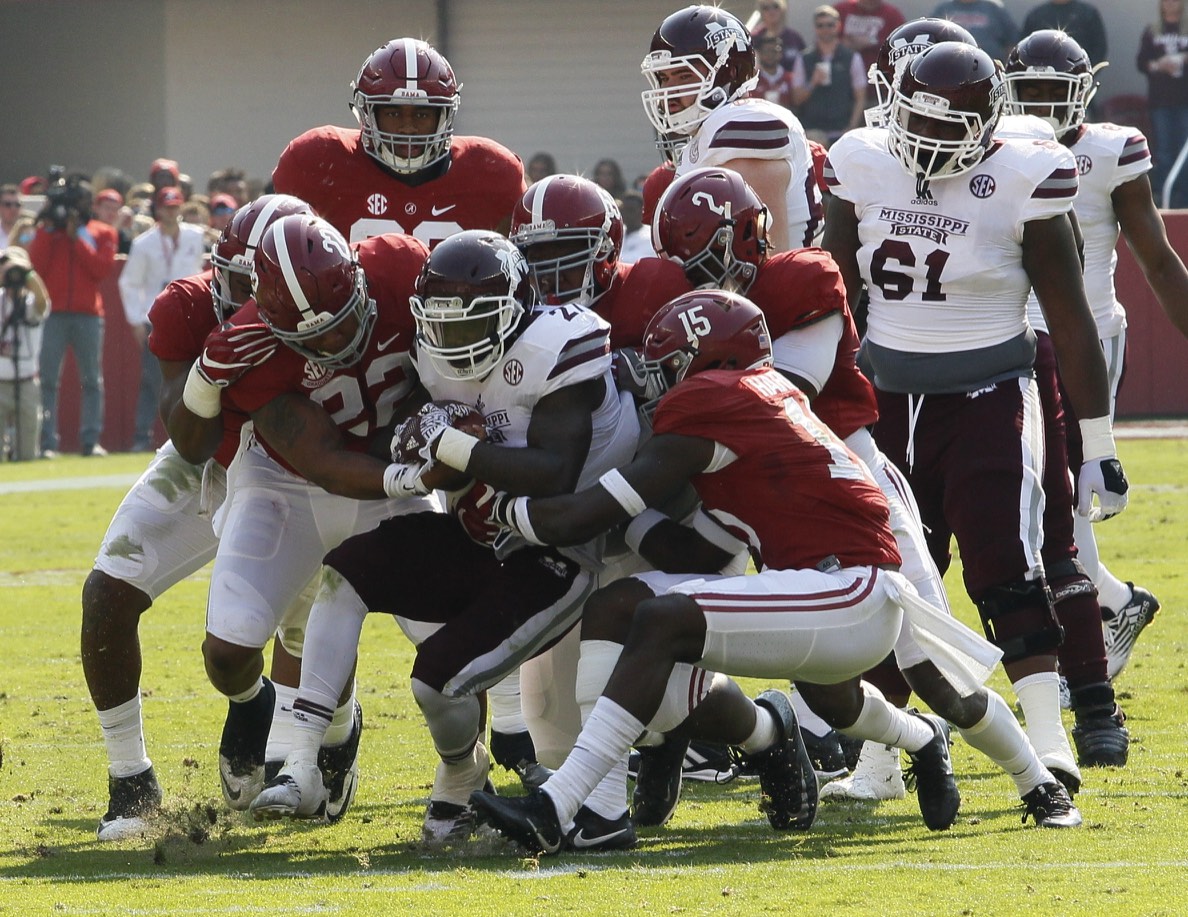 In this article the truth may be finally said out loud and put in print for all to see. At least for this season, this is Alabama's year and everyone else is just playing for second place.
Just Say It. Alabama is unstoppable
By: Larry BurtonAfter carefully watching Alabama utterly and completely dismantle a good SEC team today and seeing how the rest of the top ten team are playing, one can only make one assumption about college football: Alabama is unstoppable.
And yes, I know this is an article that won't make Nick Saban happy and may instill bulletin board material for Alabama's remaining contests. But it won't matter. Seeing Clemson fall to a mediocre team, Ohio State lose to Penn State, Washington struggle and lose to USC, a team that Alabama embarrassed, there is no real competition left for this team.
Auburn? They were beat by a very pedestrian Georgia team and couldn't score but one offensive touchdown all day on a defense that is nowhere remotely close to being as good as Alabama's.
The SEC East Champion? Seriously? Next….
Whoever makes it in as number four in the playoffs for the first round game? Whoever it is will have a loss to a team worse than Alabama and will be easily dispatched.
The winner of the 2 vs 3 playoff game? Even if it's an undefeated Michigan, which may be unlikely, it may be entertaining for a half, but the outcome may as well have already be written.
Clearly, the only things that beat Alabama are:
1. The sidelining of Jalen Hurts with an injury – Alabama's backups are just not tested and Hurts just makes the offense hum.
2. Cockiness and reading too many stories like this and stop working as hard as they have been.
3. Themselves. The only time Alabama has looked vulnerable this season was when Alabama fumbled, threw interceptions, had too many untimely penalties and had mental lapses in the defensive secondary.
And while number 1 could happen, who really believes that two and three have a real shot of happening?
This Tuesday, the committee for the College Football Playoffs will try and determine the new ranking for the poll that leads to the playoffs. While there will be much discussion over who should be three and four, no one will debate or discuss who number one is.
This season, the college world is Alabama's and all the other teams are just playing for number two.
That last sentence and this whole article may not be politically correct, that certainly doesn't make it any less reasonable at this point to put in print. Alabama certainly seems to be unstoppable. At least for this season.
LARRY HAS BEEN PUBLISHED IN ALMOST EVERY MEDIA OUTLET FOR COLLEGE SPORTS AND NOW PRIMARILY WRITES HERE FOR TOUCHDOWN ALABAMA. HE WRITES IN A COLLOQUIAL AND IRREVERENT STYLE FOR THIS SERIES OF ARTICLES. LARRY'S VIEWS AND SENSE OF HUMOR MAY OFFEND, BUT HE AIMS TO OFFEND EVERYONE EQUALLY. IF HE HASN'T INSULTED YOUR FAVORITE TEAM WITH LARRY'S LOSERS, JUST WAIT. FOLLOW LARRY ON TWITTER FOR INSIDE THOUGHTS AND GAME TIME COMMENTS AT

 HTTPS://TWITTER.COM/LBSPORTSWRITER
THANKS FOR SHARING THE LINK TO THIS STORY ON YOUR FACEBOOK PAGE