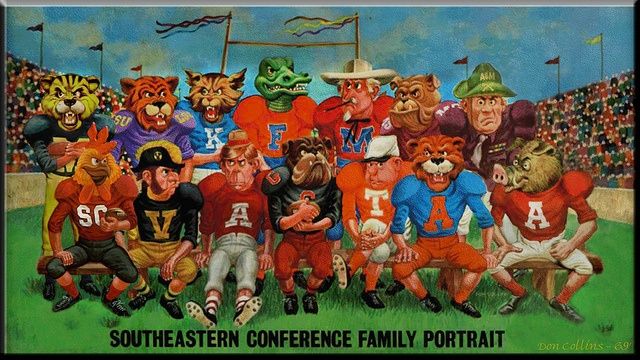 Last week showed everyone that picking these losers isn't very easy and the upset bug may rear it's ugly head again this week, so to stay in the know, see what this pair of pigskin prognosticators have predicted for this week and see if they match up to your list.
Larry's Losers in the SEC-Week 12 – 2016
By: Larry Burton
Well folks, last week was certainly an upset special. Three of the top four teams took a loss and it just kept on going all the way down the list. Vanderbilt let us down in the game we were most worried about, but Auburn and Texas A&M going down just never occurred to either of us. As a result we missed three contests last week and the pigskin picking pooch is all but on suicide watch. Here he is in an almost comatose  state, I put him on medication watch he was so despondent. Nothing worked till I said, "Happy Hour!" With a rum and coke Bacardi the Wonder Dog started coming out of it.
Yes this one hurt and brought our season average down to 72 wins and 20 misses and that comes out to about a 76% average, the first time we've dipped down to a C average in forever. But yesterday after locking the dog in the room with the SEC network re-runs on for endless hours, he was ready to start picking football games again.
So with renewed enthusiasm, we think we've come up with a set of perfect picks that should bring our average back up to our super standards and get us back on a hot streak that will last through bowl season, so with no further ado or excuses, here we go.
Louisiana Lafayette at Georgia – At 11am the day begins with the first of the cupcake contests that seem to fill a lot of the schedule. In this one, the Rajun Cajuns come calling on the Red Clay Hounds between the hedges.
Now these Rajun type Cajuns may be distant kin to the LSU Cajun Kitties, but when you see them play, there won't be much family resemblance.
So unless you've got a son on the fourth string of the Bulldogs you want to see play, there ain't much else to see here folks. Larry's loser – Louisiana Lafayette
Texas San Antonio at Texas A&M – Also at 11am the Roadrunners from Riverwalk City run over to College Station for a big paycheck and a bigger butt whipping.
Now I'd love to tell you that this will be a Texas tussle but these Roadrunners are going to get run over by an Aggie tractor and this game will be more boring than watching the Aggies crops grow. In a blowout, Larry's loser – Texas San Antonio
Florida at LSU – At high noon, the Gators change swamps and wind up in the one in Cajun Country as they take on the Tigers in what was supposed to be a cupcake contest for both, but is now a make up game from the big blow that went through Florida a few weeks back.
Now the Gators know if they can win this contest, they have the inside shot to play for the whole SEC in Hotlanta and they aren't about to miss this chance by being lazy Lizards.
But coach O is playing for something even bigger, a multi-million dollar job and he's gonna work overtime this week sharpening his Kitty's claws so they can rip through that tough Gator hide and send his team to a top tier bowl. That's what we think will happen in this one and that makes Larry's loser Florida.
Missouri at Tennessee – At 2:30, the Tigers from the Show Me State head East to vanquish the Vols from any type of SEC East contention.
Tennessee still has a shot at the SEC East and Butch's boys aren't about to let their powder get wet in this contest and they're not taking prisoners.
If the men from Mizzou want to make a statement, this would be the time to do it, but unfortunately, the only statement they'll make is they still suck. Larry's loser – Missouri
Western Carolina at South Carolina – At 3:00pm the comatose Catamounts come a calling on their fellow Carolina Clucking cousins and they're gonna look for a huge check and a little Carolina courtesy in this game.
But with Col. Sanders clan sitting on five wins and needing a sixth to go bowling, you can rule out any courtesy as these prized pullets put a pecking on these pussycats and practically pulverize them.
With that said, it's pretty obvious that Larry's loser is Western Carolina
Austin Peay at Kentucky – 3:30 sees the commencement of Kentucky's cupcake carnival with the Governors pretending to be competition for the Kentucky Kitties.
Now just like the game before, this Kentucky Kitty Cat clan is sitting on five wins and they know that a sixth win won't be any easier than this one, so it time to pull out claws and start scratching.
These Peay brains will get a good whipping, but maybe the cash will make them feel better about it. Larry's loser – Austin Peay
Arkansas at Mississippi State – The first of the sunset specials finds the hard luck Hogs trying to bully the Bulldogs of Mississippi breeding and this one could be a flip the coin kind of pick.
This game is gonna be a prickly pick because you don't know which team will show up on either side, the one that looks good one week and can't find their own bench to sit on the next.
This is the game that's caused us the most discussion, so we'll play the old card, when in doubt, go with the home team. Larry's loser – Arkansas
Chattanooga at Alabama – In the other 6pm sunset special, the Mocs take the Chattanooga Choo Choo down South to take on the Tide or at least to show up and collect their biggest paycheck of the year for the embarrassment they'll take on in Tuscaloosa.
Now this will be a waste of time and the only thing that can make it interesting is to see if Chattanooga gets more rushing yardage than the Tide gets points.
In a laugher, that makes Larry's loser Chattanooga
Alabama A&M at Auburn – At 6:30, a cupcake team from Normal, Alabama and I'm not kidding about that city, shows up and tries to pretend to be a normal football team and take a butt whipping and and a big check back to Bulldog land in Normal.
Last week Auburn's offense was about as offensive as they could be and only the Tigers on the other side of the ball kept them in the game.
But this week, everybody on offense will look like a Heisman contender against these buffalo Bulldogs and that makes this one a laugher and Larry's loser is sure to be Alabama A&M.
Ole Miss at Vanderbilt – In the primetime slot at seven o'clock, the Rebels ramble up to Song City but it ain't to sing at the Grand Ole Opry, but for a contest with the Commodores of Vanderbilt persuasion.
Poor Vandy, they've been sunk more times than a submarine and they'd like to end the last part of their season on a high note.
But Hugh Freeze is gonna make sure the only high note they'll have is from the screams of the Commodore players once the hitting begins. Larry's loser – Vanderbilt
Well that's it for this week folks. With a good showing we'll be back up the 80's, but if we have another bad week, I've been told by the pigskin picking pooch that he's retiring and we can just put him out to stud. Now how is it that only good dogs and race horses can get that gig?
So while this may not have but a few good games, next week it's rivalry week and the picking is going to get rough then. So make your own picks this week and come back and compare next week and we'll see if we're still the top tallyers in town. Have a great weekend and start picking out that turkey and don't forget old Bacardi the Wonder Dog and I both like gravy with the turkey.
LARRY HAS BEEN PUBLISHED IN ALMOST EVERY MEDIA OUTLET FOR COLLEGE SPORTS AND NOW PRIMARILY WRITES HERE FOR TOUCHDOWN ALABAMA. HE WRITES IN A COLLOQUIAL AND IRREVERENT STYLE FOR THIS SERIES OF ARTICLES. LARRY'S VIEWS AND SENSE OF HUMOR MAY OFFEND, BUT HE AIMS TO OFFEND EVERYONE EQUALLY. IF HE HASN'T INSULTED YOUR FAVORITE TEAM WITH LARRY'S LOSERS, JUST WAIT. FOLLOW LARRY ON TWITTER FOR INSIDE THOUGHTS AND GAME TIME COMMENTS AT HTTPS://TWITTER.COM/LBSPORTSWRITER
THANKS FOR SHARING THE LINK TO THIS STORY ON YOUR FACEBOOK PAGE