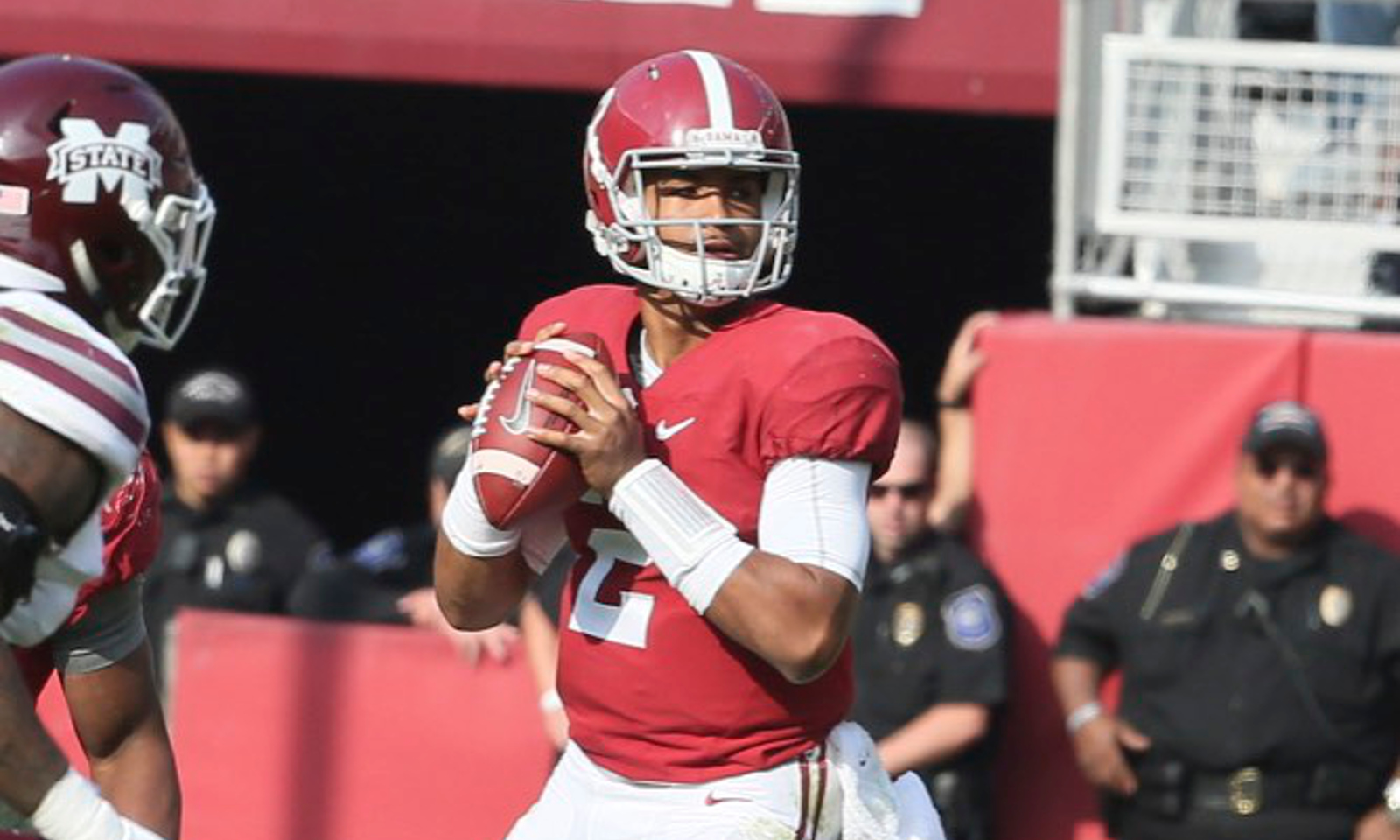 As the Iron Bowl kickoff closes in, both sets of fans are getting their last jokes in before everything is settled on the field. Will the Crimson Tide stay undefeated or will Auburn pull off another case of a rival playing spoiler? I took some time to make a few final predictions for Saturday's game (which will probably be completely inaccurate).
Jalen Hurts throws less passes than Jeremy Johnson.
The Crimson Tide could try to use their passing game to blow this game open but I do not think that will be the gameplan the hosts try to use. Auburn's defense could be on the field for most of the game and Alabama should look to its run game to tire them out. Use the deep shot from time to time but expect to see a lot of runs and a lot of sweeps from the offense today. I've got Hurts throwing 15 to 17 passes today while Jeremy Johnson, Auburn's recently announced starting quarterback, could be playing from behind and throw 20 to 25 passes in the game.
Damien Harris will be the Tide's leader in all-purpose yards.
I think Harris will make the most of the gameplan mentioned above and could see as many as 20 carries, which would be a career high for the sophomore running back. With an average of 7.5 yards per carry, I expect Harris will be the consistent threat in Alabama's offense on Saturday. Add in a long run or two and Harris could have 150 yards or more by the end of the game.
Alabama starts another defensive touchdown streak. 
There may not be a lot of points in this one but it is a prime opportunity for the Tide's defense to get back on the scoreboard. Jeremy Johnson showed he was turnover prone through most of last season. Alabama will have to capitalize if they get a mistake from the Auburn quarterback and I expect that to come from the secondary. My pick is for Minkah Fitzpatrick to get on the board in this Iron Bowl.
Auburn wins the turnover battle. 
Alabama's running backs are not perfect in ball security and the Tide rank in the bottom 25 of the country in fumbles lost this season. Hurts has shown moments of greatness but he has also had some moments of just being a freshman. Auburn's defense is probably the second best in the SEC and they will need to force mistakes early to stay in the game.
Alabama wins in the lowest scoring Iron Bowl since 2002.
The Crimson Tide's offense will see a lot of the field but as I mentioned, I expect them to run the ball often which will keep the clock moving. I think Auburn gets on the scoreboard with a short field or maybe with some trickery but I do not see the Tigers getting in the endzone. I've got the nation's top-ranked team staying undefeated with a 20-6 win.
Caleb Turrentine is a columnist and contributor at Touchdown Alabama Magazine. He also does work for Alabama's team page at Bleacher Report. Follow him on Twitter, @CalebTurrentine.