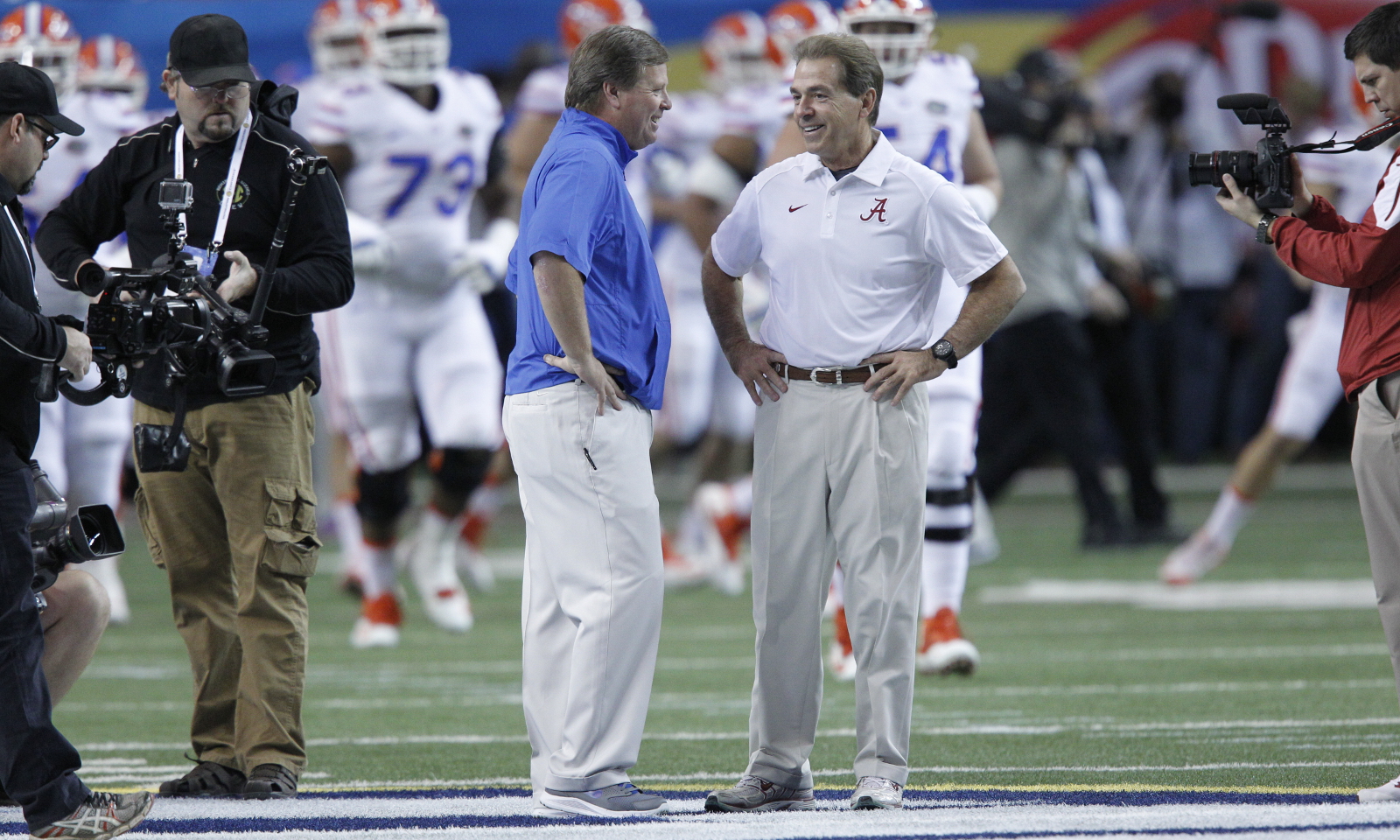 It's finally Championship Week in college football and fans are looking forward to a big weekend. While three conference titles to be decided with Top 10 matchups, Alabama and Florida will meet in Atlanta for the SEC Championship Game. It will be the second consecutive meeting in the title game and the ninth time in 25 years that the Gators and Crimson Tide will play for a conference championship.
On Monday, each team will have three players available for interview but it was the head coaches' turns on Sunday. They took time out of there "rest" day to talk to the media on a teleconference provided by the SEC. Both Jim McElwain and Nick Saban had plenty to say ahead of Saturday's game and we highlight the top answers from both coaches.
Alabama head coach Nick Saban
Saban opened by talking about the prestige of the Florida football program and the SEC Championship Game. The Tide's head coach talked about how special it would be to have legendary coaches Steve Spurrier and Gene Stallings at the game for the opening coin toss.
"I think both programs have great tradition," Saban said. "They certainly have tremendous tradition and lots of success at the University of Florida. They've been probably one of the more dominant teams in the East."
Nick Saban is no newcomer to big games but with Florida being out of the playoff race, some fans may think the SEC title game has lost some prestige this season.
"It's a great competitive venue," Coach Saban said about this week's game. "I mean, my experience in the game, whether it was at LSU or here at Alabama, the only better competitive venue I've ever played in is the national championship game."
The five-time national champion coach spoke highly of his team throughout the interview. Saban called senior defensive end Jonathan Allen a fantastic player but an even better leader and person. Alabama's head coach also spoke of freshman quarterback Jalen Hurts and his resiliency to not let bad plays affect the rest of his game.
With rumors swirling about Lane Kiffin's future, Nick Saban got a question about what he could say on the offensive coordinator's time in Tuscaloosa.
"I don't think I should comment on things I don't know anything about," Saban said. "He's never mentioned it to me. I'm sure he would if there was something out there."
You can find the entire transcript of Saban's comments here on ASAPText.com. 
Florida head coach Jim McElwain
Coach McElwain has always shown off his personality in his interviews with the media and Sunday's teleconference was no different. Early on during the call, Florida's coach was asked how he plans on building the Florida  offense's confidence.
"I think first thing you do is don't show them the film. Those guys are pretty good," McElwain said of Alabama's defense. "They don't give a lot of big plays up. You got to go earn it."
He often kept the media laughing but there was also plenty of business for the former Alabama offensive coordinator to talk about. McElwain spoke highly of his own guys who have won the SEC East title in each of the coach's first two seasons in Gainesville.
"To get to our first goal, which is to get to Atlanta as SEC East champions, it's not easy," McElwain said of his team. "It's hard to do that. To be there back-to-back years is something that I am just very proud of everybody involved with the Florida Gators."
Coach McElwain also spoke very highly of his former team and what it mean to play against the nation's top-ranked team.
"Not often in life do you get those opportunities, as a competitor, you get the opportunity to go challenge yourself against the best, a team that is unbelievable," McElwain said. "They are clicking on all cylinders, got great players, obviously the best coach in college football, and a staff that works the way they do. It's an honor to be able to go play them again."
You can find a full transcript of McElwain's comments here on ASAPText.com.
Caleb Turrentine is a columnist and contributor at Touchdown Alabama Magazine. He also does work for Alabama's team page at Bleacher Report. Follow him on Twitter, @CalebTurrentine.